Netflix's merchandise strategy grows beyond 'Stranger Things' as it partners with brands like Athletic Brewing and Lacoste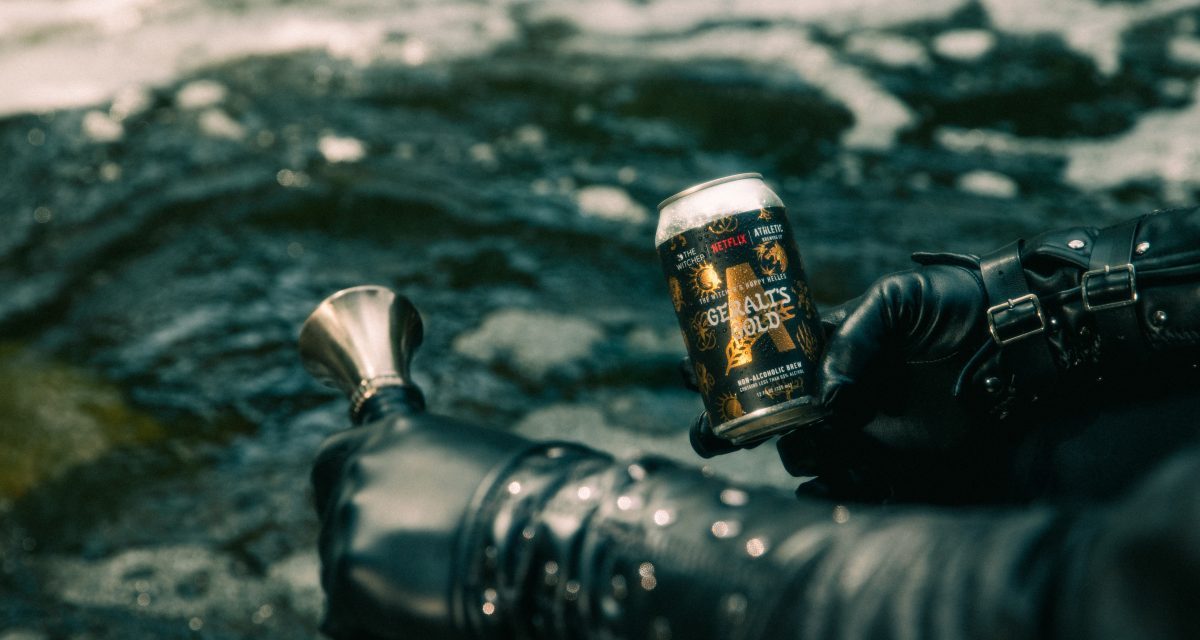 Athletic Brewing Co.
Streaming giant Netflix has been ramping up efforts to bring its top shows closer to its fans through merchandise and brand collaborations on limited-edition products.
In May, Netflix partnered with nonalcoholic beer brand Athletic Brewing for three co-branded non-alcoholic brews. The first brew, called Geralt's Gold, is inspired by the anti-hero, Geralt of Rivia, in Netflix's fantasy drama The Witcher. The product will be available for purchase at select retail locations in the U.S. as well on the Athletic Brewing website for approximately the next two months. The first 750 customers who ordered the limited-edition brew also received a free collectible glass. Athletic Brewing and Netflix have said they plan to release two other limited-edition nonalcoholic beers, with details to be announced later.
Netflix started making a concerted effort to get into branded merchandise after the 2016 debut of Stranger Things, but now, is looking to do more product collaborations that will get fans excited about its other franchises. According to Fast Company, Netflix struck around 75 brand partnerships to promote the third season of Stranger Things, focusing on big names like Coca-Cola and Baskin Robbins. Now, these efforts have extended to other shows like The Witcher, Bridgerton and Squid Games among others. For example, in April Netflix released a fashion collection in partnership with Lacoste.
Netflix's efforts to grow its merchandise business comes as subscriber growth is slowing, and the company is also trying to grow its non-core revenue streams. For the most recent quarter, Netflix revenue grew 3.7% year-over-year, while revenue in the U.S., Canada and Australia regions grew 8% in the first quarter of 2023.
According to Brad Jashinsky, director analyst at research firm Gartner's marketing practice, Stranger Things was the core franchise around which Netflix built its merchandise, live experiences and retail stores strategy. Following the success of that particular franchise, Netflix opened its own DTC merchandise store called Netflix.shop in 2021. "Netflix.shop will drop exclusive limited editions of carefully selected high-quality apparel and lifestyle products tied to our shows and brand on a regular basis," a press release stated at the time.
According to Similar Web data cited by Gartner's Jashinsky, Netflix.shop has averaged around 337,000 monthly visits from January 2022 to March 2023. The traffic peaked at 900,000 monthly visits in July 2022, which was the same month when the last episodes of Stranger Things Season 4 were released. From January 2023 to March 2023, monthly visits have averaged 502,325.
Also in 2021, Netflix started selling its merchandise through Walmart's website; in October 2022, Netflix and Walmart extended that partnership, to bring Netflix merchandise to more than 2,400 Walmart store.
"That was a great partnership that promoted and it continues to promote the characters and the properties but also it ties into driving their main business of driving streaming subscriptions," added Jashinsky.
Now, Jashinsky said that Netflix appears to be ramping up collaborations as it is getting more difficult to build a marquee franchise like Stranger Things, or "to build a Star Wars or a Frozen, whatever property it might be on." He added, "that's going to continue to be more and more difficult to do as the amount of content continues to increase on the movie and tv side."
As it does so, Netflix is reaching out to a mix of both established brands and startups in order to collaborate on product.
Andrew Katz, chief marketing officer at Athletic Brewing Company said that Netflix first reached out to his company on LinkedIn to discuss a collaboration, where he said "brand romance" begins these days.
"They were interested in the brand. They've been watching what we've been up to, and I think they were curious about how do they expand their own reach with different product partnerships," said Katz. "For them, what they're really after is how do they bring their top shows closer to their audience. How do they create this bigger concept of fandom beyond just the show itself? So they look to different product companies to help them bring that to life."
In Katz's view, it was important for Athletic Brewing to make headway into entertainment, a new space for the lifestyle brand, because of the sheer volume of the audience; Netflix has roughly 73 million paid subscribers in U.S. and Canada.
"The thing that was very attractive to us about Netflix is they have lots and lots of eyeballs. And also because the brand is trying to reach new audiences. And if we keep doing the same things, we're gonna keep reaching the same people. So we knew we needed to broaden our appeal broaden and our scope of who we're trying to reach," said Katz.
On June 29, Athletic will also do an in-person activation on the red carpet of the premier of The Witcher in the U.K. Separately, Athletic Brewing is working on product integrations for a slate of other movies and streaming shows. For instance, the brand's products were featured in the finale of the drama series Walker streaming on the platform Max last month.
For Athletic Brewing, early results from its collaboration with Netflix have been positive. "On our first day, we had a limited edition glass that we sold with our beer. We sold through that inventory in about five hours. But the thing that was really important for us is… 20% of the buyers who came and bought Geralt's Gold were completely new to Athletic Brewing," said Katz.
In terms of objectives, Katz said, "Sales is obviously one but it's not the primary [goal]. It's really introducing our brand and our proposition to people that don't know us yet."
Ultimately, Jashinsky said that Netflix's merchandising and product collaboration efforts, "is very much about exposure. I'm sure they're happy to get revenue from it as well, but it is very much about exposure and building that deeper connection to the Netflix brands and to their original properties."