'Spooky season' is starting earlier than ever as more retailers release Halloween items in July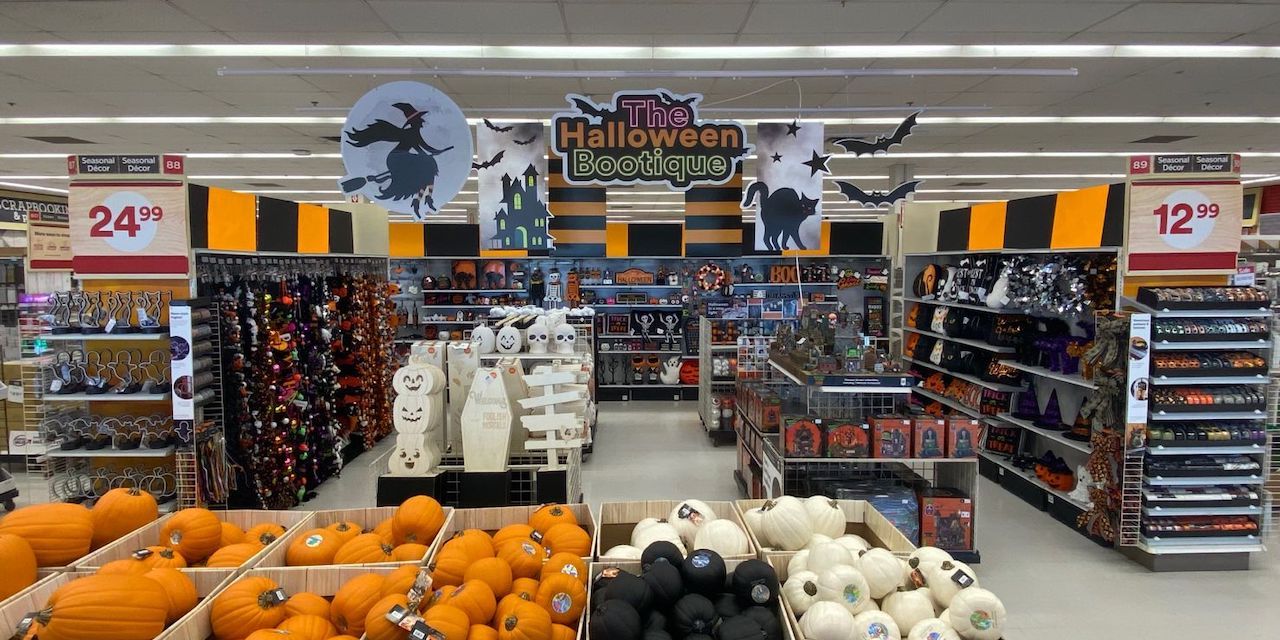 Michaels Stores
Retailers are already eager to get customers in the Halloween spirit.
Taking a page out of Starbucks' pumpkin spice latte playbook, spooky merchandise seems to be hitting shelves earlier than ever. Some retailers are now releasing their Halloween decor as early as mid-summer.
This year, a slew of companies dropped their Halloween releases as early as July. From Petco's pet "Bootique" to Home Depot's viral giant skeleton, retailers are pushing out their Halloween merchandise months ahead of the fall holiday. The bet here among retailers is that hardcore Halloween fans want to stock up on as much spooky decor as early as they can. Additionally, that releasing Halloween decor early is one way to drive sales and excitement during a typically slow sales period. Bath & Body Works, which brought back its bewitching limited-edition collection in July, is already seeing the products sell out quickly.
Bath & Body Works was one of the first retailers to get a leg up on Halloween sales. The company released its Halloween collection on July 24, featuring limited-edition soaps, candles and home accessories. The collection features over 100 products, including the return of the popular witch hand candle holder.
According to the company, the seasonal products have boosted sales when rewards members received early access to the new collection during a special preview event on July 14. According to the company, the one-day event resulted in a spike in e-commerce sales, "contributing to a 30% increase in online sales" compared to average weekdays.
"Thanks to our customers' fervor and demand, it's a thrill to expand our Halloween collection this year and celebrate their love for spooky season with them," said Jamie Sohosky, chief marketing officer at Bath & Body Works. "Our Halloween assortment is notoriously known to sell out quickly. That's why we rewarded members of our loyalty program with exclusive early access to the highly anticipated launch."
Home Depot began counting down to its Halloween products launch in mid-July. That was also when the company restocked its famed 12-foot skeleton, named "Skelly" – who's known for selling out every year. Target also began listing Halloween decorations on its website and app in July, some of which are currently on sale.
John Gehre, chief merchandising officer at Michaels Stores, told Modern Retail that Halloween merchandise has been cropping up earlier each year. "But it's all based on what Michaels' customers want," Gehre said. "We've seen the demand and that's influenced our release strategy over the last few years."
This year, Michaels started getting questions on social media about its Halloween merch release back in May. "In 2021, Halloween products hit in-store shelves in early August," said Gehre. "Since then, we've moved it up by a week or two, with our assortment landing in stores late July of 2022 and then hitting a week sooner than that this year on July 7."
The retailer kicked off its "100 Days to Halloween" countdown on July 23, said Gehre, "and we made our four limited Halloween collections available to preview online for those eager to see what was coming." The assortments include the collector-geared decor like Lemax Spooky Town and Michaels' private brand collections. "These enthusiastic customers tend to shop early in the season, so these popular products go quickly," Ghere said.
Gehre explained that the internal team typically starts planning seasonal purchases about 18 months out. And these earlier deadlines mean every department – from product development to distribution centers to store associates – works to get the Halloween product out in time.
The costume-wearing and party-going portion of the holiday is still over two months away. But that hasn't stopped retailers from giving customers ideas this summer. There are the usual culprits known for early costume unveilings, like Party City and Spirit Halloween, which have had designs available since July — including timely Barbie collections. But other retailers are also following suit.
On Aug. 1 Petco launched its annual "Bootique," featuring over 350 Halloween-ready items, such as pet costumes, toys, accessories and treats. Last year, the retailer launched the themed store an entire month later.
"It may seem early, but Halloween planning, decorating and celebrations start long before Oct. 31," a Petco spokesperson told Modern Retail of the earlier-than-ever launch. "And we want to make it easy for pet parents to involve their pets with costumes, matching PJs, fun home décor and festive treats."
The Petco spokesperson said its merchandising team starts to evaluate top-sellers at the end of each fall to determine which SKUs to bring back. There are classic fan favorites that return each year, like hot dog and prisoner costumes. This year, the shop also has new pet costume designs, like sushi, UFO and alien and mermaid. Moreover, the Bootique also features products from third-party startup brands like Snoop Doggie Doggs and Shameless pet treats.
Still, Michaels' Gehre said the retailer still also has to think about last-minute shoppers when deciding to release Halloween products — including those who come in on Oct. 30 for a last-minute haul. "We time our assortment to roll out over several weeks, ensuring everyone can find what they need, when they need it," he said.
"Even that doesn't feel early enough to our customers, who kick off spooky season as soon as Independence Day passes," Gehre said.