Why Francesca's is folding in-person events into its loyalty strategy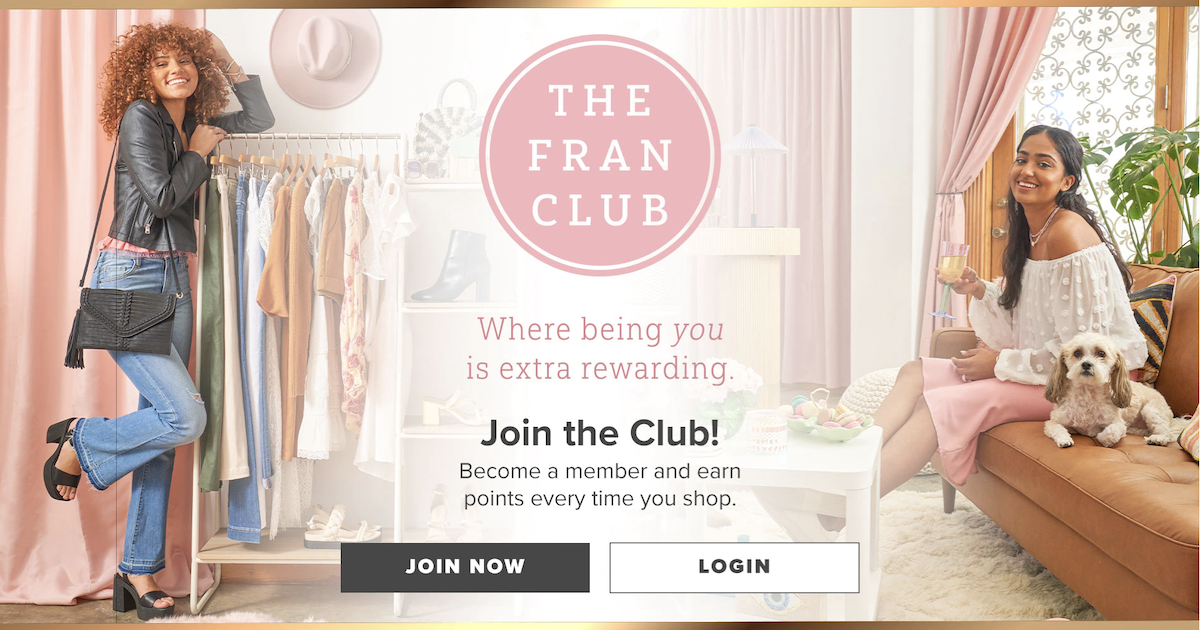 Francesca's
Throughout the pandemic, loyalty programs have relied on discounting, promotions and free gifts to keep customers coming back. With in-store shopping enjoying a resurgence, some apparel retailers — like Francesca's — are turning to member-only events in major cities to drive engagement.
Francesca's, a boutique clothing chain with more than 400 stores, officially launched its loyalty program, "The Fran Club," last October. While it expected to have 100,000 sign-ups in the first three months, it received 350,000 sign-ups in the first half year, according to Chief Marketing Officer Jann Parish. The program has three tiers ("Enthusiast," "Insider" and "Trendsetter"), based on how many points shoppers accumulate in a year. Customers get a $10 reward when they hit 100 points, and new members receive a 20% off coupon upon signing up. So far, feedback to "The Fran Club" has been strong, Parish said, adding that the program has made a "remarkable difference" in the amount of return customers year-over-year.
Now, as it marks the sixth month of "The Fran Club," Francesca's has a new campaign highlighting its membership perks and upcoming in-person loyalty events. Francesca's views these events, which are typically open to members at the "Trendsetter" level, as a chance to bring in loyal customers, while also encouraging newer shoppers to connect with the brand.
This program is also a way to drive growth to Francesca's just three years after it filed for Chapter 11 bankruptcy. Francesca's was acquired by two private equity firms in 2021 and emerged from bankruptcy later that year.
Since then, Francesca's has focused on rebuilding its business, including expanding its tween brand Franki and getting into clothing resale. As far as events go, "the strategy is basically a chance to kind of really dive into the lifestyle of Francesca's," Parish told Modern Retail. "The idea is: Have a party, but also make it something that feels really special, tangible and they get a benefit that exceeds just an additional email."
Already, Francesca's has held an in-person event in Miami with "Fran Club" members, influencers and store associates. The day involved giveaways and a "Bag Bar," in which people could pick out their favorite Francesca's handbag, for free. Its next event in June will be located in Houston, in partnership with a local radio station. Francesca's is planning on holding additional specialized events "in buckets" throughout the year, such as back-to-school and holiday events, Parish added.
These events, while engaging, are also valuable from an insights and customer retention perspective, Parish said. In the downtime between events, Francesca's will "dive into that data we've picked up and do very focused, continued nurturing and retention-based programs to increase customer lifecycle," she explained. This strategy fits in with "The Fran Club's" larger approach of bringing in new customers through its rewards program, and then finding ways to appeal to and keep those customers in the long-term.
More retailers have started turning to loyalty programs over the past year to woo inflation-conscious shoppers. Last summer, for instance, Walmart, FreshDirect and Bath & Body Works rolled out new loyalty programs. When looking for a loyalty program, most people value instant discounts or points, miles or other loyalty currency, according to a 2022 survey by Forrester. Forty percent, however, said they found experiential rewards — like in-person events — important. These aren't confined to major retailers, though. Some DTC brands, such as Parachute, have started leaning on events to boost engagement and community.
Sucharita Kodali, vp and principal analyst at Forrester, told Modern Retail that loyalty events like wine tastings or book clubs "can be incredibly compelling" but are "relatively underutilized in retail." "It's not a natural part of retail," she said. "You need a business development team to put these together, or you need a lot of operations support, and retailers are so busy dealing with the day-to-day of their business that to put an event on is just something outside of their core." 
There are certainly challenges with experiential rewards, including that they involve more effort and coordination than, say, mailing someone a coupon. They can also be difficult to scale, because they are so dependent on location.
However, while "you don't touch a lot of people with it, that's often not the point," Kodali said. "The point is: Do people think about the brand? Are there a lot of impressions and does it actually grab attention?"
Along similar lines, Francesca's hopes that its events and "Fran Club" benefits as a whole will help customers connect with the brand and keep tabs on its newest products.
Ultimately, "we want the loyalty program to be how we drive promotional effort, not a constant 'something off' of the store," Parish explained. "The idea is: The best benefit from being a Francesca's customer is being a customer."