Why more home brands and retailers are launching limited-edition collabs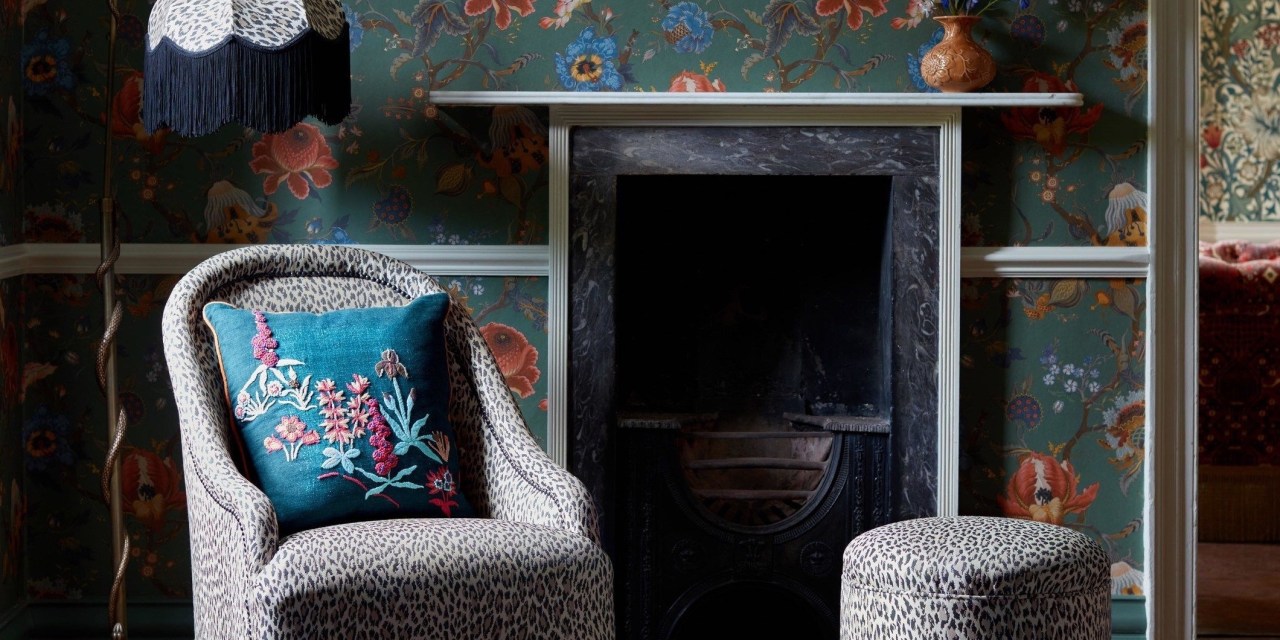 Anthropologie
Whether it's a whimsical light fixture, an eye-catching coffee table or a bold paint color, furniture and home decor brands are increasingly teaming up with trendy designers, artists and brands as a way to score new customers in a crowded sector.
Anthropologie is one of the latest to make such an announcement with a 200+ piece collaboration with British interiors brand House of Hackney, that includes an opulent array of furniture, decor and kitchenware designed around hosting.
While Anthropologie has long collaborated with artists for clothing and products, the last two years have focused on furniture launches with top interior designers like Mark Sikes and Matilda Goad. Anthropologie's Chief Home Merchant Mary Beth Sheridan said the strategy began with a collaboration with designer Amber Lewis, who helped boost awareness through behind-the-scenes content on her Instagram account that boasts 1.6 million followers.
"It really opened our eyes to how meaningful these partnerships could be, not only from a product standpoint, but from the customer's trust in our authority on furniture, and also from our marketing partnerships, especially across social," she said.
Anthropologie is far from alone in scouting out notable names to partner with: September saw numerous high-profile collabs including Lovesac teaming up with Alice + Olivia to launch bold new prints for the cozy seating that debuted during New York Fashion Week. Ikea announced a music studio-inspired line with Swedish House Mafia that includes 20 pieces like record stands, shelving units, and sleeper sofas. And e-commerce brand Wayfair recently announced a decor collection for AllModern with Jason Wu. Meanwhile, other home startups are forging partnerships with well-known artists and even brands like Dunkin.
The trend emerges as consumer interest in the sector remains strong. Monthly retail trade data from the U.S. Census Bureau shows U.S. furniture and home furnishing stores saw $11.7 billion in sales this August, down from an all-time high of nearly $12.3 billion in April but still above pre-pandemic levels. Overall, the market is expected to grow at a CAGR of 4.47% through 2026, according to a September 2022 Research and Markets report.
Anthropologie's Sheridan said designer collaborations can win over consumers by offering a high-end look at a more affordable price point; collaborators tend to have their own luxury lines, and several have been featured on the AD100 design and architecture list. Collaborations also offer an opportunity to provide an array of unique design styles: Sikes' designs are preppy and colorful, while Lewis' pieces feature neutral tones and light fabrics.
Sheridan said these collaborations are a part of Anthropologie's carefully planned launch strategy, with an eye toward variety.
"We have a calendar out two years," she said. "We make sure within that calendar, we have a balance of aesthetic. A balance of some designers that really excel at furniture and bigger decor pieces, and some that excel at artistry and the smaller gift-giving type pieces."
But collaborations aren't only for home stalwarts like Anthropologie. Conor Coghlan is the co-founder of Hoek Home, a direct-to-consumer furniture line that launched its web shop in June 2021 following a $50,000 Kickstarter campaign. Built on a mission of making tasteful furniture that is easy to assemble, Hoek recently raised $600,000 in pre-seed funding, Coghlan said.
In mid-September, Hoek launched a limited edition collaboration with artist Shantell Martin, a British artist known for her black and white abstract line work. Martin came to the Hoek warehouse in Red Hook for a week to co-create with the team and come up with the six-piece collection.
"It's broken our design language open, and we have so many ideas now off the back of this collaboration feeding into our traditional product line," Coghlan said. "For Shantell, it gave her the opportunity to explore different mediums and technologies she hasn't before. It's a mutually beneficial relationship."
To market the launch, Hoek hosted a fireside chat with Martin at the Museum of Art and Design. And its featured the pieces across its social media, including with behind-the-scenes discussions.
Coghlan said the company plans to continue working with Martin and other up-and-coming artists for future collaborations; two are already in the works for the near future. He said it helps fuel the furniture company's reputation in the artist community and tap into a new audience.
"We're lucky as a young company to be able to reap the benefits of those collaborations," he said.
DTC online paint company Backdrop has helped sustain its growth over the past four years with special collections focused around big-name brands. Brand-based collaborations included a Barbie color collection for the brand's 60th anniversary, and a Dunkin' Donuts launch in its iconic orange and pink. Founder Natalie Ebel said the collaborations kicked off with Coming Soon, a New York City home store, that focused on "outrageous" colors. From there, inbound business started trickling in from brands that wanted to see its colors in a paint can.
Ebel said such collaborations help "create a little buzz" by introducing Backdrop to a new audience that otherwise might not think about paint. The brand has grown grown 10 times over from 2019 through 2022.
"That's so important, to show up in unexpected places," she said. "For the Dunkin' customer to be talking about paint, it gets people thinking about paint in a way they've never thought about it."
In Anthropologie's case, launching limited-edition collabs with designers who have their own following is an opportunity to draw in the designers' fans, Sheridan said.
Once sold out, they're likely not coming back, Sheridan said, especially for the unique items, like the cherry-shaped ice bucket in the Matilda Goad collection. In the case of House of Hackney, about half of the top selling pieces at Anthropologie during its launch week were from the collection.
If a collection doesn't hit, it might be because it had too much inventory or wasn't the right timing, Sheridan said.
But overall, she said that furniture brands' partnerships with outside designers is a way to offer unique and different products that in turn helps speak to different customers.
"We make most of what we design and most of our own products. So what are you going to do to improve upon yourself?" Sheridan said. "We need to find these extra layers. It's like building a cupcake, this is the frosting and sprinkles on top."