Why Omsom rebranded its packaging for its retail debut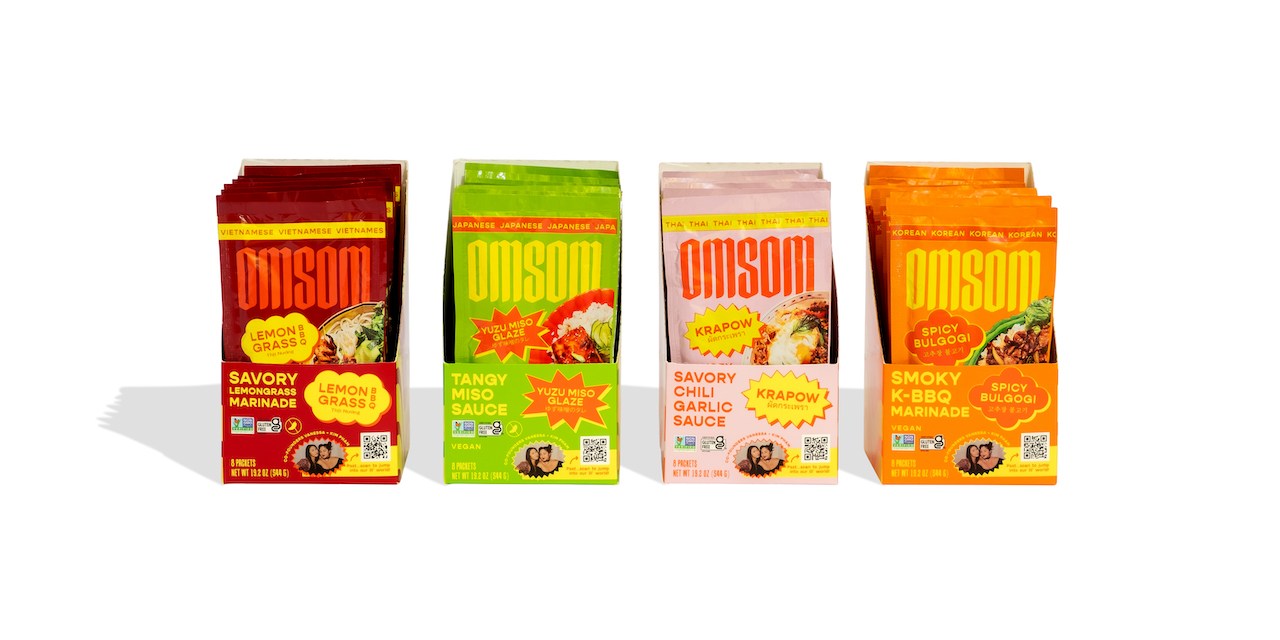 Omsom
With more direct-to-consumer brands entering retail, they face the challenge of standing out on a shelf instead of social media feeds. 
One such company is Asian sauce maker Omsom, which overhauled its products' look and size in time for its first major grocery chain debut.
Founded by sisters Kim and Vanessa Pham in May 2020, the brand has sold out 15 times and boasts a 30% customer return rate since its launch. But now, the company's challenge is to appeal to more mainstream shoppers, many of whom may have not heard of the buzzy DTC brand. To prepare for its nationwide Whole Foods Market launch this week, Omsom underwent a number of packaging changes: it increased the size of its pouches, and also made some changes to the aesthetic that better highlight the types of dishes that customers can make with the sauces, as well as the Asian-American founders' story. 
Omsom is selling four of its best-selling SKUs at Whole Foods: Krapow, Vietnamese BBQ, Yuzu Misoyaki and Spicy Bulgogi, all of which underwent a facelift. Each pouch will sell for $3.49 at Whole Foods, which is slightly less than on Omsom's own website. The company sells its DTC products in themed sets and bundles, starting at $12 for a three-pack sampler. This new look, according to the company, helps Omsom's sauce pouches better stand out on retail shelves for passerby shoppers. 
Until now, Omsom has used its digital presence to do much of its storytelling, including highlighting anti-MSG and anti-Asian cooking sentiments in the U.S., co-founder Kim Pham told Modern Retail. This move, Pham said, has Omsom calling out specific countries and cuisines – but do it in a way that's not alienating to the average shopper. 
"Two years into selling via DTC, we've learned a lot about our community and their cooking behavior," Pham said. Pham added that despite the success of DTC food brands, the majority of grocery decisions are made in the store on the shelf, "so we had to adjust and iterate as a brand."
To give its aesthetics a revamp, the company ran a series of focus groups to redo the packaging for stores. 
The first order of business was adding photos of potential dishes to the packaging, "which seems pretty straightforward, but many Americans may not know what Krapow looks like," Pham said. "We also added flavor callouts – like smokey, spicy, tangy, sweet – along with ingredients like lemongrass or fish sauce," she said. 
Next, the two founders also decided to feature their photo on the pouches, alongside a QR code linking to a video of the two talking about running the brand. "We didn't want to add our photo at first," Pham said. "But through feedback, we realized that our original packaging was sending signals that we were some big corporation capitalizing on trendy packaging, which is the opposite of who we are." This component, in particular, was important given that Omsom is being merchandised in Whole Foods' ethnic aisle (the retailer dubs it the "global flavors" aisle). Ironically, Pham noted that Omsom is one of a series of digitally-native brands that's "beaten the drum about the outdated ethnic aisle." Other CPG founders, like Fly by Jing's Jing Gao, have iterated a similar sentiment.
Finally, the biggest change to Omsom's new packaging was increasing the size of the sauce pouches by 33%, from 1.8 ounces to 2.4 ounces. "This was important to us because when you're in a grocery store, you're more in a family portion mentality," said Pham. The new packaging size is designed for recipes that incorporate roughly a pound of meat or protein, "almost like a Hamburger Helper concept," Pham said. Omsom will first use the new packaging for retailers, and will soon begin phasing it into the DTC channel.
But investing in the refresh has been a major undertaking for the startup, Pham explained. 
"It's been really brutal in every type of way," she added. Over the past year, the company has switched co-manufacturers and fulfillment centers, as it tried to scale up the supply chain to accommodate all Whole Foods stores in the U.S. "That's extremely hard because we source over 90% of our ingredients directly from Asia," Pham said. The brand also had to get non-GMO certified, which Whole Foods required.
At the same time, keeping the per-pouch prices similar to its DTC structure was a tough conversation among the team, especially as many CPG brands hike prices. "We wanted to lower the barrier of entry, and have had some investors push back on it," Pham said.
Merchandising a DTC brand for national grocery chains is a balancing act, said Ashwinn Krishnaswamy, founder of branding agency Forge Design, which works with a number of CPG startups. 
"Grocery customers need their attention grabbed, and often want to see the dishes and ingredients put into context," Krishnaswamy said. He added that package aspects like photography and recipe ideas are a good way to stop shoppers who are rushing to grab ingredients for that night's dinner. "A lot of it is about shelf appeal and driving trials," Krishnaswamy added. 
Omsom has also created some digital content to promote the Whole Foods launch. "We're releasing a miniseries on Instagram Reels and TikTok – called URL to IRL," Pham said. The show consists of seven episodes, which break down all the obstacles the business faced when entering retail. "We wanted to show customers that it's really hard to get on these shelves and stay on them," Pham said.
The first 100 customers who send Omsom a receipt showing two Omsom purchases at Whole Foods will also get a thank you note from the co-founders, similar to a Cameo message. "It's hard to scale some of that intimacy, but I want to preserve some of it as we leap into the brand's next chapter," Pham said. 
"Our ambition is to become a household name, and have Asian flavors be in every family's pantry," Pham said. "Having an appealing look while offering competitive pricing is a big part of that."