As budget-conscious shoppers hunt for deals, big retailers turn to resale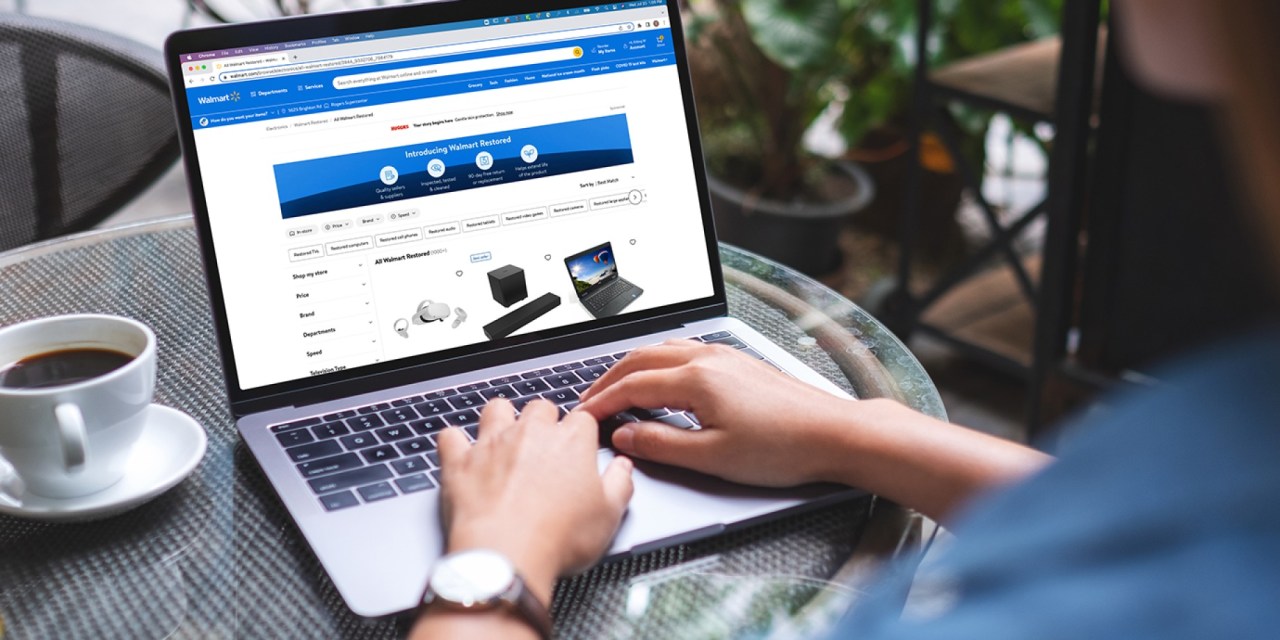 Walmart
With shoppers clutching their wallets tight, some retailers are looking at growing out their resale businesses.
Last week, Walmart announced that it is launching a product refurbishment program, called Walmart Restored, where all products listed will be professionally inspected, tested and cleaned. Similarly, Dick's Sporting Goods and its Public Lands banner teamed up with online platform Out&Back to launch an in-store buyback program for outdoor gear.
Secondhand marketplaces have taken a fair share of customers' spending in recent years. In fact, the secondhand market in the U.S. is expected to grow more than double by 2026, climbing to $82 billion from $35 billion in 2021, according to ThredUp's 2022 resale report. And with more consumers looking for more deals, resale programs are playing an increasingly important role for retailers to capture shoppers.
"The economic outlook is quite uncertain, to put it mildly," said Rebekah Kondrat, managing partner of retail agency Rekon Retail. Consumers "still have discretionary dollars in their budget to spend, but knowing that there's economic uncertainty coming, they want to be a little bit careful about how and where they're spending those dollars."
Kondrat said that spending frivolously can make some shoppers nervous in an environment where the cost of goods have been skyrocketing. Consumer prices went up 9.1% from a year before in June, the highest 12-month increase since November 1981, data from the Labor Department shows. Due to inflation, 85% of consumers surveyed said that they've changed their purchasing habits, a recent Forbes Advisor survey indicates.
There are several reasons why retailers are beginning to launch their own resale programs now, experts said. For some, this is an opportunity to take back a share of consumers' spending from third-party marketplaces like Facebook Marketplace and Poshmark.
Due to high inflation levels, these third-party resale marketplaces are expected to win more shoppers' discretionary budgets, experts said. Even as consumers spend less on goods and more on other categories like travel and entertainment, ThredUp CEO James Reinhart expects the resale market to continue growing. "I think in a traditional depressed environment or a pullback, resale should perform exceptionally well as consumers trade down," he said during a call with investors and analysts in May.
For other brands, getting into resale could be a way for them to control their brand image by facilitating the resale process themselves."The reality is, with any third-party marketplace, the brand itself loses control," said Jackie Walker, retail experience strategy lead for North America at Publicis Sapient. "When you think about brands actually owning and participating in these resell markets, it actually gives them much more control over that brand perception."
Lululemon, for example, is in control of identifying the condition of its secondhand products and listing out some of the item's imperfections. On its website, secondhand items are either listed as "Good As New" or "Gently Used." The athleticwear brand had just expanded its re-commerce program nationwide in April, a year after piloting it in California and Texas.
Outdoor gear and apparel brand The North Face recently relaunched its resale program, called Renewed, with new service partners to expand the types of products it offers. Similar to Lululemon, the company has control over how to describe its products to customers. In some products, The North Face warns that it might have "small amounts of wear."
Rick Berger, president of the omnichannel cloud platform NewStore, said that in times of economic uncertainty discount-based businesses, such as off-pricers and dollar stores, are often more resilient than their full-priced counterparts. "People like the perception that they're getting a good deal," he said. "If they're getting a wonderful deal associated with it, they'll be willing to open up their wallet."  
Launching a resale program, however, isn't that easy. Rekon Retail's Kondrat said that refurbishment programs could require a more robust logistics capability. Additionally, secondhand items also need inventory space, which is especially challenging now that excess goods have been piling up in retailers' warehouses. 
"All of those things can get very complex," Kondrat said. "You have to have a team of people paying attention to what is happening in this resale world."
Some retailers have teamed up with other firms to handle the tech and logistics side of its resale program. Upon the launch of its (Re)Adventure program this month, Eddie Bauer partnered with tech and reverse logistics firm Arrive. The program allows people to purchase used clothing and gear for a cheaper price.
Still, as retailers struggle to predict how consumers will behave in the coming months, Kondrat said experimenting with resale programs may be a risk some retailers are willing to take.
"I don't know [if] any one brand quite knows exactly how their consumers are going to behave over the next 18 months," she said. "There's a lot of throwing spaghetti at the wall right now."