Earnings
// August 30, 2022 ■ 4 min read
Best Buy comp sales drop 12.1% as shoppers cut back on electronics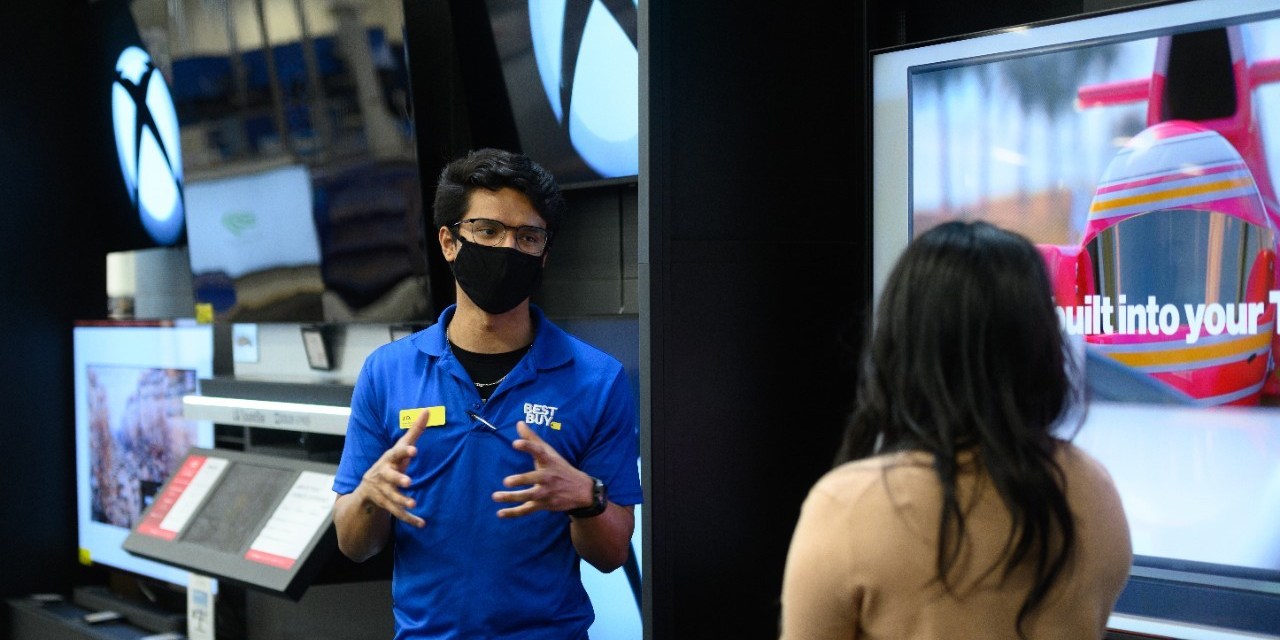 Best Buy
Best Buy saw sales decline as consumers avoid spending on electronics as much as they used to.
The retailer's comp sales dropped 12.1% in the second quarter, with the computing and home theater categories largely contributing to the decline. The company's operating income also declined 53.5% due to the increased promotional activity in electronics and its growth initiatives. The company's second-quarter revenue of $10.3 billion declined 12.8% year-over-year.
Amid constantly fluctuating consumer spending habits, Best Buy and its product offering have been one of the categories impacted the most. Executives noted that some of inflation's impact on essential consumer products has led to an uneven sales environment as well. The company said it expects softer sales this year due to record sales volumes the previous year coupled with macroeconomic headwinds like inflation. In turn, Best Buy has undertaken some cost-cutting initiatives like layoffs it announced earlier this month. 
"We expected to see some impact to our business as customers broadly shifted their wallet spend back into experience areas such as travel and entertainment," Best Buy CEO Corie Barry said during a call with investors and analysts. "We did not expect and compounding these impacts is a changing macro environment where consumers are dealing with sustained and record high levels of inflation in some of the most fundamental parts of their daily lives, like food."
The retailer's data also suggests that some consumers, particularly those in lower-income households, are trading down in some categories. For instance, executives said that shoppers are opting to purchase cheaper exclusive brand products in the television category. Best Buy has also seen more interest in promotional events such as Prime Day and tax-free events, among others.
Best Buy is experiencing a much different shopping environment than the prior year. During the second quarter of last year, Best Buy's revenue had grown 19.6% year-over-year. The company had benefited from stronger consumer spending due to stimulus checks and higher savings levels, among other factors.
But during inflationary periods, big-ticket items like some of Best Buy's offerings are often the items shoppers pull back on, said R.J. Hottovy, head of analytical research at Placer.ai. Due to the challenges ahead, Best Buy has lowered its sales guidance in July. It now projects comp sales to be down about 11% for the fiscal year, compared to its previous forecast of a 3% to 6% decline. 
Best Buy joins several big box retailers, including Target and Walmart, who've suffered the impact of changing consumer spending patterns in the second quarter after elevated growth levels during the pandemic.
It also cut down hundreds of retail store jobs, such as workers who are tasked to guide people as they make purchases and those that help layout home-entertainment, the Wall Street Journal reported earlier this month. This was all done in an attempt to manage costs and bump up its profits. 
"It ultimately depends on what product categories are hot and other things," Hottovy said. "Thinking back to the last big recession, '08 and '09, [electronics] got hit pretty hard just because it is a more discretionary product."
This time, however, Hottovy said that Best Buy has diversified its offering, which would allow the company to weather a few consumer challenges. Best Buy, for example, has been one of the retailers flocking into the health care market. With the U.S. Food and Drug Administration permitting hearing aids to be sold over the counter soon, Best Buy announced that it will begin offering an assortment of hearing devices this fall. 
In July, it also unveiled its first "small-format, digital-first store" in Charlotte, North Carolina. The store features many of the in-store services a typical Best Buy store offers, such as Geek Squad. But the store will have a new shopping experience such as QR codes that let customers send products to the counter when scanned and mobile self-checkouts, among others.
Despite its growth initiatives, many of the challenges that Best Buy is going through stem from external forces. Experts said Best Buy could soon see some benefits once demand patterns normalize. However, that likely won't happen in the coming months as people remain weary of spending excessively.       
"Unfortunately, the more subdued demand environment is likely to persist for the remainder of this year and, if anything, things may get a little worse," Neil Saunders, managing director of GlobalData, wrote in emailed comments. "This is one of the reasons why Best Buy has predicted that sales declines in the third quarter will accelerate even though the prior year comparative becomes softer."