Foot Locker lowers yearly guidance but remains confident on "Lace Up" plan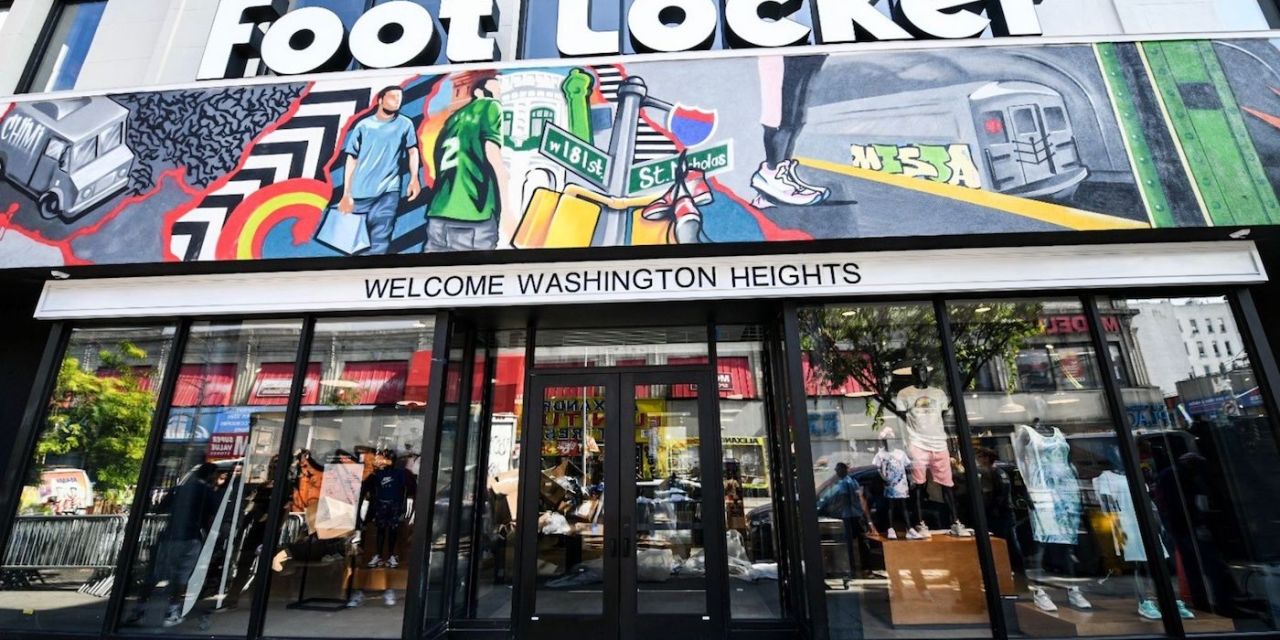 Two months after unveiling a major turnaround plan, Foot Locker has slashed its guidance for the rest of the year.
The news comes on the heels of weaker-than-expected earnings for Foot Locker's first fiscal quarter. On Friday, Foot Locker reported quarterly sales of $1.9 billion, an 11.4% drop from the same time a year ago. Its same-store sales, meanwhile, declined 9.1% year-over-year. For the 2023 fiscal year, Foot Locker now expects sales to be down 6.5% to 8%, compared to a prior range of 3.5% to 5.5%.
Foot Locker is in the midst of a significant overhaul of its store strategy. In March, it revealed its "Lace Up" plan, which involves opening new store formats, shutting some 400 underperforming locations, relaunching its loyalty program and investing more heavily in digital. While Foot Locker is making headway on its plan — this last quarter, it opened 13 new stores, remodeled or relocated 18 stores and closed 35 stores, according to the earnings release — the company continues to face significant challenges.
In a call on Monday, CEO Mary Dillon explained that Foot Locker is juggling several headwinds, including lower tax refunds for lower-income consumers, a slowdown in consumer spending and a shift away from products and towards services. She also pointed to several company-specific obstacles, such as Foot Locker's renewed relationship with Nike, its shutdown of its East Bay banner and its repositioning of the Champs Sports brand.
"While trends did improve, they did not improve nearly to the extent we expected, and that weakness has continued into May," Dillon said. "So, while 2023 was always going to be a reset year for us, we now expect the sharper decline in both sales and earnings this year… Despite the challenging environment, we remain confident in the 'Lace Up' plan as a roadmap to return us to sustainable growth next year."
Foot Locker has started taking on "a more aggressive" promotional strategy to try to drive demand and reduce inventory, Dillon said. As of April 29, Foot Locker's inventories totaled nearly $1.76 billion, 25% higher than at the end of the first quarter last year. Dillon said she expects promotions to continue at a similar level for the rest of the year.
Jessica Ramírez, senior research analyst at Jane Hali & Associates, told Modern Retail that she expects to see these markdowns apply more to lifestyle products, as opposed to performance-based products. The latter has been especially fruitful for Foot Locker; Dillon cited growth in New Balance, Puma and Asics on the call and announced that Hoka and On are now in hundreds of doors.
Ramírez said that much of Friday's earnings "was expected, to a degree."
"It's a tough time for a turnaround, no matter how you put it," she said. "There is pressure on Mary Dillon. There might be skeptics out there, but I think we are still in an early phase to see results come through… We don't expect a lot of hard decisions to materialize until later in the year."
Dillon, who was previously the CEO at Ulta Beauty, was named Foot Locker's top leader in the second half of last year. She is also the president of the company and a member of Foot Locker's board of directors.
On Friday, Foot Locker made another leadership change, announcing that it was appointing Mike Baughn its new executive vice president and chief financial officer. Most recently, Baughn acted as the executive vice president of finance and treasurer at Kohl's. He will begin June 12.