'Holding our inventory hostage': For growing brands, VC-backed 3PLs have become a sore spot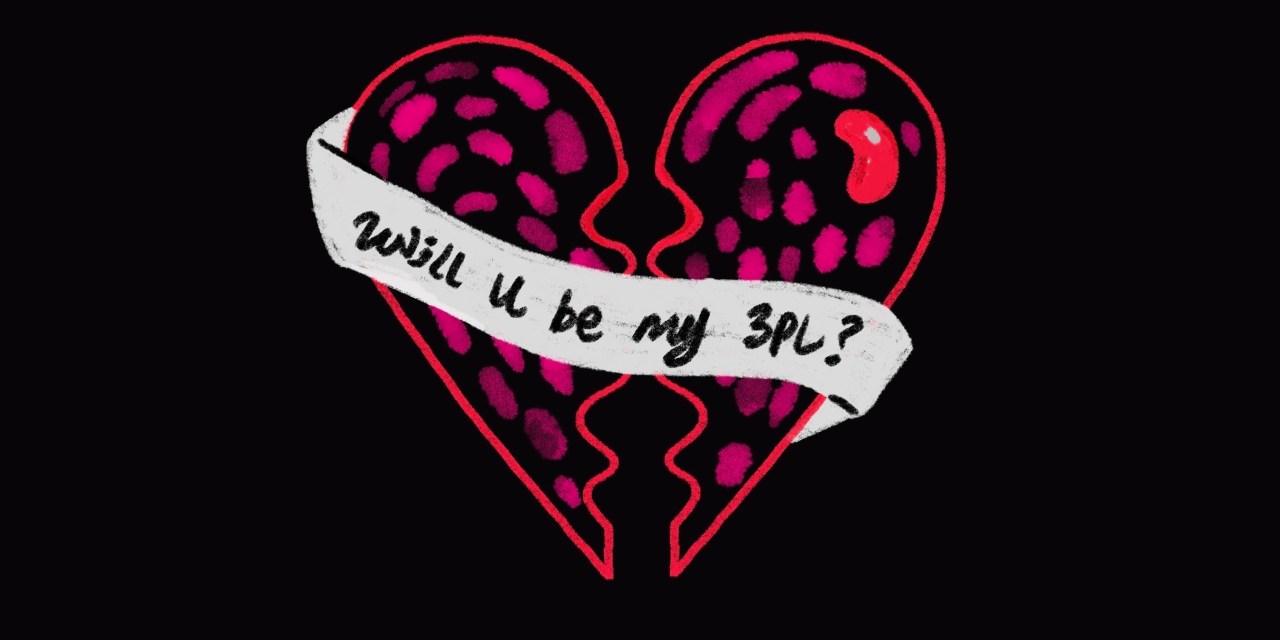 Ivy Liu
A February Instagram post did the near-impossible: It made people beyond the e-commerce bubble care about 3PLs.
The LA-based fashion startup Fashion Brand Company posted that its business was on the brink of extinction. "A big company took our fulfillment business," the post said. "We did everything correct on our end and now they are saying we have too many sizes and [SKUs] and are holding our inventory hostage." In a follow-up comment, the company concluded: "Blame @shipbob."
The post, sent on Valentine's Day, quickly caught fire, garnering nearly 10,000 likes and being shared on other social media platforms like Twitter. "My favorite slow fashion brand currently has all their inventory being held hostage by @ShipBob and I AM prepared to go thermonuclear on this account about it," wrote one popular tweet that got retweeted nearly 200 times.
For lovers of the fashion brand, the target seemed like an unknown evil — something they could use their posting powers to tag and blame. But for many in the e-commerce space, the news wasn't entirely surprising. Complaints about 3PLs have existed for nearly as long as online shopping has been around.
Susan Gregg Kroger, the founder of Modcloth, commented on Fashion Brand Company's Instagram post and said fulfillment issues almost killed her company, too, many years ago. And as one of, if not the largest venture-backed 3PL, Shipbob has been the recipient of ire from many founders online.
Zoomed out, the saga highlighted a seemingly common issue many small- to medium-sized businesses have faced. While most customers have no idea who picked, packed or shipped a product, fulfillment is arguably the piece of the puzzle that can make or break a customer experience. As such, for some founders, bad experiences with 3PLs can be a sore point years later.
Modern Retail reached out to Fashion Brand Company but did not receive a response. A half a dozen e-commerce founders and operators, however, did speak about their experiences with the company or the 3PL world as a whole. Some had what they considered to be horror stories about Shipbob specifically. Others chalked up the issues that Fashion Brand Company and others have faced as an inevitable byproduct of more 3PLs embracing a venture-backed model, one that requires them to add more customers at an exponential pace. (In addition, Shipbob connected Modern Retail with ten brands to provide references of overall positive experiences with the company.)
"The biggest issue with 3PLs right now," said Zachary McClung, founder of the agency TaskHusky, is that "there is a lot of VC funding… they don't align anymore with the customer."
Increased VC attention
Shipbob is part of a growing boom in the e-commerce space. It tries to systematize and automate the most arduous and labor-intensive parts of the online retail business: receiving products, putting them in boxes and then shipping them out to multiple geographies. This is usually a very manual task, requiring hundreds of people in warehouses to make sense of a matrix of items that need to be fit into thousands of boxes, like the most annoying game of Tetris.
The leaders in the space pitch themselves as tech companies. Shipbob specifically touts a variety of proprietary computer-built programs that let packers scan products and determines the best box for the item.
As such, the VC world has seen dollar signs. Shipbob, for example, has raised over $330 million, according to Crunchbase, and has reportedly been valued at over $1 billion. The company claims that over 7,000 clients use it to ship worldwide. Competitor ShipMonk, meanwhile, has reportedly raised $365 million to date and ShipHero has brought in over $60 million.
In Shipbob's eyes, its VC-backed model is integral — not antithetical — to its business statement, which is "to level the playing field so that SMB businesses have the access to an Amazon-like logistics infrastructure with warehouses across the country."
"VC money or not, I don't think that has anything to do with building a great product," co-founder Dhruv Saxena said in an interview with Modern Retail. "What [those] VC dollars are allowing us to do is to build a fulfillment logistics network across the entire country so that we can have fulfillment centers positioned close to the end customer."
'It's not rocket science'
For many of the brands Modern Retail spoke with, what made them test out Shipbob was precisely what Saxena described: a fulfillment solution with multiple warehouses, and the ability to have fulfillment options that grew alongside the brand itself. According to its website, the company offers nearly 30 different locations around the U.S. along with eight outside of the country.
That's what led CBD drink brand Vybes to make the switch to Shipbob in late 2021. Most of Vybe's sales came from stores, but it began to see an organic increase in digital revenue. At the time, the company used a 3PL with one location in Las Vegas and was looking to find a bicoastal option to lower the costs and shipping times.
"We interviewed several fulfillment partners," said Vybes CEO Jonathan Eppers. The company settled on Shipbob because he had seen peers use its services in the past, and Shipbob purported to have more fulfillment centers and be able to lower Vybes' costs. For nearly two months, the two companies worked together to create a business plan — Vybes sent Shipbob all of its zip codes, and Shipbob recommended the company use four fulfillment centers. "We spent two and a half months onboarding with them," said Eppers, adding that Shipbob said the migration would save Vybes 12%-15% of its previous fulfillment costs.
Things soon started to go haywire, said Eppers. Vybes offers multiple flavors to ship, along with a mixed pack that requires shippers to fill Vybes-branded boxes with a variety of SKUs. "It's not rocket science," Eppers said. Yet, Eppers claims, Shipbob had endless troubles fulfilling its products correctly — especially the mixed packs. Sometimes boxes would only have one flavor in it, other times the box would only contain two products instead of six. After some trial and error, however, things seemed to begin working out.
Then, Vybes decided to run a month-long deal offering free shipping. This, as Eppers described it, was a "huge mistake." Instantly, the brand's orders started ballooning — nearly quadrupling. "It overwhelmed Shipbob's team," he said; orders got lost, wrong packages got sent out, Eppers alleged. According to Eppers, about 20%-30% of Vybes' customers at the time never received their products.
"Of the customers who did receive their orders, probably 50% to 60% got the wrong order," Eppers said. If they ordered a mixed pack, "80% to 90% were packed incorrectly."
This meant that Vybes started to receive an onslaught of poor reviews, and paid extra to resend incorrect orders. "It was costing us tens of thousands of dollars," Eppers said. After only two and a half weeks, the company decided to shut down its website entirely. "We turned off our online sales for five days," Eppers said, "and went back to our previous fulfillment partner."
Eppers chalks up this experience to myriad issues of mismanagement, as well as a failure of Shipbob's technology promise. "Their technology crashes all the time, it's very slow," he said. What's more, its system consistently missed orders or put them in wrong, despite what Eppers says what correctly put in by his brand. "They couldn't do the basics," he said.
While Shipbob doesn't comment specifically on individual client experiences, Saxena said the Shipbob's system — when implemented correctly — shouldn't have products mis-boxed. The company, he said, uses a barcode system that asks merchants to put a barcode on each of its products. When done correctly, he said, there is "very little or zero chance" that something will get packed incorrectly. "The system will not allow the picker or the packer to proceed if they scan the wrong barcode," Saxena said.
'An issue of scale'
Other allegations are less catastrophic, but point to similar issues. Yelitsa Jean-Charles, CEO and founder of the toy brand Healthy Roots Dolls, opted to use Shipbob also because of its many fulfillment locations. The company had used Shipbob when it first launched in 2018, but found the fees too high. Then it went to another smaller 3PL, but found the vendor unable to handle its growing number of orders. Healthy Roots decided to go back to Shipbob in early 2022, re-entering its SKUs into the system and creating new systems for product bundles.
While overall, orders were being shipped correctly, the Healthy Roots team began to notice something else amiss. "We were being charged like 30% or more per order on multiple orders," Jean-Charles said. This was happening to "hundreds, if not thousands" of orders. Soon, Jean-Charles realized the issue: Shipbob was using incorrect boxes for Healthy Roots' products.
"We all know that shipping cost is based on the volume size of the box," Jean-Charles said. "Instead of using the one-doll size box, [Shipbob] was using the two-doll size box for one order." The company spent months reviewing orders and demanding that Shipbob reimburse it for the incorrect boxes used. And while some of the issues have allayed, she said she still finds the problem happening to this day.
Like Eppers, Jean-Charles sees the promised tech as potentially to blame. "I think maybe it's the system," she said. "I also think it's an issue of scale — some businesses are trying to grow really fast and not realizing they have constraints and have to fix things."
Other companies opted to use Shipbob because it specifically markets itself as small-business friendly. A recent Facebook ad, for example, shows a car filled to the brim with boxes with the caption "Time to hire a 3PL?" It illustrates the stage of company Shipbob seeks out: founders who are just getting their business off the ground, and often picking a 3PL for the first time.
That's why Caleb Ulffers, co-founder and CEO of the gym bag startup Haven Athletics, signed onto Shipbob in 2020. His brand was much smaller then, working on a presale campaign and looking for a fulfillment partner. Haven used Shipbob for its first year in business, but was having difficulty making the economics work. Shipbob was charging his brand between $60 and $80 per box. "Basically, if I, as a normal person, walked into a store [and shipped something individually], that is what I would be charged," he said.
Ulffers admitted he accepted this price, with the hope that as Haven grew, it would be able to negotiate better terms with Shipbob. "We asked them at some point — we said, this is unsustainable," said Ulffer.
The only way Shipbob would lower his rate is if Haven sold over 400 units every month for at least three months. "We still don't sell 400 units a month," and the company brought in nearly $1 million this past year Ulffers said.
As a result, Ulffers moved his business to a boutique 3PL that charges Haven $13 a box.
Shipbob insists that its model doesn't involve hidden costs — all the prices are predetermined before the two companies begin working together, and all box sizes and costs are approved by both parties. The company analyzes each brand's needs — the size of products, amount of palates/storage needed — to determine an agreed-upon fee for each item stored and shipped out.
Additionally, Saxena said that some costs shouldn't be compared to other services or an individual personally shipping products. "Our software acts as the system of record for your order management, also for your inventory management, also for your customer communication, also for your returns and also for your picking and packing [as well as] the labor associated with fulfilling the order. And then shipping."
In some ways, a 3PL is the most precarious of vendors for customer complaints. If one order goes wrong because of a picker in a warehouse, the problem can cascade into something much bigger as angry reviews and refund requests pour in. And, the brand will feel personally hurt by the middleman that caused the poor experience.
Some sources felt that the issues they experienced with Shipbob weren't one-off, but more systemic. And while an isolated problem will happen with every partner, it's especially hard for small businesses to shoulder unexpected costs and wait for problems to be resolved.
While Shipbob does have customer service, some sources said it was difficult to bring systemic issues — like consistently mis-packed items — to the right person's attention; Healthy Roots, for example, said it took over a year to get the issue more thoroughly dealt with. Shipbob, however, prides itself on its customer service; Saxena said that "the majority of our support ticket resolution times are less than 48 hours and the first response time is two hours."
'An overall issue'
While many brands pit their fulfillment woes on the specific vendor they use, the problem in some ways could be zoomed out. For example, TaskHusky's McClung hasn't worked specifically with Shipbob, but has had similar experiences with competitors like ShipHero. "Merchants were frustrated with the fact that an order that should fit in one box was being put in one for two," he said.
The problem, in his eyes, is the system helping these vendors grow. The focus is, he said, "not about how do we save the merchant money or how do we ship it the fastest — it became how do we maximize our profits. That is the overall issue with the 3PL space." That misalignment can be especially detrimental for smaller brands.
Shipbob, however, maintained that the majority of its customers are happy — and that it provides a unique service that both caters to smaller brands while giving them better access to global infrastructure than any boutique service could offer.
Shipbob pointed Modern Retail to Tim Marinello, COO of the adventure book company The Adventure Challenge, who described an overall positive experience with Shipbob. Marinello said his company has worked with many 3PLs — as well as interviewed dozens of others — and Shipbob has been the one that's been most communicative and helpful. "They have gotten in the trenches [with us]," he said. "We've had a lot of other 3PLs that did not do that with us."
With that, Saxena said he prides himself on listening to customer feedback. "For us to be successful, brands on our platform need to be successful," he said. "Of course, there are things that we can do better — all companies can learn from their mistakes, and continue to work hard. Because, we think there's an incredible opportunity for brands to continue growing [their] businesses and we can be an enabler for them to do that."
"Shipbob has catered to this rise of DTC companies and I think has done it well," added Leo Walter, COO of Bloom Nutrition.
The question of which 3PL is best leaves many brands in a bind. Many prefer working with smaller players that can provide more one-to-one support. But, some of the boutique 3PLs don't always have the capability to help brands scale like Shipbob.
That's ultimately why Healthy Roots has opted to stay. "The most difficult thing is to change your 3PL," said Jean-Charles. And, in her eyes, while she's unhappy about the erroneous fees her brand has encountered, the overall problem "is not a Shipbob issue, it's a larger 3PL issue."
Vybes' Eppers, however, doesn't share the same opinion. His brief experience with the company was enough to give him nightmares. "I get mad thinking back to that period," he said. "I try to block it out of my mind."