Holiday sales edged higher in 2022 — but there's more to the numbers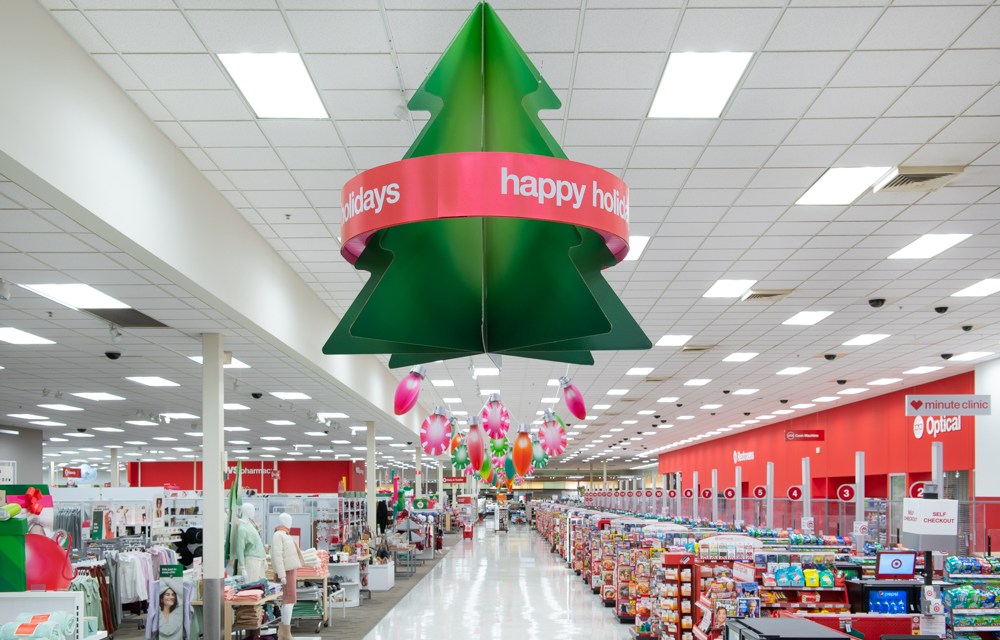 Target
Holiday sales in November and December were jollier than expected, in part due to higher prices.
According to the latest Mastercard SpendingPulse, U.S. retail sales from Nov. 1 to Dec. 24 were 7.6% higher than they were at the same time in 2021. (That figure does not adjust for inflation.) GlobalData Retail found that holiday sales were up 6.73% from the year before, an improvement from the average growth before the pandemic. The National Retail Federation (NRF) had predicted a 6% to 8% rise in holiday sales year-over-year. It will release final holiday spending numbers later in January.
The spike in holiday sales from 2021 to 2022 is a fraction of what it was from 2020 to 2021, when people were eager to shop after lockdowns and had more disposable income from stimulus payments. Shoppers bought a record $886.7 billion in gifts in November and December 2021, a whopping 14.1% increase over 2020, according to the NRF. For context, holiday retail sales in 2020 were up 8.3% from 2019, while sales in 2019 were up 4.1% from 2018.
Still, the 2022 sales are a bright spot for retailers, many of whom have spent the year juggling a tricky combination of higher costs, inventory issues and wavering demand. Despite these challenges, brands and analysts told Modern Retail that holiday sales were strong.
"From the early numbers, it seems to be much better than the doom and gloom expected," Andrew Lipsman, eMarketer principal analyst at Insider Intelligence, told Modern Retail. Lipsman acknowledged that comparing sales in 2022 to 2021 is a bit of an apples-to-oranges game, because "last year was one of the all-time holiday seasons. I don't think we're likely to see that replicated anytime soon."
The picture also looks a little less rosy with inflation in mind. When adjusting for inflation, Thanksgiving spending in 2022 was up 0.22% from 2021, according to GlobalData Retail. Meanwhile, Black Friday and Cyber Week spending was down 1.09%, Christmas and other holiday spending was down 1.60% and total holiday spending was down 1.37%.
"The combination of more muted volume demand, lower margins and higher costs of fulfillment point to an environment where bottom lines have come under increasing pressure," Neil Saunders, managing director of GlobalData Retail, said in a note. "In short, the holiday headline numbers look solid, but the underlying numbers are a lot more problematic."
Overall, inflation is improving. Consumer prices rose 7.1% in November year-over-year, down from a 40-year peak of 9.1% in June. Inflation "is not going away," the NRF said in a recent report, but "healthy" holiday sales demonstrated that "while consumers don't like higher prices, they are able and willing to pay them." In fact, the stretch between Black Friday and Cyber Monday broke participation records, with nearly 198 million shoppers buying goods and gifts.
Still, inflation is a concern, and shoppers and retailers changed their strategies for the holidays in response. A GlobalData Retail survey of more than 55,000 consumers found that 63.1% of U.S. shoppers set budgets for holiday spending in 2022, up from 45.6% in 2021. Retailers went all-in on promotions, in large part to clear out excess inventory. Some companies, like Amazon and Target, began offering holiday promotions as early as October.
Statistics aside, brands say they were happy with the turnout this holiday season. Some told Modern Retail they offered deals earlier, experimented with marketing campaigns and created gift guides.
Beekman 1802, a goat milk body care and skin care brand based in New York, held "12 Days of Deals" in December, including 8 lip balms for $32 and 40% off scented soap bundles. CEO Jill Scalamandre told Modern Retail that demand was strong across all channels, with holiday sales up 25% in e-commerce and 600% in its brick-and-mortar store in Sharon Springs, New York, compared to 2021.
Across retail, holiday e-commerce sales were up 10.6% from 2021, and in-store sales were up 6.8%, according to Mastercard.
To prepare for the 2022 holidays, Beekman 1802 "lengthened the season," Scalamandre said. The company launched an advent calendar at the end of September, focused on self care in October and honed in on gift giving in November and December. Beekman 1802 had three tiers of gifts: $25-and-under stocking stuffers, $25 to $55 hostess gifts and $150 advent calendars. Its most popular products were its advent calendars (including a special "Bridgerton" edition) and soaps.
One SKU went up in price, Scalamandre said, but overall, "we tried to keep our prices flat and we are trying to do that as much as possible this year, as well."
Footwear company Merrell also moved up its holiday timeline and used social media to "shift even more investment into driving awareness for the brand early in the shopping season," Aaron Sullivan, the brand's senior e-commerce director, told Modern Retail.
Merrell, like many other brands, dealt with supply chain issues in 2021 but had a larger inventory of winter boots in 2022. It also boosted out-of-home marketing for stores and branched out into Spotify advertising. In total, this made for a "strong holiday" season, Sullivan said, with Merrell enjoying "significant traffic bumps" on weekends like Black Friday and Super Saturday, according to planning and allocation manager Ellen Mishler.
Still, holiday momentum is one thing; carrying it into January and beyond is another. Going forward, heavy promotions will likely be "a necessity" for a lot of brands, Lipsman said, although that can also cut into their margins.
However, retailers can be optimistic about some cost concerns, Lipsman added. "Their bottom lines have improved and if they can stay where they are or close to where they are at the moment, then that profit picture should should lighten up a bit for them — though it can easily get eroded due to discounting and general consumer pullback from inflation."