How brands and retailers are rethinking child care policies to retain employees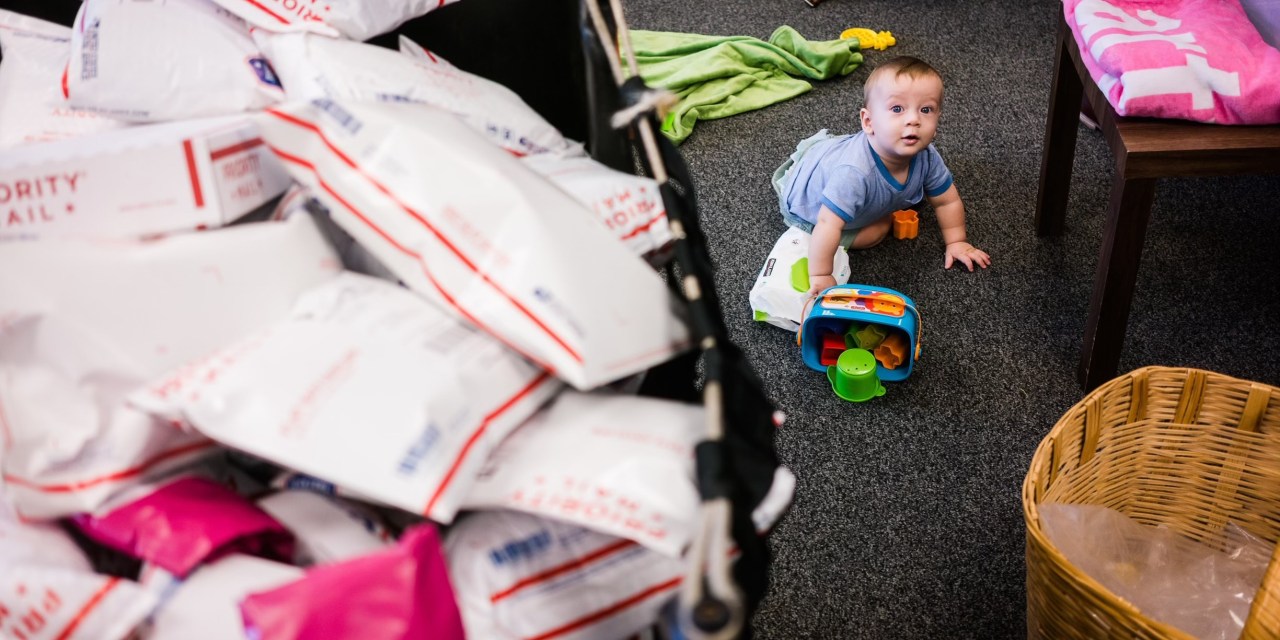 Latched Mama
Get the latest news and analysis with the Modern Retail daily newsletter. Sign up here.
Melissa Wirt launched the Latched Mama nursing clothing brand from her dining room table in 2014. Since then, the company has grown to more than 50 employees, who help operate the e-commerce business and moderate a 15,500-member Facebook private community out of an office space and warehouse in Virginia.
Also found inside the office: employees' babies nestled next to their mothers' desks. Latched Mama's employees can bring their children into the office anytime up to 18 months old, with allowances for older kids as well.
"Sometimes, if somebody has a head-down thing that they have to do, somebody else will just wear their baby and go walk around or something like that," Wirt said. "It's really bringing the community back to motherhood, as well as solving that child care issue for a lot of women."
The pandemic lockdowns and school shutdowns laid bare the childcare issues facing working parents. While about 25 million people lost their jobs at the start of the Covid-19 pandemic, the St. Louis Fed reported that about 16% of them who ended up leaving the workforce altogether have children under 12. The parent exodus continued during the so-called Great Resignation in 2021, when nearly 48% of U.S. residents said child care was a major or minor reason that they voluntarily quit their jobs, according to the Pew Research Center.
Despite these workplace shifts, employees are less likely to see compensation packages that include family benefits compared to healthcare benefits, especially in the retail sector. About 70% of people have access to medical care through their employer, while about 50% have access to some sort of family benefit — but that number drops to under 40% for retail workers, according to Gartner research.
Still, there are signs of change with some companies finding new ways to provide support to employees with children, whether that's through new child care subsidies or family-friendly policies. At Latched Mama, support for parents goes beyond the take-your-child-to-work policy: as the company has grown, Wirt has instituted policies like 100 days of parental leave, free doula services and staff lactation consultants.
Policies follow the simple premise, Wirt said, of ensuring that people get to be parents, and employees.
"Our number one thing is I want anybody who works here to be able to bring their entire selves to work no matter what that looks like," Wirt said. "There's not a written rule that you can't bring your middle schooler to work to go work in the office or go sit on a computer, if that's what you need as a mom that day. And nobody takes advantage of it, and we all get our jobs done."
The benefits arms race
Tony Guadagni, a Gartner analyst who specializes in compensation and benefits, said recent research indicates "family benefits" — encompassing policies like child care and parental leave — are less common than medical benefits. And they're especially less common for hourly workers or retail workers, with about 6% of retail workers having access to child care subsidy benefits.
"It strongly correlates that more professional types of employment are more likely to have family benefits," he said. "That tracks with most benefits as well."
But the landscape is shifting while "the benefits arms race is ramping up," Guadagni said. As issues around employee retention and hiring continue to dog companies, offering a benefits package that includes something like a child care subsidy can sweeten the deal.
Gartner research indicates that hourly employees with access to family benefits are nine percentage points more likely to stay than those who don't, Guadagni said.
"Even though we know it's high impact, it's not necessarily currently being leveraged in the ways we might expect," Guadagni said. "If you're looking to continue to compete for critical talent, this can be a real point of differentiation."
For Wirt's part at Latched Mama, she wants to see more companies embrace such policies in order to help offset the cost of child care, which CNBC reported is more than $10,000 a year; for infants, the cost is closer to $16,000. And in a country where there aren't national laws around paid leave, breastfeeding policies or child care protections, Wirt said that it's up to business owners how they want to navigate their employees' well-being.
"As a business owner, you have a responsibility 100% to your customers and to your brand," she said. "But you have more responsibility to the greater good of the individuals you employ, and what is best for them and their families."
A new necessity
Jessica Chang is the CEO of WeeCare, a childcare provider marketplace that launched in 2017 that aims to connect families to local childcare providers. WeeCare also provides operational support for about 60,000 providers nationwide. But since the end of 2020, the company also began offering a business-to-business operation that contracts with companies to provide the service to employees, who get access to the marketplace and a care team to help them find a provider or backup care. Some companies may also decide to provide a subsidy, Chang said.
The B-to-B side of the operation launched in 2020, and since then, WeeCare has taken on more than 100 clients, including big-name brands like JCPenney, Wendy's and Delta Faucet. Participating companies span small local businesses in suburban or rural areas, to national corporations with hundreds of locations around the country. But they're often businesses that have hourly employees, Chang said, or wouldn't be able to provide on-site childcare centers due to having multiple locations or employees with long commutes.
"We've focused specifically on families that are struggling the most, " she said. "Usually, that means that they're driving from a rural or suburban area to a city, and can't find childcare."
JCPenney started working with WeeCare in August to provide services to roughly 50,000 employees nationwide, including full-and-part time employees at more than 650 stores, corporate offices and supply chain facilities.
Andre Joyner, Chief Human Resources Officer for JCPenney, said in a statement that the retailer partnered with WeeCare to "make it easier for our dedicated JCPenney associates to find the care they need for their family, allowing them greater flexibility, savings, and support."
Chang anticipates that demand for child care provider benefist and subsidies is going to continue through 2022 as companies look to compete for talent. She said that the Covid-19 stay-at-home orders served as a wakeup call, when child care became harder to come by but essential workers still had to report to work.
"For employers, it was something that was nice to have," she said. "But when that all got disrepute suddenly employers saw the actual benefit of having child care. Something that was nice to have became a necessity."