How reusable packaging companies like Boox are pitching startups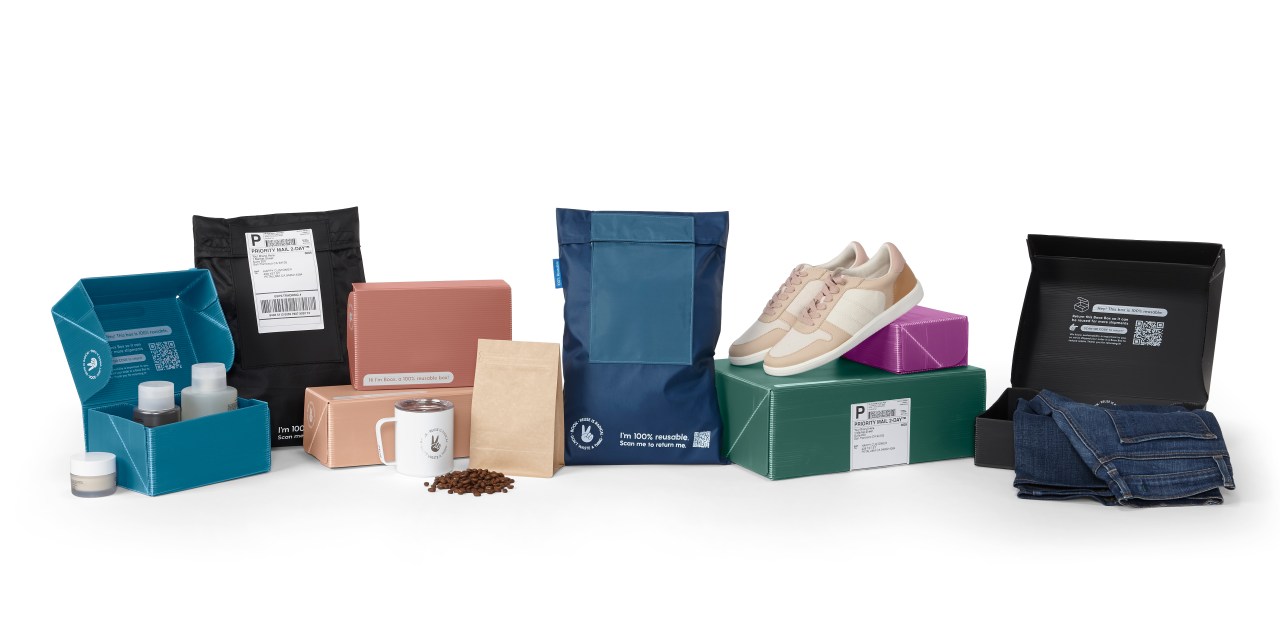 Boox
Packaging discarded by U.S. consumers piled up into 82.2 million tons of waste in 2018, according to the Environmental Protection Agency. And if that seems abstract, consider the mountains of cardboard, plastic and product wrappings accumulated in a month's worth of online orders.
"It's hard to measure, but there's some kind of consumer sentiment that it's starting to feel like too much," said Matt Semmelhack. He's the founder and CEO of Boox, part of a burgeoning crop of eco-minded companies looking to eliminate packaging waste.
The Reusable Packaging Association estimated in 2020 that reusable transport packaging was a $100 billion market, including crates, pallets, boxes and other kinds of containers used in the transport and shipping process. In a survey, RPA found two-thirds of survey respondents saying that demand for such products and services increased in the past year — and its own membership has grown by 25% year over year.
For Boox's part, business is clipping along quickly: founded in 2019, Boox raised $9.25 million in its subsequent Series A funding in 2021 and is on track to do 1.2 million shipments this year, up from 100,000 in 2021. But the challenge lies in scaling such businesses to a wide enough audience to make a difference — and in convincing brands to make the switch to reusable packaging.
"Reuse is gaining traction," Semmelhack said. "The general concept of a circular economy is growing, and the consumer's mindset and companies like ours are aligning to make it possible to engage in reusables. But it's an uphill battle."
How Boox works
Boox works by sending shipments of its packaging products to brand clients, which in turn pack up and ship out orders. Inside there's a QR code that the customer scans to find out the nearest location to drop off their Boox for reuse, or they can print off a mailing label to send it back. Then the Booxes are delivered back to the warehouse where they can be reused.
But the road to adoption is a long one. Consumers don't necessarily ship back boxes quickly; Semmelhack said the company occasionally gets a returned Boox from an order placed as many as nine months ago. Return rates vary, with some brands having just 15% of customers return them and others as high as 65%, Semmelhack said, with the success rate based upon how much education the brand puts into the process.
"There's a change in behavior," he said. "This is pretty different, taking your stuff somewhere."
There's also a limit to the lifecycle, with each Boox getting to be used 10 to 20 times before it's ready to be broken down into raw material to make more Booxes.
The goal in developing Boox was to keep pricing equivalent to traditional shipping methods, with most customers able to switch without increasing their costs.
"We intentionally priced the service directly competitive to single-use cardboard boxes, to avoid the idea of a 'green premium' for choosing the more sustainable option," he said. "Most of the brands that have switched to Boox did not increase their costs to do so, despite adding the more sustainable option to their logistics."
While prices vary based on the custom size of the box or envelope that a client needs, Semmelhack said they range from about $.36 cents to $1.75 a shipment. In the event Boox is more expensive than traditional packaging, Semmelhack points to the impression that brands are leaving on the customer.
"What we're finding is that savvy digitally native brands are saying 'Hey, our consumers are happy about this,'" he said.  And that leads to retention, and lifetime value and increased spending. And those are worth a lot more than a few cents per shipment."
In that way, Boox has become a marketing tool for clients, Semmelhack said. Boyish, a denim line, became Boox's inaugural customer about two years ago. The brand positions itself as an alternative to fast fashion and notes sustainable practices like using a third less water to make its denim, and working with recycled fabrics. Semmelhack recalls how one Boyish customer in Holland with a large Instagram following posted unprompted about Boox, which led to about 15 new leads.
"The first interaction your customer has with your product is the box it comes in," he said. "It better send the right message. If part of that message is 'we are different and we're sustainable,' then sending a brown cardboard box the person is going to have to throw away is not a good way to do that."
Brand marketing bonuses
So far, Boox says it is resonating with DTC brands that don't have brick and mortar stores, brands that target young consumers and those with sustainability as part of their business model. AJ Patel, global head of e-commerce at skincare company Ren which is under the Unilever umbrella, said the company started working with Boox in 2020.
Before that, Ren was using recycled corrugated cardboard for its shipments. But customers wouldn't always recycle them. For Ren, switching to Boox was approximately the same cost as the recycled corrugated material, at about 52 cents per unit, Patel said.
"These Boox shippers are reusable multiple times, so for us that's where it became an intriguing idea," Patel said.
So far, the brand has done over 100,000 shipments using Booxes. In 2021, which saw 51,000 shipments, the cost wound up being less than its previous materials. And the move wound up getting Ren lots of attention online from influencers and customers who were impressed by the new system.
"They loved it," Patel said of the customer response. "We got a ton of PR from it, and now we're having some of our sister brands [at Unilever] testing into the solution. So it's really an exciting time."
A growing movement
Matt Prindiville, CEO of circular economy advocacy nonprofit Upstream,  said the shift toward reusable packaging heightened during the pandemic, when a boom in e-commerce sales increased the amount of cardboard and plastic in people's waste bins.
"We've heard from so many people in the pandemic that they realized how much they've gone through," he said.
In turn, there's a number of startups working to grow the reusable packaging movement. California-founded start-up Returnity was founded in 2017 and supported by XRC Labs during an accelerator program in 2020, and currently serves more than 50 clients with a dozen in development. As of August 2022, the brand makes one million shipments a month, an increase of roughly 100% since the start of the year.
XRC Labs founder Pano Anthos said the company is successful because of its "systems-focused" approach that works for retailers and the large demand for home delivery during the pandemic.
"Many national companies have also committed to 2025 sustainability goals, and we're confident Returnity can help them make the switch to reusables in a way that makes operational, financial and eco-friendly sense," Anthos said via email.
The company offers reusable shopping boxes for e-commerce brands, including Rent the Runway's branded garment bags, as well as for refillable beauty product programs from brands like Aveda. It also works with Walmart for its reusable grocery delivery bags. Prices vary from as little as $1 for a reusable grocery delivery bag to $30 for a sophisticated beverage package. Returnity's CEO, Mike Newman said in an email to Modern Retail that the products are made exactly to the client's specifications to help ensure that the per-use cost is equal or less than what they may already be spending.
"Reuse only scales when it has competitive unit economics, achievable with a combination of high return rates, efficient reverse logistics – and packaging built to best work within the client's systems," he said.
Prindiville of Upstream said reusable packaging could become an increasingly popular given the value proposition that it could have in saving companies money by needing to buy less packaging, while also helping the environment.
"There's so many different value propositions at play. Beyond the environment, there's business propositions at play," he told Modern Retail. "If you just optimize recycling you're only knocking off a few percentage points [of carbon emissions]. But if you use reusable you're knocking off way more."
But the challenge with reusable systems comes when it's time to require new facilities and infrastructure. While such systems exist in some parts of the world — such as refillable Coca-Cola bottle facilities in South America — it's not part of most current systems in the United States.
"A lot of it comes down to 'what are the systems we need to scale, how do we pay for it, and how do we build it?" Prindiville said.
Semmelhack from Boox said the goal is to see the world's biggest corporations begin to make a move into reusable packaging, whether it's with his company or someone else's.
"We do expect that there will be an inflection point, where Nike or Walmart will suddenly be using reusables, and it will suddenly become the way we ship things," he said. "It will no longer be the eco-friendly few."