How Starbucks union workers are seeking customer support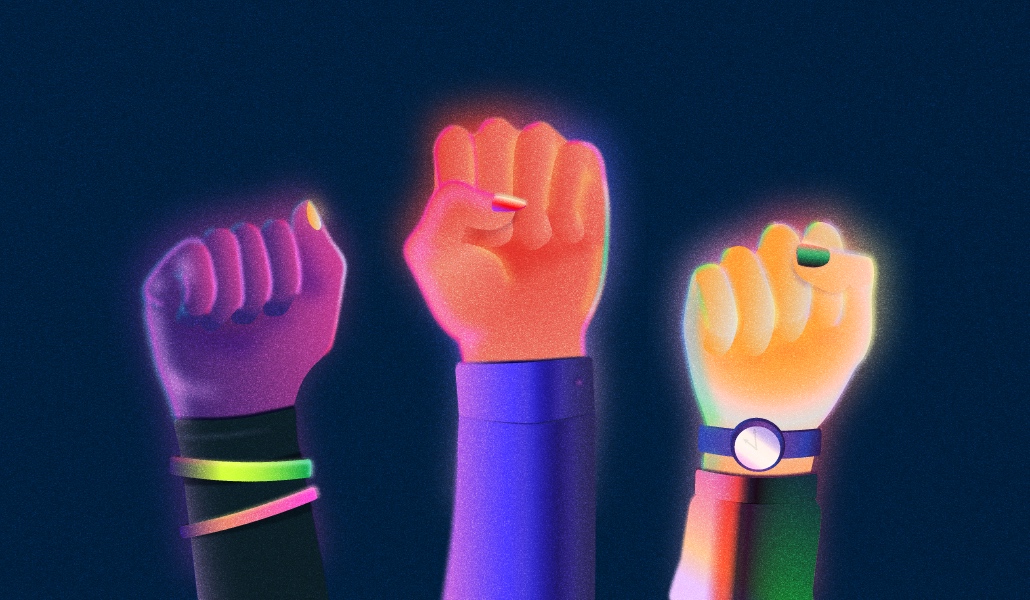 Ivy Liu
Unionized Starbucks workers are tapping customers and labor allies to stand with them as they continue to seek contracts that would improve pay and working conditions with the coffee giant.
The Starbucks Day of Action on Monday aimed to rally supporters into spreading the word about the unionization efforts on the employees' behalf. About 48 different labor and activist organizations hosted more than 330 "Adopt-A-Store" solidarity events in front of Starbucks locations nationwide. The efforts yielded an additional 980 customers joining the campaign via a QR code distributed on leaflets, plus 16.8 million people reached on social media via the hashtag #StarbucksSolidarity.
Jasmine Leli, a barista and organizer with a unionized Starbucks in Buffalo, New York, said the goal of the Day of Action was to mobilize customers and allies as the workers push for policies like $20 an hour for baristas, and guaranteed scheduling.
"The customer being involved is everything," she said. "Corporate is hearing our message loud and clear, but what they don't ignore is the customers."
More than 340 Starbucks stores have unionized since the movement started in Buffalo, New York, in December 2021, according to Starbucks Workers United. That's roughly 2% of the 16,000 Starbucks locations in the United States. But the effort of seeing low-wage service workers come together at scale has had broader ramifications, setting off a chain of organizing at other retail and service chains. Trader Joe's, REI, Barnes & Noble are just a few of the national chains that have seen worker-led organization efforts.
Leli said that customer support is a key way the movement has thrived, not only because they can help spread the word but because it gives workers motivation to hear from others who understand their situation.
"People may not understand what union busting means, but when you say, 'Hey, I can't afford to pay my rent because I'm not making enough at my workplace," people get that," she said. "Knowing the company can afford to do better, it's really hard to watch."
Last week during an earnings call, Starbucks reported a record $9.2 billion in third quarter revenue, a year-over-year increase of 12%. CEO Laxman Narasimhan, who has spent the beginning of his tenure traveling to stores around the world, discussed how the growth was driven by pricing changes, customizations and food sales. He also shared that the company is working to increase the average hours of employees through better staffing and scheduling. In the past year, the company says its driven $1.4 billion back into stores, including paying an average wage of $17.50 an hour and benefits like health care, paid leave and free therapy sessions.
A spokesperson for Starbucks, Andrew Trull, told Modern Retail on Tuesday the company has met for bargaining sessions with Workers United representatives 10 stores since March 2023. It's also met with a Teamsters-represented union in Pennsylvania nine different times. But Trull also said Workers United hasn't engaged in scheduling since late May for any future sessions.
"Looking forward, we remain ready to progress in-person negotiations with the unions certified to represent our partners, and we encourage Workers United to respond to proposed dates for future store bargaining sessions," Trull said. "That way, we can more fully understand the union's core demands, propose specific contract proposals tailored to the unique needs of store partners, jointly approve tentative agreements and progress negotiations towards complete contracts for each store."
Shifting customer sentiment
There's some data to suggest that Starbucks customers are changing how they feel about the brand in the week of the effort. Data from Morning Consult Brand Intelligence, which tracks consumer sentiment, showed that trust in Starbucks dropped following a $1 million pledge from Workers United to the Starbucks strikers in June 2022. Among Starbucks customers, the drop was in the double digits,according to ad daily tracked net promoter score. Net trust among U.S. adults overall dropped six points.
Emily Moquin, food & beverage analyst at Morning Consult, said there are many factors that go into brand image for a company as massive as Starbucks. That includes a bump in prices amid inflation, people thinking about product releases, or the simmering worker movement.
"It's been going on long enough that it's this underlying factor customers are starting to associate with the brand," she said.
But getting customers to act on that sentiment can be a steep hill to climb. Food and beverage purchases are largely habit based, and coffee is chief among those habits, Moquin said. Claire Tassin, retail and e-commerce analyst with Morning Consult, said it likely won't be until there's an impact on sales that the company takes notice of customer-led efforts — and that can be difficult when many customers have divided attention.
"It requires time and attention and some financial flexibility to vote with your dollar," Tassin said.
Starbucks organizers said Monday's effort was "just the first" in efforts to mobilize customers and allies. Another action is planned for Sept. 14. Leli said while Starbucks has made changes to workplace policies — like a relaxed dress code, credit card tipping and update to senior pay — unionized workplaces are being penalized for their efforts. The National Labor Relations Board has found that Starbucks has violated federal law multiple times, including worker intimidation and firing organizers.
Leli from Starbucks said she frequently hears customers express solidarity — ordering under the name "union strong" is one common way to show support. Some customers have refrained from purchases during strikes to avoid crossing a picket line, while other regulars have stopped coming altogether because they don't want to support the company.
"Everyone has bills to pay," she said. "People resonate with not making enough money to feed yourself or afford healthcare."