How The Vitamin Shoppe uses social media to update its merchandise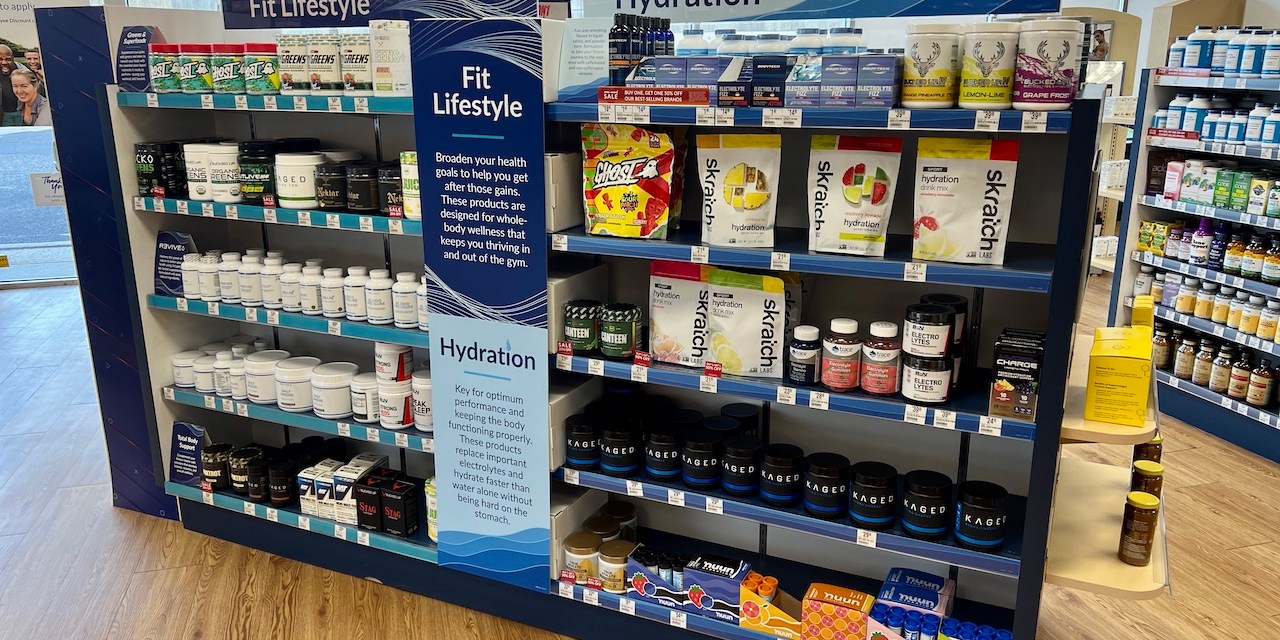 The Vitamin Shoppe
As a legacy retailer known as a destination for nutritional supplements, The Vitamin Shoppe is monitoring social media trends and working with startup brands to keep its merchandise fresh.
For years, The Vitamin Shoppe focused its attention on catering to fitness enthusiasts who stocked up on traditional supplements to reach their health goals. However, in the past couple of years, the company identified new opportunities to reach a wider audience. This ranges from keeping trendy supplements like creatine and plant protein in stock, to seeking out young DTC brands that specialize in better-for-you ingredients.
According to The Vitamin Shoppe, this strategy means marrying sales data with traffic spikes on social media platforms like TikTok and Instagram. But another part of the challenge involves deciphering the flukes from multi-year trends, in order to keep customers coming back — and to stay relevant in an ever-evolving retail landscape. 
For the 2022 full fiscal year, the retailer's parent company the Franchise Group reported a total revenue of $4.4 billion —  of which The Vitamin Shoppe accounted for $1.2 billion, compared to $1.1 in 2021. The group posted $68.6 million in net losses and an adjusted EBITDA of about $354 million.
Using trends to find new customers
"When things trend online, it's also a great opportunity for us to get new customers in the door," said Muriel Gonzalez, who joined The Vitamin Shoppe in August 2020 as chief merchandising and marketing officer and this week was promoted to president.
For example, at the beginning of the pandemic, there was a big emphasis on increased immunity. At the time, that led to a spike in zinc and other immune boosting supplements. Now that attention has shifted to categories like hydration, sports and performance nutrition.
Gonzalez said that aside from social media, the company uses data by retail insights provider Spins to forecast inventory demand. For instance, energy and sports drinks are currently up 14.2% year-over-year; Meanwhile, muscle-strengthening creatine jumped 108.4%, with $31 million in sales during 2022. Additionally, in the mainstream U.S. supplements channel, whey protein sales rose 25% while plant protein sales grew 12%.
"We look at long-term trends, not just something that's having a one week spike on TikTok — that's not a sustainable business model," Gonzalez said. 
For example, the company saw an increased interest in creatine last year, "and it wasn't just from people going to work out, but also older people or young people whose diets weren't rich enough," she said. In turn, The Vitamin Shoppe upped its creatine offerings through its two main private labels, as well as vendor SKUs. 
On the other hand, when liquid chlorophyll — a product that The Vitamin Shoppe has carried for years — began spiking on social media in 2021, the company didn't respond by creating a bunch of new SKUs. "All of a sudden, TikTok was talking about all the marvelous things it would do for you," Gonzalez said. Instead, The Vitamin Shoppe continues to replenish its existing private label liquid chlorophyll and the trend quickly passed. 
About a year ago, Gonzalez said the merchandising and marketing team also began to broaden out assortments to cater to different types of customers. "We didn't have anything for the bicyclists, the marathon runners and a lot of other people that do fitness in different ways than just going into a gym." 
As a result, The Vitamin Shoppe has created several merchandising strategies to optimize interest in trending categories and products. This year the company implemented Fit Lifestyle and Hydration store displays to showcase buzzy brands from these categories, such as BodyTech, Ghost and Kaged, among others. 
Offering newness with the help of young brands 
Like many other retailers, The Vitamin Shoppe is also seeking out startups to grow its assortment in certain categories. For example, Gonzalez said The Vitamin Shoppe's merchandising team is continuously seeking out young functional beverage brands.
"We saw there were other ways to provide hydration and energy beyond drinks, like through powders and so forth," she said. In 2022, the retailer added startup hydration brands like Waterdrop and Prime by Logan Paul and KSI. Gonzalez said the long-term relationships with parent company Congo Brands has helped ensure The Vitamin Shoppe has been able to keep Prime restocked as demand has exploded. The partnership "got even stronger this year when Prime brought out the energy SKU," Gonzalez said. "So they've really kept the momentum going."   
With this, the Vitamin Shoppe has been positioning itself as a friendly testing ground for young health and wellness brands. "Our merchants are all over social media, whether it be Instagram or TikTok, to see if there are any emerging DTC brands that might want to go to a brick and mortar partner." 
Gonzalez explained that with a DTC or a founder-led young brand, they usually like to start out with a specialty retailer before selling through a big-box chain. "We're able to take a broader assortment, and we have the well-educated health enthusiast shoppers," she said. "If a brand does well with us and other specialty stores, eventually the big boxes are going to come looking for them." 
Natalia Bojanic, co-founder of U.K.-based supplement startup Form Nutrition, told Modern Retail that The Vitamin Shoppe approached the brand to help it establish a U.S. footprint. "The Vitamin Shoppe played a big part in establishing a presence in the U.S. in key markets and bringing Form Nutrition to U.S. consumers," Bojanic said. "We're now available at more than 700 locations across the country, and The Vitamin Shoppe is one of our top-performing U.S. retailers."
As part of its initial rollout, Form Nutrition participated in The Vitamin Shoppe's "No Whey" campaign, which helped introduce the brand to shoppers through store fixtures and sample giveaways. "Making sure we sit next to companies with a similar brand ethos and clean and natural ingredients has been very important for our credibility and product comparison in the U.S," Bojanic said. Currently, Form Nutrition is working with The Vitamin Shoppe on other initiatives, such as online and in-store training programs and influencer campaigns in key markets.
As the retailer expands into more categories, Gonzalez said stores remain a big asset. The company began adding franchise locations this year, with support by its parent company the Franchise Group. As a result, The Vitamin Shoppe is building out its brick and mortar offerings with 12 new locations opening in 2023.
To build on this theme of a continuous new assortment, Gonzalez said the company recently instituted a dropship program on its website. "This enables us to put thousands of more SKUs online from all those adjacent categories," she said, such as selling pickleball equipment and yoga mats. "It's really letting us try different categories without the inventory and space investment."