Inside Lysol's post-pandemic R&D roadmap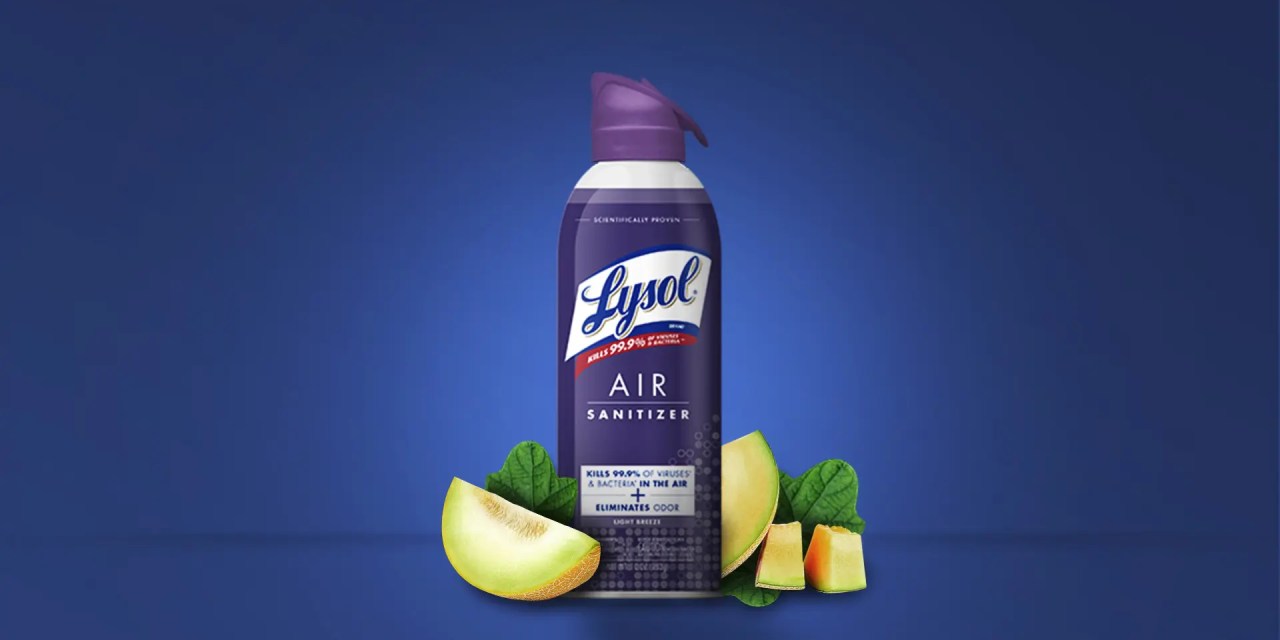 Lysol
Household cleaners have taken a backseat since Covid restrictions were lifted – causing a decline in sales for some of the pandemic's early winners. 
This month, Lysol announced it's launching an air sanitizing spray that kills 99.9% of airborne viruses and bacteria while also eliminating odors. The Lysol Air Sanitizer has been three years in the works, and is part of Lysol's multi-year strategy to expand its product line and grow sales after unprecedented demand during the pandemic. Lysol's parent company, Reckitt, generated $17.87 billion in revenue in 2022, a 1.76% decline from 2021.
According to Lysol, its products have sanitized and disinfected surfaces for over a century. But the company says the new air sanitizer marks "the first and only" antimicrobial product approved by the Environmental Protection Agency to effectively kill both viruses and bacteria in the air. Available in three scents: White Linen, Simple Fresh and Light Breeze, the Lysol air sanitizer is rolling out in retailers over the coming weeks. As it maps out its post-pandemic product strategy. Lysol is getting into product formulas that go beyond surface cleaning. In particular, it's combining sanitizing with refreshing air and fabrics, and releasing more scent and size options.
Benoit Veryser, vp of U.S. marketing at Lysol, said the company worked closely with the EPA on the development of the new air sanitizer. "This would typically take five years to launch, but it took us about three years," he said, adding that it's been in development since the Covid-19 outbreak.
The product expansion comes at a time when Lysol is navigating post-pandemic purchasing habits. "We lost almost 50% of that growth going into 2022 and 2023," Veryser said. 
He went on to say that demand has been "a rollercoaster" for Lysol since March 2020. When the pandemic hit, the company sold out of products within three weeks as people deep cleaned their homes to protect their families from the virus. "We spent all of 2020 and 2021 building up capabilities to supply consumer demand," he said.
Then sales waned as the population got vaccinated and got back to semi-normalcy. "This made sense, since we were one of the few brands approved for killing Covid," Veryser said. The Omicron Covid variant, which broke out in December 2021, generated the last big wave of people buying Lysol. Of course, some people have hung onto their habits and are still cleaning consistently, said Veryser. "But it's nowhere close compared to before restrictions were lifted," he added.
Now Lysol wants to cater to the new hybrid lifestyles by creating new disinfectant formats to add to its classic line of sprays and wipes. "Overall education on germs has increased," Veryser said. "People know more about germs than ever before." On the go, he said that people are still sanitizing and washing their hands – which is keeping Lysol's to-go products popular. 
At the same time, more than ever people are aware that germs live on fabrics and in the air. "There is also the idea of bringing germs home, which is more prevalent now especially with hybrid work schedules," he said.
With the new air sanitizer, "we're now saying that we're not only disinfecting the air but also eliminating odors." This gives people who use products like Febreze the added benefit of also eliminating germs. Walmart, Walgreens and Rite Aid are some of the early retailers that will be carrying the air sanitizer line. "I'm cautiously optimistic about the reaction to the product," Veryser said.
"We're just getting started on different formats," Veryser said. Fragrance expansion will also be an area of focus for Lysol. But overall, Veryser said the company will continue to build out innovation by improving products' effectiveness. "Killing 99.9% is a claim that's vastly used, but some germs are more difficult to kill than others." For example prions, which are misfolded proteins known to cause various fatal disease, are notoriously difficult to kill with surface disinfectants, said Veryser.
Product demand isn't the only challenge facing big players in the cleaning category. Being a name brand is especially challenging as Americans switch brands amid inflation. Like many major CPG makers, Lysol increased prices in the past year. "People are shifting to private labels, looking for cheaper solutions," Veryser said, especially at retailers with a big private label business, such as Walmart. This is evident with Lysol's toilet bowl cleaners still doing well, Veryser said, because they're still relatively cheaper than sprays. Moreover, Lysol has seen an increase in bulk and multi-pack purchases at warehouse clubs such as Costco. 
There are also still major customers that continue to use Lysol products – including hospitals, offices and hospitality businesses. Airbnb and Hilton, for example, are still some of the company's biggest B-to-B customers. "This part of the business remains strong, but similar to our retail business it's diminished compared to the heyday of Covid-19 sales," Veryser confirmed.  
Still, Lysol's overall unit volume sales are down and the company is betting on innovative formulas to stay competitive.
Scott Dicker, market insights director at market research firm Spins, said home cleaning products are facing major headwinds. "All-purpose cleaners' unit sales have almost halved since 2021," Dicker explained. According to Spins data, the category is up by just about 2% over the past 52 weeks, but units were down 10%.
Dicker said that companies like Lysol and Clorox have also raised their prices – leading shoppers to trade down to private label products. Over the past 12 week period, Dicker said that private label household cleaners have increased in sales by about 19% compared to two years ago. "We've also seen formats like scrubs and creams grow by 77% over the past 52 weeks," he said, noting that this is likely due to social media cleaning hacks. 
Despite changing sales patterns, Veryser said Lysol will continue to add more products to its lineup. The air sanitizer is the first of a series collections in the works, aimed at catering to busy people who are also cognizant of the effects germs have on their health. "We as a company are aiming to make sure our products kill the widest range of germs," Veryser said.