Q&A
// August 11, 2022 ■ 8 min read
'It's the price of admission': How Levi's is trying to build a hybrid workplace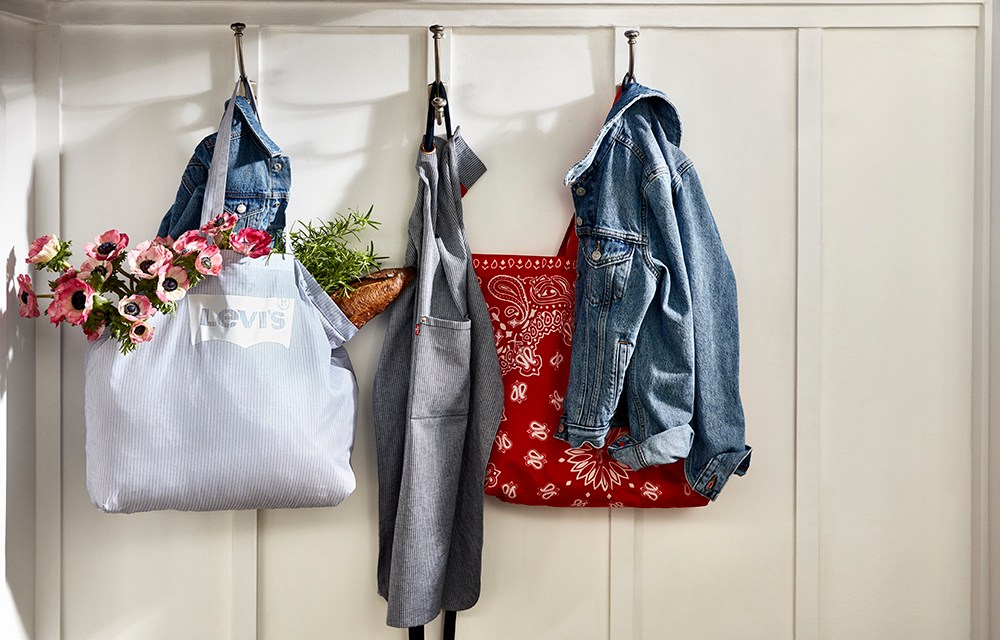 Target x Levi's
As a brand with around 16,000 employees, Levi Strauss & Co. has a global footprint that extends across hundreds of workplaces including stores, offices, distribution centers and manufacturing plants. Now it's also embracing the home office. 
Like retailers of any size, Levi Strauss has had to contend with how to mitigate pandemic risks over the last two and a half years, and let its employees work from home. That has meant a transition to a hybrid workplace; corporate employees aren't required to come into the office except for designated meetings (roughly 12,000 of its employees work on the frontlines).
At the helm of this shift is Levi's chief human resource officer Tracy Layney. She began her role in late March 2020 just a week into lockdown at the company's Bay Area headquarters, following human resource leadership roles at Shutterfly and Gap. 
For Layney, hybrid scheduling comes down to flexibility and connection. She is also focused on making sure employees have resources to support their mental well-being, and increasing the diversity and inclusion among Levi's workforce. She has now coalesced on a corporate work policy that she says is working for the apparel brand — and is helping with both hiring and retention. In an interview with Modern Retail, she discussed the new approach — as well as the other initiatives she's enacted over the last year.
This conversation has been edited for clarity and length.
For your corporate employees, how have you handled the return to office?
I spent a lot of 2021 in many conversations with peers in other companies figuring out how we were going to address that question. We are taking a hybrid approach to work. People have flexibility to work remotely or come into the office. We basically haven't done any blanket mandate, because we really want to lean into flexibility. But we've also set expectations that people come in regularly, whether that's monthly or quarterly, for key meetings. 
I'm in the office right now, I was home on Monday and I'll be home tomorrow. It's all about making sure we're getting the best of both worlds, one where people have flexibility – we know that's something employees value – but also work to maintain the connection to one another. 
How has that flexibility manifested? Have you looked at how often people are coming in or staying home?
We're not in any way trying to track that. I think fundamentally the way work is happening has just changed. Any tie back to how we worked in 2019 isn't particularly helpful or relevant in the world we live in now. We basically proved for many months and months, we could work very effectively remotely. We also think there are trade-offs of not seeing each other face-to-face. And so the whole notion of that is what we call "work tailored for us," which is that we combine the best aspects of being flexible but also agreeing on points in time we're going to be physically together. 
Has this helped you in hiring and retention?
Absolutely. Our headquarters are in the Bay Area. Everybody's doing this here. I think it's a little bit the price of admission for employees right now. I think it certainly has helped us with retention and it's something I think employees expect if they're considering joining a company. 
How have you worked to recruit new retail employees?
My experience having been in retail for a very long time is that what we're facing now is not materially different from what's always been challenging us. It's just incumbent on us or any other employer to do things like really lean into our culture.  
We're very outspoken about issues we care about. We're very outspoken on employee engagement. We really lean into manager development to make sure mangers are supporting their employees and leading with empathy. That's something people feel no matter where they work in the organization. 
We also know one of the best ways to recruit, especially in the retail space, is through our own employees. So we've put sort of champion roles in the company, we've got leaders in the stores who work with store management and are out there recruiting others. There are no better ambassadors for ourselves and our brand than our own employees. 
The areas we are leaning into are more training and development, I think that's something retail employees value and we're doing a lot in that space around technology and apps and making sure people have training they need in the stores.  
What steps does Levi Strauss take to help ensure the mental wellness of employees?
A few months into the pandemic, it started to become clear the toll it was taking on people's mental health. As we all know, we've read a million stories about burnout and that hasn't changed. What happened now is we're in a phase where a lot of life has returned to normal, people are still exhausted from both the pandemic and all the other challenges of the world. 
For us here at a LS&Co, about two years ago we realized this was going to be an acute challenge. We're in the process of developing a very integrative holistic approach to menthol health and well-being of our employees. 
We have a lot great things already in place, for instance we have a partnership with Thrive Global which is about daily micro-steps that people do to keep themselves healthy. We have third party partners we work with like Talkspace so people can go and find resources. We have an employee assistance program, we have coverage in our benefits programs. 
There's a lot that's happening and now we're looking at it and saying 'Ok is this enough, where do we have gaps, how do all these things first together, how do employees access them easily? All our types of employees  — whether they're stores, [distribution centers] or corporate? And how do we deliver this over the next 3 to 5 years, what's going to be the landscape?' 
What we're also doing, and I don't know if this is unique, but we're talking openly about what's going on. We have very open lines of communication. It's not unusual for leaders through our internal website or things like that to talk about their journeys with mental health. We've made it very transparent and very safe for people, if they want to share their experiences, including people at the top of the organization. We think that's really important as people model seeking the help they need. 
How does this manifest in real stores?
A lot of times managers are on the front lines of this. Starting in 2020 we've been working on helping train managers to lead with empathy. Not to be therapists or anything like that, but just to say 'Hey whats going on, how are you, how can I help?' 
Levi Strauss recently issued its first annual Diversity Equity and Inclusion report. What was the impetus for that and what are you working on?
In 2020, in the wake of George Floyd's murder, Ahmaud Arbery's murder and Breonna Taylor's murder, we came out with pretty strong commitments around diversity, equity and inclusion, as a lot of companies did. We were pretty specific in what we were committed to doing, including hiring a chief diversity, inclusion and belonging officer (Elizabeth A. Morrison). That led to us in 2021 setting out a multi-year DEI strategy which we'll update every year with how we're doing. 
It covers things like our representation numbers, like how diverse are we and how are we making progress based on numbers we previously reported. The other piece is inclusion, how do we make sure people can bring their whole selves to work, what programs are we putting in place to make sure that's the case? 
For a couple of examples, we've launched anti-racism training and diversity training, and 87% of our employees participated in that in 2021. We have a very very robust employee resource groups, we have for years, and we keep adding to them, especially globally. We have long-term incentives of compensation for executives tied to a lot of this work. This year we just launched our first inclusion survey. 
This is a firm commitment, it's one of the CEO's priorities, it's one of my biggest priorities, and for us, this is just going to be the way we work going forward. 
What are some of the specific DEI challenges facing Levi's?
We're at or above the average for BIPOC talent in the U.S., and we have well over 50% women in organization. 
The challenge is when you drill in you realize we have some gaps in Black and Latinx/Hispanic talent in the U.S. in corporate — and at the very senior levels of the organization we don't have 50-50 parity for women. Those are the areas we've chosen to focus on specifically across the company. 
In service to that, we've done things like make sure we have diverse hiring slates whenever we're hiring for those roles. We have partnerships we're developing in different functions to really go after great diverse talent. An example would be, in our design function, we partnered with Harlem's Fashion Row to do work to help build pipeline of Black designers, not just for us but across the industry. We're partnering with Clark University, an HBCU, for specifically design talent. We're doing things in the tech space and other spaces, because there are great partners that can help us build a pipeline, and also just grow the pipeline in general for the industry.