J.Jill sees sales slide due to consumers' price sensitivity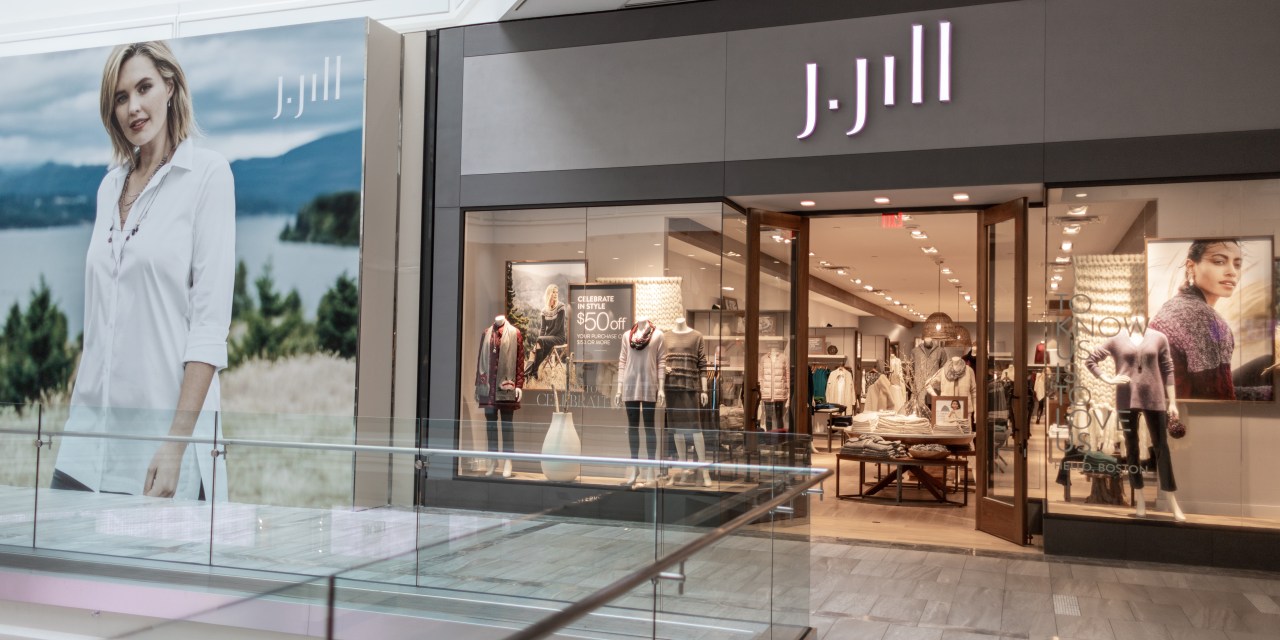 J.Jill
Fashion brand J.Jill is feeling the weight of shoppers pulling back spending on their wardrobes and seeing its sales drop. 
The company's total net sales were down 4.9% year-over-year in the first quarter to $149.4 million. Its e-commerce sales, which takes up 45% of the company's sales, dropped 7.7%. J.Jill's total comp sales, including e-commerce, also declined by 2.7%. 
Shoppers spooked by the economic downturn are holding off buying discretionary items like clothes, footwear and apparel — J.Jill's playing field. And negative sentiment of the economy has taken a hit on J.Jill's business. As a result, the company has updated its outlook to be more conservative. 
"We felt relatively flat sort of consumer sentiment over the course of the quarter," CEO Claire Spofford said during a call with investors and analysts. "We didn't see a lot of up and down. It was more of a general conservatism that we started to see impacting the business overall."
The company expects revenue in the second quarter to be down mid-single digits compared to the previous year. For the fiscal year, J.Jill now expects annual adjusted EBITDA dollars to be down mid-single digits from 2022. J.Jill said that its profitability is expected to feel the most pressure in the third quarter.
"It's very much reflective of what we've seen across the broader apparel retail space," R.J. Hottovy, head of analytical research at Placer.ai, said. "Certainly, over the last couple months, we've seen consumers prioritizing more staples products, than discretionary products. And so we're seeing weakness across the overall category."
J.Jill is in a niche category, targeting women mostly around 45 to 60 years old. In previous quarters, the company had benefitted from shoppers returning to work and looking for new outfits for the office. Around this time last year, net sales at J.Jill climbed 21.7% to $157.1 million, which exceeded the company's internal expectations.
Charles Lewis Sizemore, chief investment officer of Sizemore Capital, said that the company was up against tough comparisons from the previous year and that its results this quarter are a reflection of how economic headwinds is impacting the fashion category. 
This quarter, Spofford said that its Wearever products were resonating with younger, new-to-brand customers looking for workwear. However, J.Jill saw softness in some categories such as its basics business. Spofford said the company's customers "decided she didn't need to refresh" their knitwear and bottomwear as well. 
The company is also seeing higher online returns, which executives believe is partly due to consumers' overall conservatism. Experts said it could also be due to merchandising issues from the company.  
"Their market is women primarily aged about 45 to about 60, so middle aged women, many of whom are in their peak career earnings years," Sizemore said. "This has given us a bit of a window into what that particular demographic is doing, how they are spending and how they feel."
On the bright side, the company's gross margin improved at 72% from 69.7%, thanks to lower freight costs. J.Jill has also managed to keep its inventory down 14.9% to $53.8 million compared to $63.2 million last year through "surgical markdowns." Spofford also said that the company made an effort to balance its inventory after seeing the softness in basics late last year, which puts J.Jill in a beneficial position. The company also plans to spend $18 million to invest in technology and the completion of a POS project, among others.
"They had really hard comps this year because of that big back to work inventory or closet replenishment. They were competing with that," Sizemore said. "I would say the biggest positive is simply that sort of comps get easier from this point forward."