Latest Starbucks and Chipotle earnings show fast casual to be inflation-proof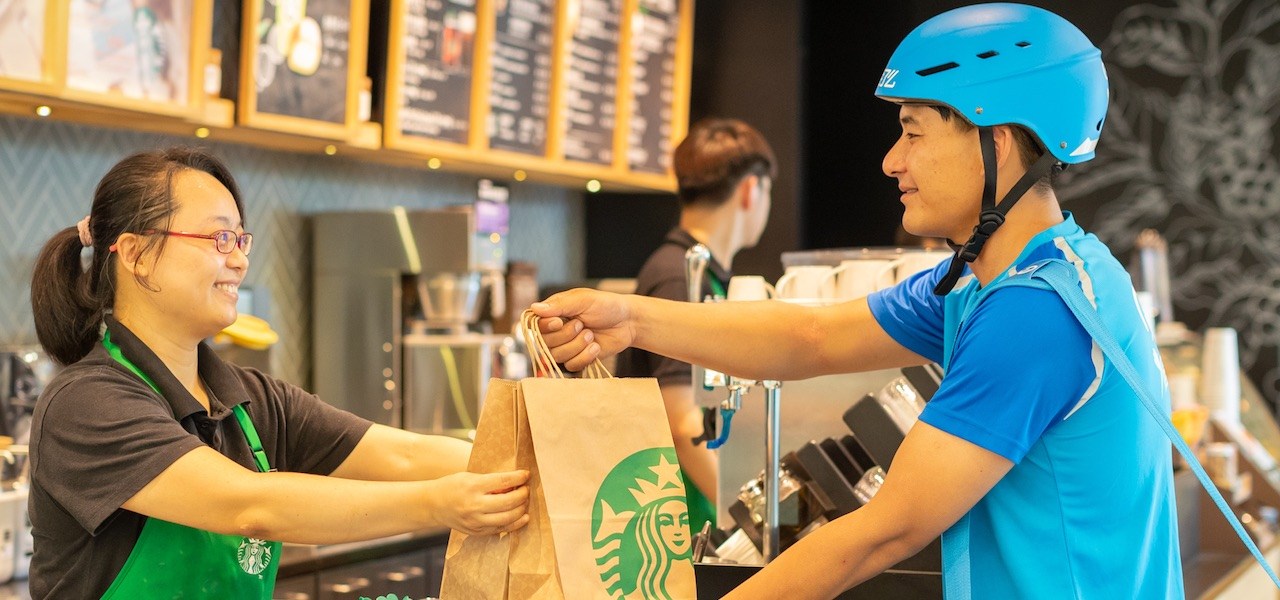 At a time when many Americans are reallocating discretionary spending, they are still finding room for fast-food chains and fast-casual restaurants in their budget.
On Tuesday, Starbucks reported increased revenue and profitability, following in the footsteps of other chains like Chipotle and McDonald's, which also reported earnings in the last few days. In its third-quarter earnings report, Starbucks held strong with a 10% increase of same-store sales. Global comparable store sales increased 10%, primarily driven by a 5% increase in transactions and a 4% increase in the average amount spent by a customer per visit.
The performance comes on the heels of Starbucks' overall improved profit margins. In the previous quarter, the chain said the improvement in efficient store operations helped drive a 35% increase in net income year-over-year.
The coffee chain's growth is particularly strong in overseas markets, especially China. Outside North America, Starbucks reported that same-store sales jumped by 24% over the same period last year. At the end of the quarter, Starbucks said stores in the U.S. and China made up 61% of the company's global portfolio – with 16,144 and 6,480 stores currently operating in the U.S. and China, respectively.
As Starbucks continues to invest in growing its drive-through and pickup business, the company is scaling back physical ambience in favor of creating the digital "third place." Indeed, this "Reinvention Plan" is bearing fruit for the company since being unveiled about a year ago.
"I am pleased with our third quarter performance, which beat our expectations, including our International segment," said Starbucks chief financial officer Rachel Ruggeri. "Our performance was bolstered by the progress we are making against our strategies, specifically our Reinvention Plan, and its unfolding into tangible financial results, as we delivered earnings growth of 19% well above our revenue growth of 12%."
Chipotle is another fast-casual chain that continues to maintain growth following major digital sales during the pandemic. In its quarterly earnings last week, the company said that operational costs have stabilized enough to continue to increase profits. For instance, Chipotle noted the drop in avocado prices, which were lower this year compared to the second quarter of 2022. The company's same-store sales grew by 7.4% year-over-year and digital orders accounted for 38% of revenue during the quarter.
However, Chipotle is now considering once again increasing menu prices. "As we get closer to that fourth quarter, we'll make a decision exactly on what we want to do on the pricing front," CEO Brian Niccol said on the latest Chipotle earnings call.
Last week McDonald's also reported that same-store sales grew 11.7% in the second quarter. The company attributed it to higher repeat visits and popular menu offerings, like its mascot Grimace's "Birthday Meal," which went viral on social media in June. McDonald's also announced an upcoming launch of a spinoff restaurant concept named after another vintage McDonald's mascot, CosMc's. The with a theme will revolve around the alien character, who was popular throughout the 1980s and 1990s.
Brad Jashinsky, director analyst at Gartner, said restaurant chains overall continue to perform strongly. "Broadly, we're seeing growth over last year among more mature chains," Jashinsky explained, which he attributed to several factors – like higher menu prices and stabilization in operating costs such as ingredient and labor costs. "These are helping improve margins," he said. "But at the same time people are looking for value-based promotions."
Jashinsky added that chains with established digital businesses, like Starbucks and Chipotle, are increasingly pushing out personalized deals and discounts to encourage more frequent customer orders. Other changing habits are also pushing growth along, such as the continued returns to offices.
On the other hand, younger chains like Sweetgreen posted weaker-than-expected sales. The fast-casual salad spot reported narrowing losses in the second quarter, coming in at $27.3 million compared to $40.5 million last year. Sweetgreen CEO Jonathan Neman said the company is aiming to turn a profit in 2024.
While spending on discretionary goods like apparel and home goods has slowed down this year, enough people are choosing to make room for their fast-casual and coffee runs.
"Amid increasing prices, consumers show a willingness to protect some categories of discretionary spending while curbing others," Jashinsky said; He pointed to a 2023 Gartner Consumer Inflation and Price Sensitivity Survey that shows food and dining spending remain a priority for most.
And as the back-to-school and holiday season approaches, the restaurant chains are expected to maintain the current momentum. "All signs point to things staying strong through the rest of the year," Jashinsky said.