Earnings
// August 23, 2022 ■ 3 min read
Macy's warns sales to fall due to shifting consumer trends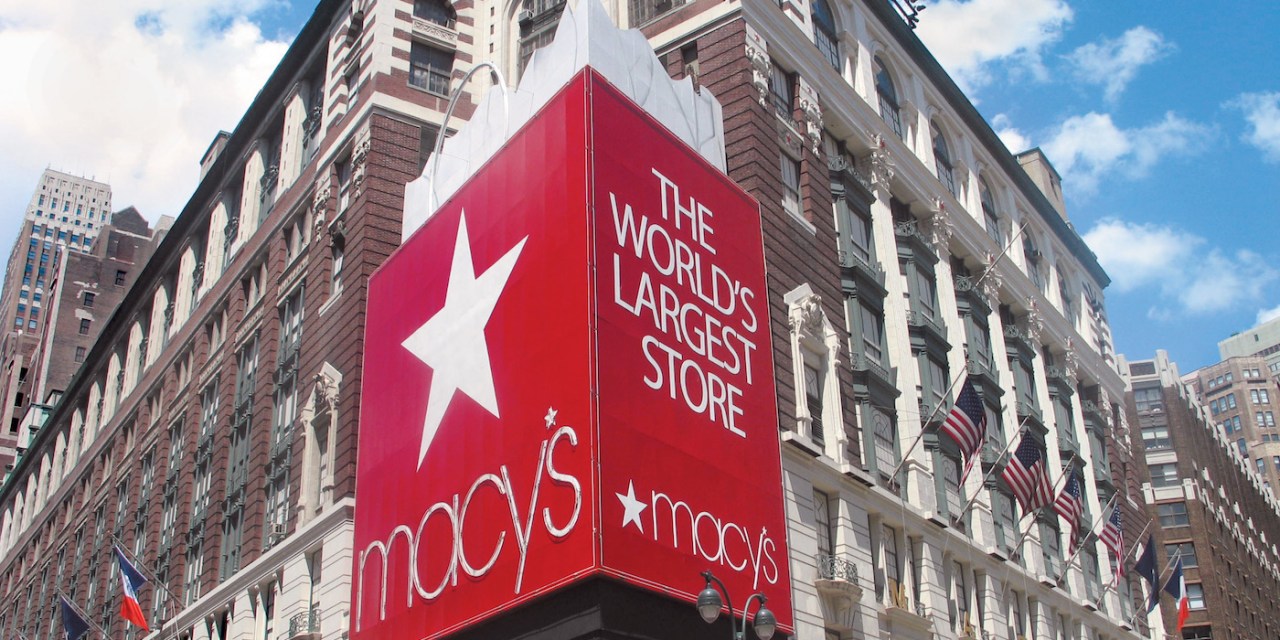 Macy's
Macy's is expecting to take a blow from changing consumer spending habits.
The department store retailer lowered its full-year net sales guidance to a range of $24.3 billion to $24.6 billion — a decrease of $120 million on both ends of the range from its previous outlook. It also lowered its guidance for its gross margin. Macy's expects its gross margin to drop about 150 basis points from the previous year due to elevated markdowns. 
"During the quarter, Macy's brand customers across all income tiers slowed and shifted their spend. Persistently high inflation through higher prices and food and fuel and in turn lead to higher interest rates in the softening market," Macy's CEO Jeffrey Gennette, said during a call with investors and analysts. "As a result, overall consumer discretionary spending and sentiment weaken compared to the prior year."
Executives pointed to inflation and consumers spending more money on travel or entertainment as the factors forcing Macy's to lower its guidance for the rest of the year. Due to the high cost of goods, consumers are being more particular about what they spend money on, experts said. 
Already, Macy's second-quarter results have been impacted by softer spending. Macy's net sales were down 0.8% year-over-year to $5.6 billion. Its net income in the second quarter also dropped to $275 million from $345 million in 2021. 
Its results were still above expectations despite its sales and income decline, experts said. "I was a little surprised and I'm sure other people would be surprised to see that Macy's beat their earnings," especially because of the macro-economic uncertainty that is plaguing many retail giants at the moment, said Wes Gottesman, market advisor at trading platform TradeZing. 
Just a quarter ago, Macy's — along with other department stores like Nordstrom — were beneficiaries of spending shifts. Macy's net sales were up 13.6% year-over-year in the first quarter to $5.3 billion and it had even raised its profit outlook. This happened when consumers began shopping for new outfits to wear to events as opposed to categories that trended during the pandemic like athleisure and home goods. 
"Macy's can be thought of as a bellwether of what to expect from middle-income America," Charles Lewis Sizemore, Chief Investment Officer of Sizemore Capital, said. "The story that we're getting from Macy's here is really consistent with the story we've heard for the last several months: Consumers are having to pick and choose."
Macy's is now at the opposite end of where it was in the previous quarter. Macy's also ended the quarter with inventory levels up 7% and a gross margin of 38.9% from 40.6% in 2021. The retailer said it is planning to be aggressive and roll out discounts to rightsize its inventory levels by the end of the year. 
This back-to-school season, Macy's was offering discounts on some apparel ranging from 20% to 70%. Other retailers like Walmart and Office Depot were doing the same with back-to-school markdowns up to 75% and 60%, respectively. 
Adrian Mitchell, CFO at Macy's, said shoppers "aren't as healthy as they were in prior quarters." Mitchell added that wages are not keeping up with the pace of inflation.
Sizemore said this could potentially impact Macy's bottom line. "It means margin depression. At the end of the day, that's what that means," he said. "It doesn't mean it's an absolute disaster. But it does mean that whatever the profit expectations were beforehand, they are now going to be more modest."
However, there are signs that inflation pressures are easing. The consumer-price index, a barometer for the cost of goods and services, was up 8.5% in July compared to last year and is down from 9.1% in June, according to recent data from the Labor Department. 
Sizemore said the best case scenario for Macy's is for inflation to keep trending lower. "Macy's is being prudent and they are preparing for perhaps not the worst but they're preparing for a bad scenario," he said. "So if we get anything less than that, that's really good news."