Move over, department stores: Specialty grocers are taking over as mall anchors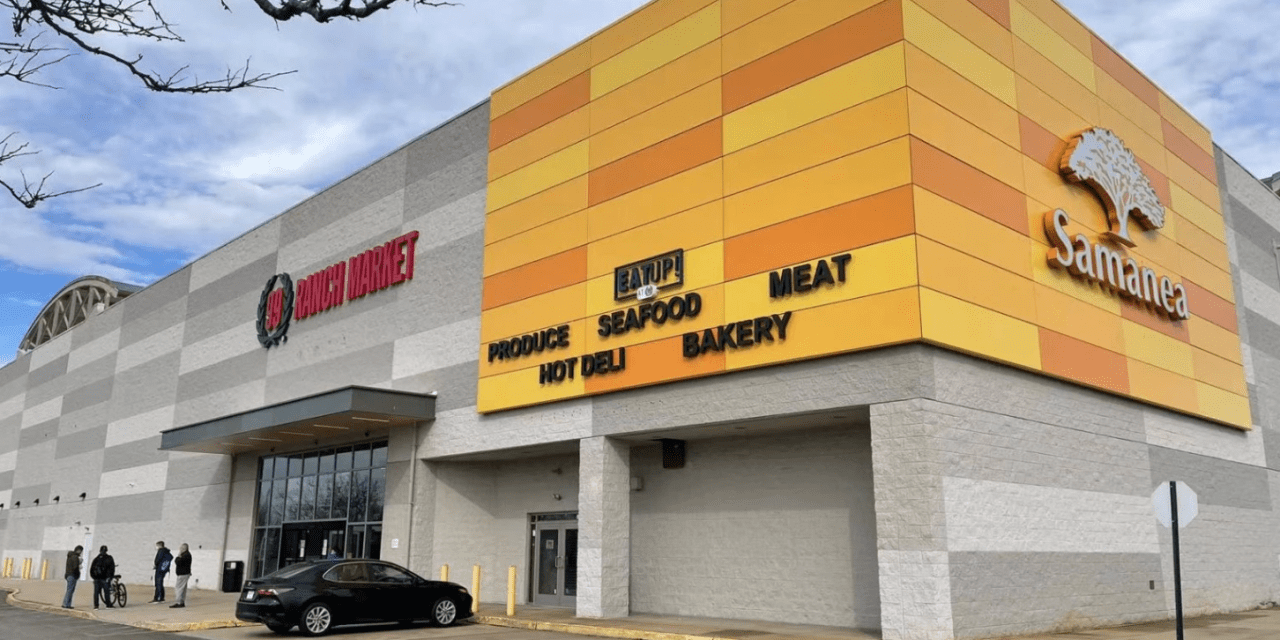 99 Ranch Market
Asian grocery store 99 Ranch Market sits in a Westfield mega-mall in San Jose, California — a spot where classic mall-based department stores like Macy's and Nordstrom Rack are also located. 
It was 99 Ranch's first store located in a mega-mall and it quickly drew in people who queued in line to enter as soon as it opened in March. Months after the grocer opened, the Westfield Oakridge shopping center saw visits climb 10.1% in July 2022 compared to three years ago, according to data from Placer.ai. Korean-American specialty grocer H Mart is planning to open a 37,180-square-foot mall store in Dublin, California, the San Francisco Business Times reported earlier this month.
Malls have pulled various levers to boost foot traffic for years, with anchors ranging from the standard department store to entertainment centers. More recently, American malls have been leaning into specialty grocers in an attempt to encourage people to spend more time in malls and drive sales for other retailers in the vicinity.
"It's kind of survival," said Brad Jashinsky, director analyst at Gartner. "There's not a lot of retailers who are looking for giant spaces anymore." 
Even department stores that have resided in malls for years have opted to vacate during the pandemic due to declining traffic. Nordstrom executives said in 2020 that the retailer is attempting to distance itself from malls with its mall-based locations producing just 38% of its revenue in 2019. Jashinsky said this phenomenon has given grocers the space to exist in American malls. 
Now, malls are looking to repurpose the void left behind by department stores. For example, The Mercury News reported late last month that a Vietnamese indoor market could take over a former Sears department store in East San Jose's Eastridge Center shopping mall. The concept, based on the report, bares some similarities to Eataly, which features a market and a food hall dedicated to Italian cuisine and has locations in New York City, Chicago and Boston. 
Using specialty grocers as bait
The concept of putting grocery stores in malls isn't new, experts said. Having grocery stores in malls is more common abroad, including some parts of Europe and Asia, where people tend to shop in smaller quantities and prefer one-stop-shop shopping centers as more people take public transportation. In contrast, experts said Americans tend to bulk buy goods and shopping malls tend to be more specialized.
The grocery stores found in malls more recently are slightly different from the typical supermarket, Ben Wynkoop, senior director of retail strategies for grocery at software and consultancy company Blue Yonder. Some of them don't expect customers to bulk buy their groceries, but rather purchase specialty ingredients for a handful of meals, he said. 
Nevertheless, specialty grocers still have the ability to reel in shoppers. The Westfield Valley Fair mall had already been seeing its traffic grow consistently in comparison to pre-pandemic figures, but the mall's traffic grew even stronger when it included Eataly in its mix. During Eataly's opening week at the Westfield Valley Fair in Santa Clara, California in June, the mall's visits surpassed 20% for the first time in months compared to pre-pandemic figures, according to Placer.ai. 
"For the mall, it's a huge attraction because of traffic alone," Wynkoop said. "Malls are looking for what's going to drive more traffic and more frequency of traffic."
Despite the rise of e-commerce, which experts said has contributed to lower traffic in physical shopping spaces, in-person shopping reigns supreme in the grocery category. The vast majority or 97% of U.S. adults said that they shop for groceries in a store at least monthly and 82% do so at least once a week, according to a Gallup survey in August. 
Wynkoop said grocers can benefit from mall-based locations as well. He said grocers could have more favorable rent due to the mall vacancies and gain customers from the existing traffic that malls already have. 
However, having a grocery store in a mall doesn't always mean higher traffic for other stores in the area, said Blake Droesch, senior analyst at market research firm Insider Intelligence. People who shop for groceries versus those who shop for other goods, like apparel, exhibit different shopping behaviors. Because of the perishable items purchased at grocery stores, some people might opt to go home after their grocery trip rather that further explore the mall. 
"The assumption that bringing a high foot traffic retailer like a grocery store is automatically going to spill foot traffic over into other retailers in the mall is certainly not a guarantee," said Droesch. There are "just different types of consumer buying patterns that occur and [it's] going to be hard to marry those two experiences."
Additionally, Blue Yonder's Wynkoop said that malls must make sure that the grocery store that it is inking partnerships with has a similar demographic as its existing customer base. For instance, 99 Ranch Market in April opened another location at the Samanea New York mall in Westbury, where a significant number of restaurant tenants at the mall feature Asian cuisine.
"I think it really will literally come down to the economics," Wynkoop said.