Oura enters physical retail with Best Buy partnership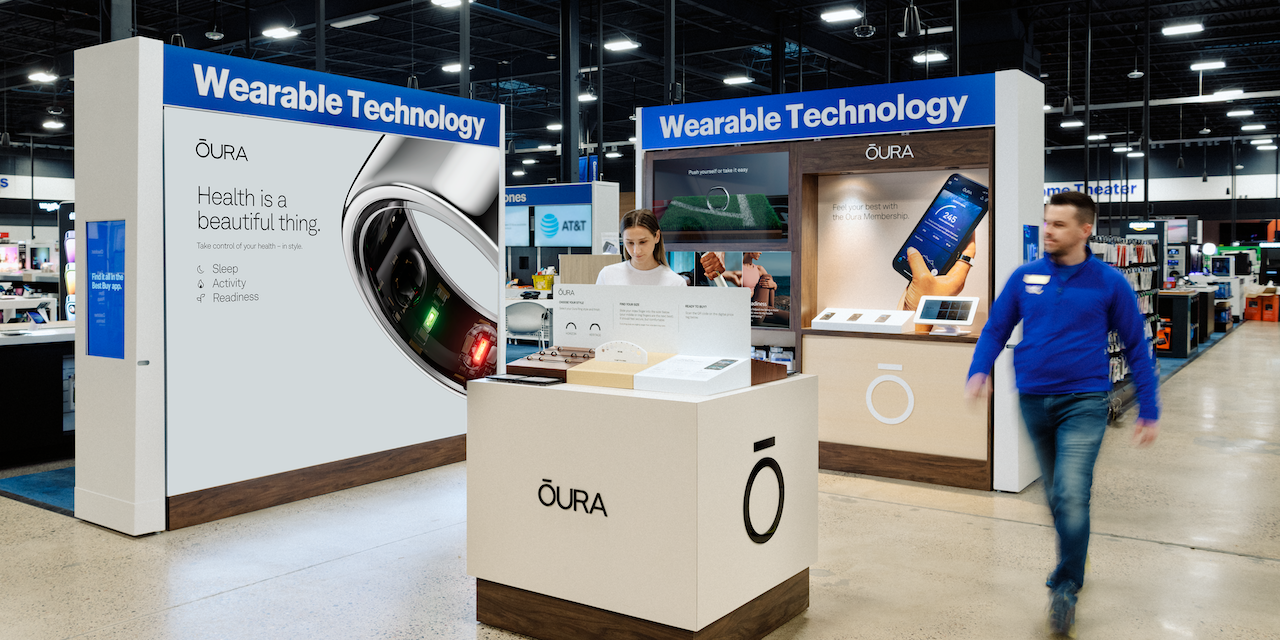 Ōura
After courting celebrities and athletes, Oura wants its smart ring to become a mainstream accessory. This week Oura took a big step toward becoming a national brand, announcing that its ring will now be sold through Best Buy. 
Oura was founded in Finland in 2013 and launched through a 2015 Kickstarter campaign — it has since sold more than a million rings in over 98 countries. Through sensors, the ring tracks several daily health metrics, such as REM status, activity levels and resting heart rate. The company has raised a total of $148.3 million of funding to date, and has amassed a cult following among wearable tech and wellness enthusiasts. 
The company's profile has risen over the past few years, most notably when the NBA purchased 2,000 rings for players living in the 2020 Bubble. The company's ring has garnered celebrity fans like Jennifer Aniston, Kim Kardashian and Prince Harry. The Generation 3 model, released in 2021, generated more sales than all the previous versions combined. Now Oura is ready to court mainstream tech customers through its first major retail launch. The Oura Ring will be sold through 850 Best Buy locations as well as the retailer's website.
Fifty of those stores will have a dedicated 11×11 foot Oura store-within-store, featuring video displays and sizing tools; The rest of the Best Buy stores will feature standard-sized Oura fixtures. As of now, customers are only able to walk out with their purchase at 250 of the total locations, with the other offering home shipping.
"The product has been built largely through word-of-mouth over the past decade," Doug Sweeny, Oura's chief marketing officer, told Modern Retail. "We've been primarily a direct-to-consumer brand." 
Bringing Oura to life in stores
"When we started thinking about what retailers to partner with, we continuously went back to Best Buy," Sweeny said. He added that one of the big selling points for Oura was the fact that 70% of U.S. households live within 10 miles of a Best Buy. "It's been the leading multinational electronics retailer for decades and offers a great experience." Best Buy has also increasingly been carrying more lifestyle and wearable technology; in late 2022, the retailer began carrying fitness tracker brand Whoop. 
Like many DTC brands getting into retail for the first time, the new offline presence is meant to raise brand awareness among a more mainstream audience. But like many size-specific products, Sweeny said concerns about the fit is the biggest barrier of entry for customer acquisition, which can be eliminated through store displays.
"Given that it sits on the finger all day, trying on the product is really important," Sweeny said. Oura rings start at $299, with models going up to $549 for select styles and finishes such as rose gold.
To ensure correct sizing and minimize exchanges on its website, ​​Oura sends customers a sizing kit of several plastic models and recommends they wear the prototype to sleep before confirming their size to the company. So, Oura had to figure out how to recreate that sizing kit in stores. 
The company decided against displaying actual rings for try-ons, said Sweeny, due to the number of display models it would require across many locations, as well as the need to frequently fix or replace rings due to sales floor wear and tear.
"We created about 10 prototypes with Best Buy before settling on the final sizing tool," Sweeny said, where customers can insert their hand to get their precise finger size. 
In order to prepare for the launch, Sweeny said that Oura has "been getting products into Best Buy employees' hands and training them on how to talk about Oura and all the features and benefits."  Sweeny said the company spent time building the merchandising strategy to reflect all the content and services offered on Oura's website. Aside from running video content, Best Buy visitors can browse and scroll through the Oura app's features — which are usually behind a subscription paywall — to get a sense of what an Oura membership might offer.
Customers who purchase their rings at Best Buy will be onboarded through Oura's app to start using the device. "The roadmap on software is really deep as we build more features," Sweeny said. "Folding the customers into this ecosystem is a key part of our business." 
A focus on partnerships
While Best Buy is the first major brick-and-mortar play for Oura, the company has been testing retail concepts over the past few months. 
Last December, the brand partnered with Japanese retailer Softbank to sell its rings at seven brick and mortar locations in Japan and on the Softbank Selection Online Shop. In 2022, Oura also partnered with massage gun brand Therabody, which offers Oura Ring sizing and ordering at over 20 Reset by Therabody wellness centers.
Partnering with designer brands has been another area of focus. Last year, Oura released a limited-edition ring with Gucci, which has since sold out. The designer edition cost $850 and includes a lifetime membership to the Oura app. 
These types of brand partnerships will continue to be a large part of Oura's growth strategy. "There is a lot of partner activity we're looking at, both on the hardware and software sides," Sweeny said. "There will be more collaborations on the way."
Retail consultant Rebekah Kondrat said that for a brand like Oura, it makes sense to enter a big tech-focused retailer like Best Buy. 
Moreover, Kondrat added that coming out of Covid, people have shown us that they're willing to spend on themselves when it comes to wellness. "The customer base walking through Best Buy is highly qualified to purchase an Oura," Kondrat said. "Then there are the customers who have considered buying it online but have to get through the trepidation." 
Kondrat said that like online jewelry brands, sizing is often the deterrent for customers who want to feel and try on the item before pulling the trigger on an expensive purchase. And so, the brick-and-mortar presence also solves some pain points to convert more people into Oura users. In this case, Kondrat likened Oura's store-within-store design to Apple's Target presence.
As Oura courts a more mass market customer, the company plans to continue expanding its offerings and availability. "I do think we're going to reach a broader audience with this launch," Sweeny said. "But it's still someone who's interested in wellness and being healthy."