Tattoo care brand Mad Rabbit is expanding to Walmart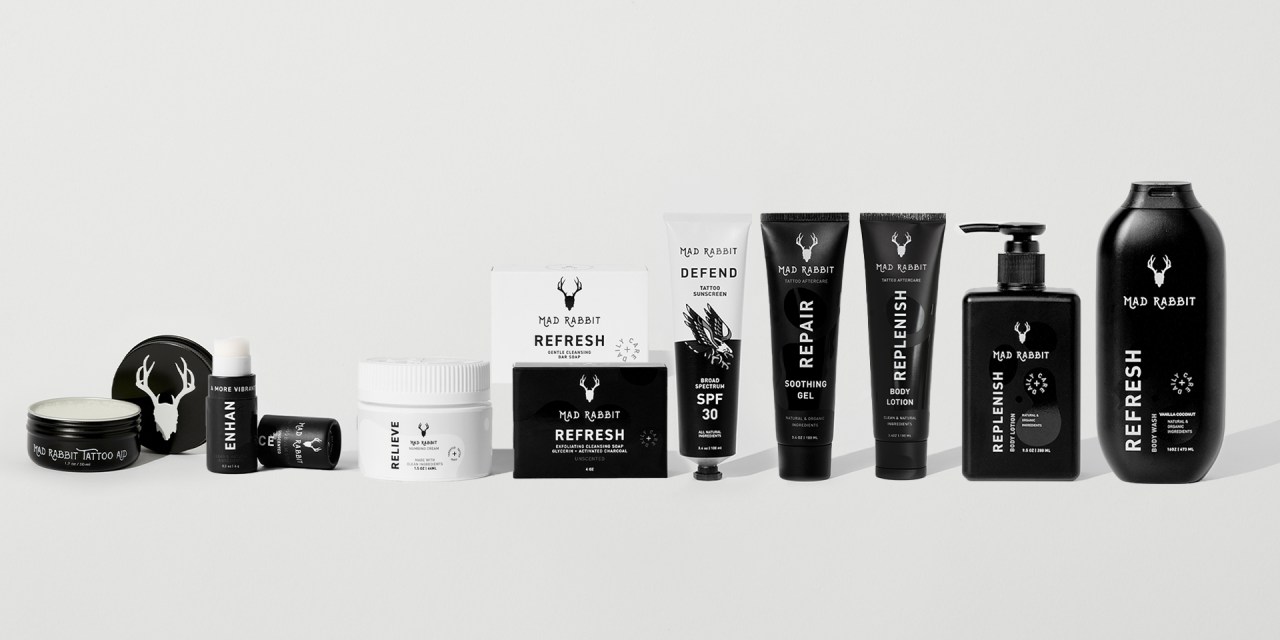 via Mad Rabbit
Tattoo care brand Mad Rabbit has inked its first big-box retail deal with Walmart.
Mad Rabbit began as an online brand offering skincare items for people with tattoos. The company, which first launched in 2019, has seen huge growth over the last few years, which it attributes to the growth in popularity of tattoos over the last decade and the dearth of premium products beyond Vaseline that cater to those needs. Currently, Mad Rabbit sells body lotion, body wash and sunscreen.
Up until now, most of Mad Rabbit's sales have been split between DTC and Amazon. But retail has been in the cards for a little bit now. After inking a deal on Shark Tank in 2021, the company saw its popularity skyrocket — clocking 138% year-over-year sales growth. In 2022, it launched in 1,200 GNC locations. And now, Mad Rabbit will expand into over 1,800 Walmart locations nationwide throughout this summer — two months after closing a $10 million Series A round of funding.
According to co-founder and CEO Oliver Zak, the plan has always been to find a national retail partner. "We always wanted to go into mass," he said, "it was always going to be an omnichannel play down the line."
The brand has been on the lookout for a retailer who could take on the task of merchandising a new type of skincare category. "One thing I was not interested in was launching body wash, SPF and balm across three different aisles to compete against Dove and L'Oréal," Zak said. "I felt good about whatever retailer was going to give us what we needed — and Walmart was the first to take a stab."
With that, Mad Rabbit products will be featured together in the natural and body care aisles. This was ideal, said Zak, since these aisles have the right type of foot traffic. "It's a nice cross of male and female consumers that shop that aisle," he said. What's more, this is the part of the store most skincare products are featured in — meaning the shoppers are more likely to look for new brands to test out.
"If you're looking for newness in Walmart, it tends to be in those areas," said Zak.
According to Marie Driscoll, a senior analyst covering beauty, luxury and fashion at Coresight, this type of product fits with Walmart's strategic shift to offer more niche and premium products. "With the pandemic, Walmart was able to attract a higher income," she said. "More people relied on Walmart to get anything from their basic needs to anything they needed or wanted. They are hoping to keep those consumers."
This has been especially true in Walmart's beauty and wellness aisles. Driscoll pointed to Walmart's latest partnership with British high-end beauty retailer Space NK. The 30-year-old company, which sells high-end products like Diptyque and Charlotte Tilbury at over 70 locations in England, is testing out branded shelf takeover concept featuring more premium products at about 250 Walmart locations.
"By bringing in someone like Space NK — it's niche and it's more associated with products that are good for you," Driscoll said. "[Walmart has] really upped the quality of the merchandise."
While digital is still a major part of Mad Rabbit's revenue, the hope is to have retail play a bigger and bigger role over the years. But that will depend on training both retailers and customers that a section as specific a tattoo care can resonate with shoppers.
According to Zak, Walmart has never really tried to sell such a specific suite of product. "I think we are the test," he said.
Correction: An earlier version of this story misstated the amount of money Mad Rabbit raised in its Series A. It has since been updated.