ThredUp's long processing times are alienating some sellers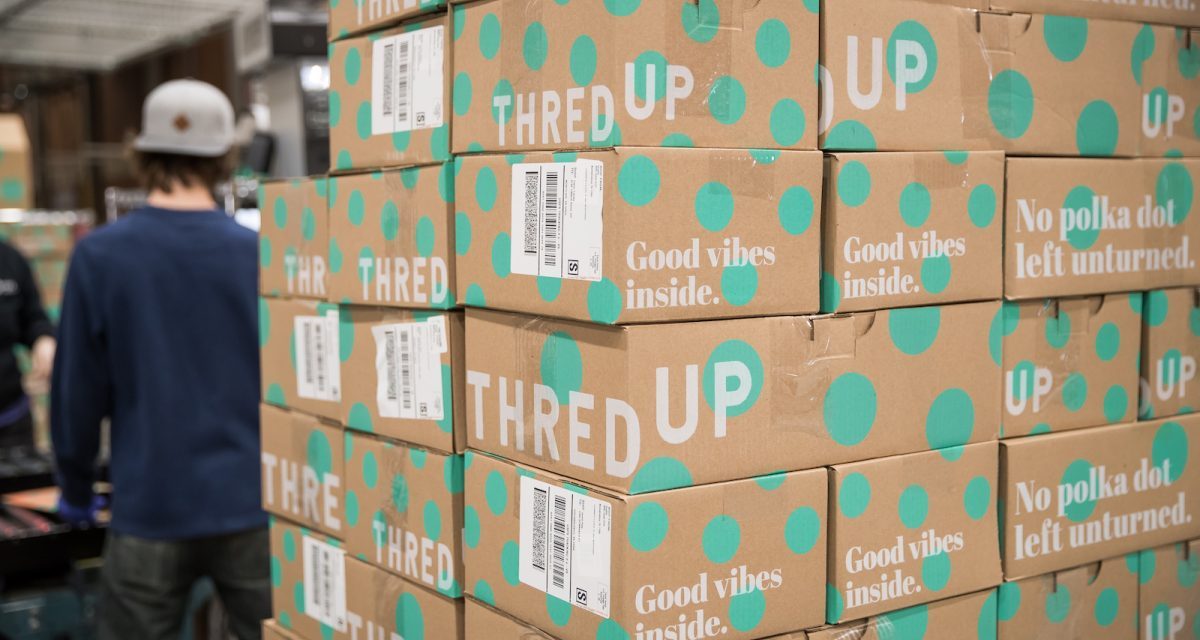 ThredUp
Get news and analysis covering the modernization of retail and e-commerce, delivered to your inbox daily. Sign up for the Modern Retail Daily Newsletter here.
On ThredUp's Instagram account, tucked underneath colorful photos of outfits and tips for keeping clothes in good condition, is a steady stream of customer complaints about the company's Clean Out Kits.
"It's been eight months and you're just now processing my bag and basically giving me $1 payout for everything…ummm no!" reads one comment. "[ThredUp] will not respond to messages I have sent regarding my kit that I sent in LAST AUGUST that they just processed but what's listed isn't even my items!" reads another.
ThredUp's Clean Out Kits have been one of the company's biggest selling points since it launched the initiative in 2011. The goal was to make it as easy as possible for people to send in their old clothes and accessories. Customers request a Clean Out Kit (either online or through one of ThredUp's resale-as-a-service partners), fill it with items and mail it back to ThredUp. ThredUp will then process the items, list ones that meet its quality standards on its resale platform and send the sellers a payout. ThredUp acknowledges that it typically lists 60% of the items it receives on its site.
As an industry, clothing resale boomed during the pandemic as people cleaned out their closets. In turn, ThredUp reported a 35% rise in year-over-year revenue for fiscal 2021. But in December 2020 — a few months before its IPO — ThredUp said it was "currently experiencing longer than usual processing times due to high volume." At the time, the company attributed the backlog to reduced staffing levels in its distribution centers due to Covid.
Today, that inventory backlog hasn't let up. According to a recent Instagram comment, the company is now processing kits from September 2022, a six-month delay. In the past, this process typically took about a month, according to multiple sellers. In turn, two sellers who spoke with Modern Retail said they have been so turned off by the long wait times and lack of updates that they won't use ThredUp again. During its most recent quarter, ThredUp's revenue and number of active buyers both dropped 2% year-over-year, against the backdrop of this inventory pileup.
In response to a request for comment, ThredUp sent along a statement from Chief Operating Officer Chris Homer: "Since the onset of the pandemic, we have seen an incredible increase in demand for our Clean Out service." The statement noted that ThredUp recently opened a Dallas facility that will allow ThredUp to increase its U.S. network-wide storage capacity from 6.5 million items to 9 million items. "Customers who order a Clean Out Kit today can expect their bags to be processed within seven weeks, and we are pacing to hit a four-week backlog processing target by mid-Summer," Homer added.
A point of frustration for both new and returning sellers
In its 2021 S-1, which requires public companies to list risk factors, ThredUp said that "disruption to processing of Clean Out Kits and disruption by Covid-19 has led and could potentially lead to additional delays in our ability to process secondhand items senders send in for resale, resulting in delays in sellers receiving payouts and less refreshing of our supply on our marketplace." It also said that this "could harm our brand and reputation."
ThredUp has relied on that reputation to build partnerships with retailers interested in resale. Over the last year, ThredUp has teamed up with H&M, Kate Spade and J.Crew, among several other brands, to launch resale sites and services. These partnerships allow ThredUp to reach a wider market but also mean that ThredUp has much more inventory coming in. It seems that ThredUp has tried to offload some of this through its $7-and-under online shop, which it launched in February.
One ThredUp seller, who asked to go by her first name Bella, said that she has used Clean Out Kits four times: twice in 2019 and twice in 2022. In 2019, it took about four weeks for her items to be processed, she said. Bella sent in her third and fourth kits in August 2022. They weren't processed until more than six months later, in March 2023.
"Compared to now, four weeks was nothing, and it seems like they were way easier to communicate with then," Bella said. She also added that customer service for her third and fourth kits had been "awful." "They never gave clear answers and didn't offer a solution or compensation/discount for the delay," she said. "Not that I expected that, but some type of customer service would have been nice."
In his statement, Homer noted that "we proactively communicate with customers via email with updated processing timelines until their bag is processed. Customers can reach out to customer service via email or chat, and average response time for inquiries is currently within 48 hours."
Another seller, Victoria Kolar, used ThredUp for the first time in early 2022. She was moving at the time, and her friend recommended ThredUp as a way to clean out her closet. Kolar sent in her first Clean Out Kit in June. By October, it still hadn't been processed. She sent an email to ThredUp's customer service, asking for an update. ThredUp responded, apologizing for the delay and giving Kolar a $30 credit. "We are currently making the necessary changes in order to improve our processing times," the email said. Kolar's kit was finally processed in November, five months after she had sent it in.
Kolar sent in a second kit in the fall of 2022. Again, she said, it took ThredUp about five months to process the kit. While she waited, Kolar reached out to ThredUp several times, including two times in March, for an ETA on her kit. ThredUp's reply said, among other statements, "We are currently processing kits at around 11 weeks."
Kolar has previously used the luxury resale company The RealReal and said that its process was much more transparent. "They let you know when they get it," she said. "They let you know when it is being processed. They give you an update every step of the way. And they do have the text customer service or local person you can communicate with."
Danielle Vermeer, the co-CEO and founder of Teleport, a video app for thrifting fashion, has used dozens of resale marketplace services over the years. She said she's used ThredUp nine times since 2015, though she last sent in a Clean Out Kit in October 2021. Vermeer told Modern Retail that ThredUp "really pioneered, in a lot of ways, making secondhand more accessible, more normalized."
ThredUp says it is working to make processing times more efficient and is pinning many of its hopes on its new Dallas distribution center. During ThredUp's fourth-quarter earnings call in March, CEO James Reinhart said that the new facility will allow the company to "quickly scale processing when we start to see consumer recovery."
Reinhart added that ThredUp is pursuing several other strategies, including "testing a new fee for our Clean Out service," which for years was free. Clean Out Kits are sent free of charge, unless a customer wants a pre-printed shipping label, which costs $2.99. From there, ThredUp now charges $14.99 for standard, seven-plus week processing, or $22.99 for rush, two-plus week processing. Of the items ThredUp won't list, it says it will send items back to the seller for $10.99 or "reuse or recycle your items" for free.
Still, Bella and Kolar told Modern Retail that they will not use ThredUp again, based on their previous experiences. Vermeer, who decided not to use ThredUp during 2022, said she's since shifted to donating items to Goodwill or giving away items to neighbors in her local Buy Nothing Facebook group. "It was a better effort versus impact payoff for me," she said.
"I'm better off just straight up donating to local charities," Kolar said. "I don't mind paying if there's a good customer service. But if I have to pay and there's no customer service, what is the point?"