Apéritif brands are zeroing in on the American market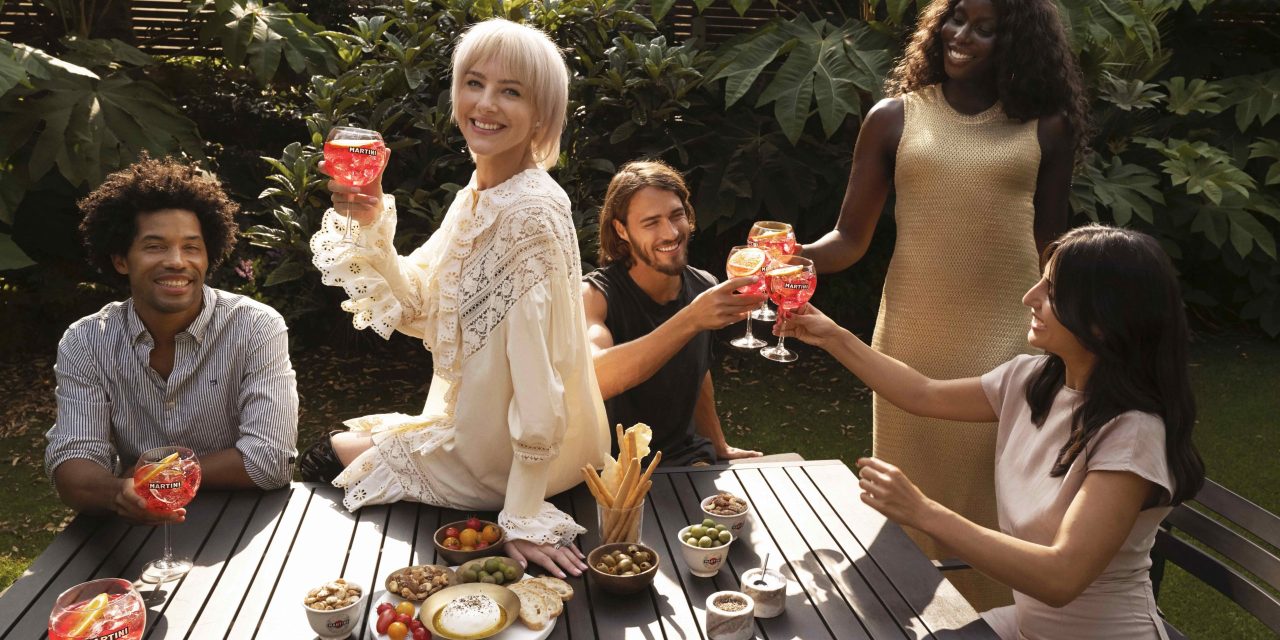 Martini & Rossi
Apéritif brands are adapting to new drinking trends in hopes for long-term American success.
Apéritifs — low-alcohol-by-volume (low-ABV) spirits and cocktails meant to be consumed before a meal — have been popular in Europe for centuries. Over the past ten years, drinkers stateside have slowly begun to embrace apéritifs, flocking to the aperol spritz in summers 2017 and 2018 or the negroni in April 2020. Now, aperitif brands are hoping to go beyond one-off buzzy cocktails and achieve a more mature category resonance in the U.S., based on increased interest in healthy and low-ABV options. To do so, they're expanding their distribution methods and investing more in marketing.
On Monday, vermouth and wine brand Martini & Rossi launched its first global advertising campaign since the pandemic, Martini Moments, in partnership with celebrity photographer Greg Williams. The campaign centers on friends reuniting after a pandemic spent apart and drinking the brand's newest product, a low-ABV vermouth Fiero.
"What we're hearing from our consumers a lot is that everybody's craving human connection," said Victoria Morris, global vice president of Martini & Rossi. "We feel like it's a particular moment in time that we should capture, where people [are] reuniting with their friends and often doing that over a cocktail and some food."
The campaign runs alongside a competition where consumers can take photos of their reunions to social media using the hashtag #MartiniMoments. Williams will then judge the photos and award a photoshoot prize where he will takes control of a few winners' phone cameras virtually.
While Martini & Rossi has old European roots — the brand was founded in 1863 in Italy and acquired by Bacardi in 1993 — its campaign and its feature product is embracing current American alcohol trends. Like other Bacardi brands, Martini & Rossi is investing more in low-ABV drinks and easy, at-home mixology. The low-ABV Fiero is meant to be combined with tonic in a 50-50 split for an aperitif cocktail.
From 2020 to 2021, the no or low alcohol spirits category increased sales by volume 33% according to drinks market analysis firm IWST. Furthermore, IWST predicts it will be the fastest-growing segment in the spirits category from 2020 to 2024.
Part of what's driving the increase in apéritifs is an interest in drinking less alcohol. A report from hospitality insights firm Kam Media showed that, during the pandemic, one in four people reduced alcohol consumption.
Accordingly, Campari's CEO Bob Kunze-Concewitz, for example, said he predicts double-digit sales growth in Aperol in 2021 compared to the year prior.
Helena Price Hambrecht, co-founder and CEO of direct-to-consumer apéritif brand Haus, said that over the past few years consumers have moved from drinking to get drunk to drinking casually. "Apéritifs are a unique category that has the potential to solve a lot of the problems with alcohol today," said Price Hambrecht, explaining that apéritifs are low-ABV, typically about half the alcohol content of hard liquor.
Price Hambrecht said that Haus often highlights healthiness and freshness in product visuals with pictures of ingredients like fruit or herbs to speak to these consumers looking for a healthier alternative.
While the brand initially launched with a DTC-only model, the brand is now expanding to a mixed model with wholesale distribution, with bars in Los Angeles and San Francisco now carrying the product.
"We've grown tremendously since 2019, and our DTC model can now inform where we focus our wholesale efforts," said Price Hambrecht. "We're just getting started in the [California] market, and are able to strategically expand based on where our base is strongest."
Like Martini & Rossi, the brand is also continually releasing new products. Most recently, Haus launched a limited edition summer aperitif, Strawberry Basil.
"When we launched in summer 2019, most people didn't know what apéritifs were yet," said Price Hambrecht. "Now low-ABV or apéritif sections are becoming standard on cocktail menus across America….this category is really just getting started."