As shoppable livestreaming grows, some businesses try to avoid Facebook dependence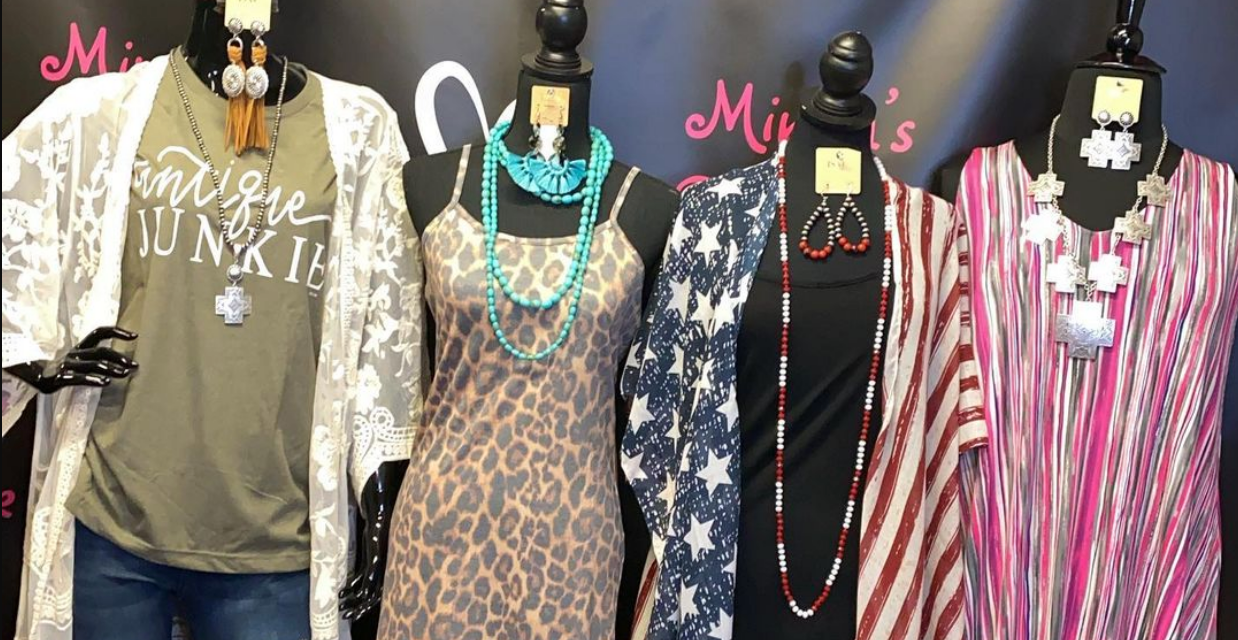 via Mindy Maass on Instagram
In March, Mindy Maass, the owner of a Texas-based clothing store called Mindy's MVP Boutique, said she brought in around $1 million in sales — and roughly 85% of it came from livestream shows.
In 2016, MVP Boutique started out as a custom jewelry shop that Maass operated out of her house. By early 2017, she had opened a storefront in Millsap, Texas and started showcasing her products on Facebook Live. Her audience ballooned. After just a few months, "all of a sudden we didn't have 40 viewers, we had 800 viewers" on some of her most popular streams, she said. In January 2020, Mindy shuttered her physical business and went online-only, and she hasn't looked back.
Major brick-and-mortar players have begun investing in live-stream shopping — with Walmart testing out TikTok livestreams and Nordstrom beginning to roll out their own livestream platforms. But the phenomenon is not new in the U.S. — small businesses have been building sizable livestream audiences for years, especially on Facebook.
As live-stream shopping grows stateside, shifting from a trend mainly limited to China to a sales strategy with buy-in from big retailers, buy-now-pay-later companies and well-funded startups, Facebook has also been trying to get in on the action. Facebook Live is already a popular tool for businesses, but the social media giant has lately been trying to facilitate purchases through Live, too. It added features to allow any business to set up a shoppable livestream and direct customers to buy items on Facebook.
Yet the reaction from businesses has been mixed — and some remain leery of selling directly on the platform, opting instead to let third-party apps handle their sales. 
A growing channel for small businesses
For small businesses, the exact use — and importance — of livestream shopping can vary widely. Some, like Maass, rely almost entirely on livestreaming to reach consumers. For others, livestreaming is a small but significant fraction of their overall revenue, sometimes functioning more as a way to bring traffic into a store than as a direct sales channel.
"It's a big marketing vehicle to drive people to our stores," said Micha Seto, who runs a series of stores in Delaware under the name Blooming Boutique. Seto tries to keep her streams as loose and spontaneous as possible, and she said that sometimes she and a co-host might drink during the noon livestream or do a DJ set in between selling clothes. "The biggest thing is don't be perfect because that's what they love about us," she said. (She added that her livestream audience often skewed older than the average in-store customer.)
To spice up their programming, some businesses have added exclusive items to the mix. Maass has gotten anywhere from 800 to 1,000 viewers on her Thursday show, which features only new products. Staging a product drop on a livestream, she said, turns the experience into a game, making viewers more excited — and more willing to rush to purchase. On one recent day, she sold out of 150 pairs of jeans in a few seconds. "They have to get it quick or they're just not going to get it," she said. She has expanded her audience beyond her immediate customer by cutting clips of the livestreams into ads.
Right now, Maass said that she has more demand than she does products to sell, but even if she did have enough product, she would make sure there was still a sense of scarcity. "If it was always available in their size and they never sold out of anything, it would teach people, oh, I'll come back tomorrow," she said. "That way, you'll never get any sales."
Skepticism of Facebook
Last fall, after rolling out an in-app checkout experience called Facebook Shop, Facebook introduced shoppable livestreams, called Facebook Live Shopping, where viewers can click to buy products without leaving the stream. Fashion brand Anne Klein and candy maker KitKat were among the early adopters, but now shoppable livestreams are available to any business on Facebook with a commerce account.
Yet while countless small businesses do livestream from Facebook, some continue to defer the actual transactions to a set of third-party checkout services, most prominently a company called CommentSold — which lets users buy items in social livestreams by commenting in real time — rather than send customers to Facebook Shop. A small network of third-party companies, including the Shopify plugin SoldLive and startups like Social Chain and Shoplus offer similar services, and have since before Facebook formally rolled out its Shop program.
Many small businesses have relied on CommentSold to livestream since the company's launch in 2017. And while Facebook now offers checkout capabilities on its livestreams, both Seto and Maass still use CommentSold in place of Facebook Shop. That is in part because of loyalty — Seto said that she is sticking with CommentSold because "CommentSold has got a track record" — and in part because of how Facebook imposes certain policy requirements on businesses that accept purchases through Facebook Shop.
Maass, also said she is hesitant to direct her customers to make purchases directly on Facebook. She gave the example of returns: when businesses sell through Facebook Shop, "you have to go by Facebook return policies and Facebook payment policies," said Maass. She said that some of Facebook's expectations around returns and cash refunds didn't feel practical for a boutique like hers.
Not all small businesses seem to feel that way, and Facebook Live Shopping does appear to be on the rise. But as livestream shopping goes mainstream in the U.S., small businesses have already figured out how to build a thriving audience off of it.
As Maass put it, "there's no money like Live money."