As vaccinations ramp up, DTC brands are investing in out-of-home once again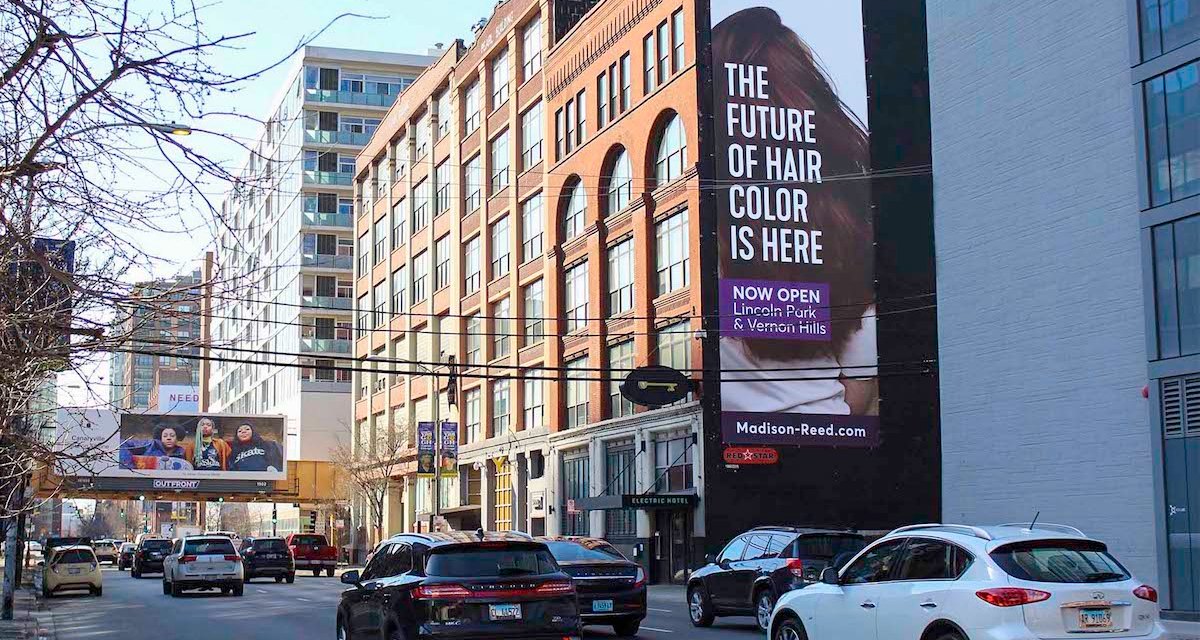 Madison Reed
After a year in which many subway and airport ad placements sat idle, some startups are beginning to dust the cobwebs off of their out-of-home strategies.
This week, Glossier launched an ad campaign with an out-of-home component that's betting on people returning to the movies — or, at least going to drive-ins. Called Lash Slick: The Movie, Glossier created an ad that mimics a movie trailer, featuring reviews of its mascara. The video component of the ad campaign will run across digital and streaming channels, but Glossier is also taking over the poster boards at nine indie movie theaters to promote the campaign, and running the trailer at select drive-in theaters across the country.
"This felt like the perfect way to truly bring Lash Slick to the movies, especially while cinemas have long been closed and underutilized during the pandemic," Glossier said in a press release announcing its campaign.
Not every direct-to-consumer startup is rushing to launch an out-of-home campaign, but marketers say they are starting to give the channel a closer look as more people receive the coronavirus vaccine, and start to resume some activities like going on vacation. For marketers at startups that are dependent upon travel ad placements, they say they are waiting to see a larger uptick in people taking the subway or flying on a plane before committing to any out-of-home campaigns. For other startups, it's dependent upon when they have new stores slated to open, after a year in which many new retail openings were postponed.
Brian Rappaport, CEO of out of home agency Quan Media Group, said that he first started seeing an uptick in February in the number of brands reaching out to explore launching an out-of-home campaign later in the year. He added that the announcement earlier this month from President Joe Biden that all states should make all adults eligible for led some brands to solidify their plans.
"There was one or two key DTC brands that I had spoken to where literally their email was — we were going to wait on our out-of-home planning until April or May to see how things are, but we are ready to go now," he said.
For many direct-to-consumer startups, their first foray into out-of-home advertising has been running ads on New York City subways, given that that is where they are headquartered. But in recent years, more DTC startups have been using out-of-home campaigns to either promote new launches — that's what telehealth platform Ro did last year to promote new allergy medications — or new store openings. By saturating a particular city or neighborhood with out-of-home ads, companies can be confident that they are reaching people only people who are close to that store. And for some customers, seeing billboards or bus ads is memorable than seeing one of many Facebook posts.
That's the strategy being employed by Madison Reed, which sells hair coloring products and has still done some out-of-home advertising throughout the pandemic.
Jessica Vartabedian, growth marketing manager for Madison Reed, said that the company has been using out-of-home since last fall to promote its new salon openings, or hair color bars as the company calls them. The company — which works with Quan Media Group did an out-of-home campaign to promote the opening of a new location in Boca Raton, Florida, covering a mobile truck with ads.
"That was really cool because we could specify exactly where we wanted this truck to go," she said. The company did see an uptick in the number of people googling "Madison Reed Boca Raton," but Vartabedian declined to share other specifics about how the campaign performed.
Madison Reed has just over 30 hair color bars, and has plans to open five more within the next month. Madison Reed has one campaign planned in Philadelphia to promote the opening of a new color bar, but Vartabedian said that any future out-of-home campaigns depend on when Madison Reed has opening dates for new color bars better solidified.
Other startups aren't quite ready to pull the trigger on out-of-home again. Jasmine Rayonia, senior manage of growth marketing at home goods brand Brooklinen, said the company is waiting to see a greater uptick in subway ridership in New York City before launching any new out-of-home campaigns. Brooklinen has been running ads on the New York subways for several years now, and Rayonia said that historically the majority of the company's out-of-home budget has gone towards subway ads.
Neil Heckman, director of acquisition marketing for luggage startup Away and also works with Quan Media Group, said that he's looking for more guidance about what types of activities vaccinated people can resume before committing to any out-of-home campaigns.
"At no point will we encourage unsafe travel — we're not here to play scientists, so we are very much sort of relying on the scientific community data to help us understand when the right time is to be out there with a travel message," he said. Away slashed  its advertising budget at the beginning of the coronavirus pandemic, but the company did do one out-of-home campaign last year, placing scented posters near dog parks to promote its new line of pet carriers.
Quan Media Group's Rappaport said that while he wouldn't characterize the uptick in interest in out-of-home as a "mad dash," he said prime out-of-home placements are starting to fill up.
"We are seeing a return of large format. In [Los Angeles] on Sunset Boulevard, some of the best walls there that may have been available in November and December of 2020, those are going," he said. "Brands want that."