Brands bet on texts to pique customers' interest amidst digital marketing upheaval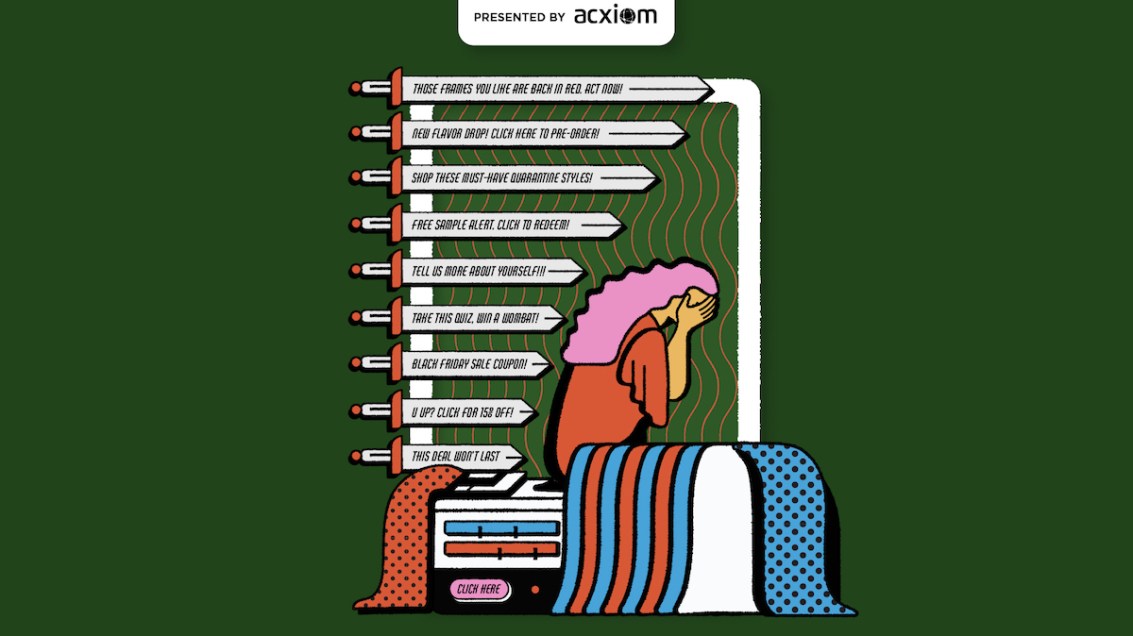 This article is part of the Digiday Privacy Preview, a digital issue of stories examining what the coming changes to Chrome and iOS will do to the worlds of media and marketing. Read the rest of that coverage here.
The messages app is starting to become the most sought-after piece of digital real estate among brands and retailers.
Marketers at e-commerce startups say they're increasingly using text messages to promote new sales or product launches. That's because they are finding it more difficult to get customers to pay attention to emails, as some customers have now signed up for email updates from dozens of brands after a decade-plus of online shopping. Additionally, the upcoming iOS14 update threatens marketers' ability to use targeted ads on sites like Facebook. As part of the iOS14 update, iPhone users now must opt in for apps to track their browsing histories. If customers don't, marketers will no longer be able to use their browsing history on past sites, like e-commerce sites, to serve them targeted ads.
Put together, companies are coming for people's most intimate form of communication, amidst a slew of digital marketing changes. Because people still use it to primarily communicate with friends and family, text messaging is one of the last methods of digital communication that hasn't been completely overrun by brands. But since it's still not primarily used as a marketing channel, marketers are still trying to figure out just how many texts from a brand customers will tolerate. Bombard customers with too many text messages, and companies risk alienating with them altogether.
"In many ways, I think SMS is the final frontier of marketing and brand communications," said Kinfield CEO Nichole Powell, whose startup sells skincare essentials for the outdoors like bug repellent and moisturizer. "As a consumer, I can see why — I gave up on my personal inbox years ago, and now even social media oftentimes feels quite saturated. There are brands that I've followed on Instagram for years, but I couldn't tell you the last time I saw one of their posts."
Investor and marketing strategist Nik Sharma said that part of what is fueling the SMS boom is brands in search of more ways to "somehow keep [customers] engaged and get them on the path to purchasing something." According to marketing platform Omnisend, the number of SMS messages sent by the more than 50,000 companies that use Omnisend's software increased by 378% between 2019 and 2020, while email campaigns were up 108%.
The new SMS playbook
In speaking with marketers at e-commerce startups, they say they try to only text customers sparingly — often only a couple times a month. But they're still trying to figure out what kind of texts — and how many of them — someone will tolerate from a brand. In one of the most criticized brand texts from last year, Fashion Nova, sent SMS messages to customers encouraging them to spend their stimulus checks on Fashion Nova products.
One of the most common ways that marketers are using the channel is texting customers alerting them to sales, as they're betting that people won't mind getting a text from a brand if it's alerting them to a good deal. Brendan Hastings, director of engineering at DTC underwear brand Thinx, previously told Modern Retail that the company used SMS to promote its August sale. He said that Thinx has found that SMS messages receive open rates close to 100%, where email open rates are 15-30%.
Powell said Kinfield hasn't yet used SMS to promote any sales — her company has primarily used it to poll customers about what type of packaging they'd like to see for future products — but hasn't ruled it out in the future. "We'd prefer to take the time to get to know our audience and see firsthand what kind of things they like to use SMS [for]," she said.
Eli Weiss, director of CX and Retention at direct-to-consumer brand Olipop, said that his company has found success with using text messages to alert customers to new flavors. On Instagram, Olipop will encourage customers to sign up for its SMS list in order to get first dibs when the new flavor drops.
In December, when Olipop released a limited-time blackberry vanilla flavor, the company received $15,000 worth of sales in 15 minutes from people on its SMS list. Olipop's email list still drove slightly more sales — but the company has ten times more email subscribers than it does SMS subscribers.
Weiss said that he doesn't see SMS entirely replacing email — that rather, Olipop will only use it to "communicate with our most engaged group of people." Weiss said that he plans to stick to sending Olipop customers one or two texts a month.  Going forward, Olipop is considering using SMS to sell company merchandise, or to send customers more personalized messages from different members of Olipop's customer service team.
"SMS is like any fun new marketing thing where right away it can kind of get abused…some brands are now sending three messages a week," Weiss said. "I think the future is exclusivity and intentionality."