DTC companies are building corporate gifting programs to acquire customers more quickly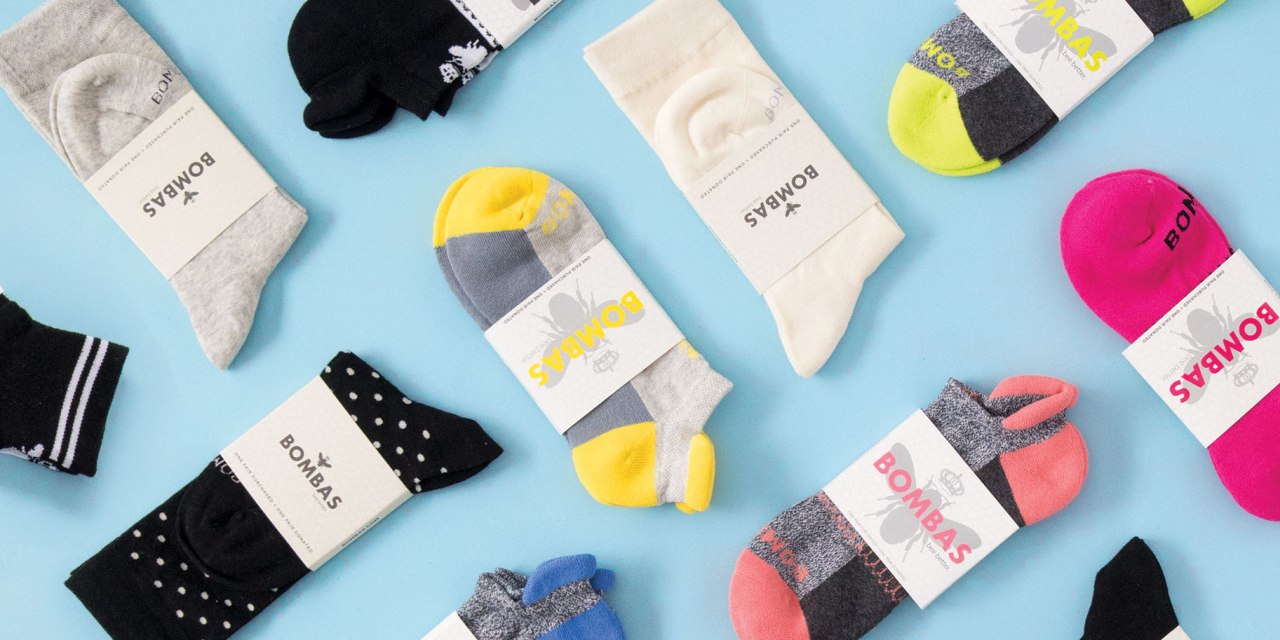 Some direct-to-consumer companies are slowly building out corporate gifting programs, as they look for more ways beyond paid advertising to reach large groups of potential new customers.
Bombas piloted a corporate gifting program for the first time last year. Today, it has a team of three that works on corporate sales, two of which were just hired in June, according to chief marketing officer Kate Huyett. Last month, Away posted a job opening for a senior associate of corporate gifting, describing it as a "growing area of the business." Other DTC companies that have corporate sales programs include outdoor gear brand Cotopaxi and Otherland, which sells candles direct-to-consumer.
The benefit of corporate sales programs are that they can bring in very large orders that would be difficult for companies to bring in within the same time frame by just selling to individuals. Huyett said that one hospital system placed an order for about 25,000 pairs of socks through Bombas' corporate gifting program last year.
However, depending on the size of the company, corporate orders can still take months to negotiate. And, oftentimes companies will offer generous discounts to get these big sales, which could make the order less profitable than if they had acquired that same number of customers through other channels.
It also speaks to just how popular DTC brands have become among a select group of consumers, that these brands think corporations will want to woo clients or conference attendees with their products. Christine Petric, director of retention marketing at Away who oversees the company's corporate gifting program, said that businesses ranging from Fortune 500 companies to professional sports teams have placed group orders.
"Travel is such an important component for many company employees, so we realized there was also an opportunity to transform the gifting experience for these companies and how they show appreciation for their business travelers," Petric said in an email.
Corporate gifting programs are nothing new in the retail world. Patagonia, for example, has long had a corporate gifting program that allows companies to add their logos to vests and outerwear. Skincare brands The Body Shop and L'Occitane also offer discounts for group sales.
But part of what's driving this interest among DTC startups in corporate gifting programs is an increased focus on partnership marketing. That may involve creating a co-branded product with another DTC startup that has a complimentary, but not entirely overlapping, customer base.
In the case of corporate sales programs, it means trying to figure out what types of companies might be interested in splurging on $225+ Away suitcases for clients — and that they are the types of people who might be interested in buying again from the company. The hope is that brands can acquire more loyal customers, for cheaper, than they could on digital advertising platforms like Facebook and Google.
"A lot of companies [are] hitting the Facebook wall — you'll see more and more brands reach out in this way to figure out interesting ways to collaborate," Andrea Hippeau, principal at seed and early-stage venture fund Lerer Hippeau, previously told Modern Retail.
Erica Amatori, the director of marketing at Otherland, said in an email that the company's corporate gifting program has been most useful in driving brand awareness.
"It may spark an idea in [a customer's] head to use us in the future for gifting, or just to order for themselves if they really enjoyed the product," Amatori said. She said that bulk orders for Otherland candles often total in the hundreds.
Otherland first received inbound interest in corporate sales last year, and this year added a section to its website for interested businesses to place group sales. The company does not yet have a dedicated team for corporate sales, and instead is splitting duties between the marketing and operations teams.
Brands often pitch businesses to place group sales on a few points. They'll offer discounts that will get more generous if the order size goes up. Away also offers free shipping on corporate gifting orders.
Brands also may try to pitch corporations on the ability to customize items for that company, as well as a social good mission, in lieu of or in addition to discounts.
Bombas, for example, advertises on its website discounts ranging from 30% off corporate orders of 250 to 1,000 pairs of socks, and 35% off orders of 1,000 or more. For larger orders, Bombas can also offer co-branded packaging, and lets customer choose a local organization to host a "giving event" with. (Bombas has a one-to-one giving model, and is a certified B corporation).
The drawback with corporate sales programs is that it can take a lot of time and resources to negotiate a single sale. And, the more perks a company offers like adding on a logo or including custom packaging, the more expensive it can be to produce those orders.
After piloting corporate sales for the first time last year, Hyuett said that Bombas decided this year to have one full-time employee who worked just on negotiating corporate sales with small business and another who works with more enterprise clients. Bombas found that bigger business can often take longer to commit to a sale, because it has to be signed off on by more people within the company. Then, Bombas has one employee who is just dedicated to making sure that all the orders are shipped on-time with all the requested features.
Huyett said that corporate sales remain a small revenue driver for Bombas. But, the hope for brands who invest in building corporate gifting programs is that they can introduce the brand to more potential new customers, as the cost of advertising on digital platforms like Facebook and Google continues to rise.
Huyett said that Bombas tries to encourage people who received a pair of socks through a corporate sale to buy from the brand again by including a 20% off coupon in an insert that also gives some history on Bombas and its mission.
"We feel like corporate sales are a great way to get our product into people's hands, and also to get people involved in our mission, in a way that's been [historically] harder with direct-to-consumer sales," Huyett said.