'DTC is running cover': Inside Farmer's Fridge's omnichannel pivot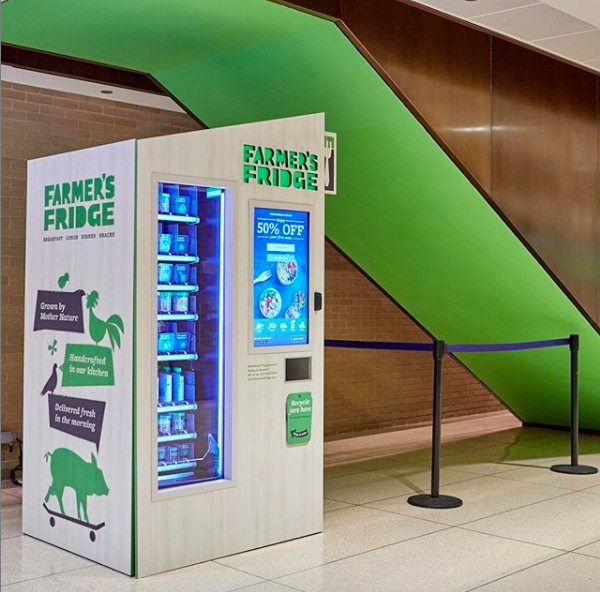 Only a year and a half ago, Farmer's Fridge relied on one sales channel: vending machines. The coronavirus changed all that.
Farmer's Fridge makes fresh salads in plastic bottles that used to be distributed via push-button machines in highly-trafficked areas, like airports or hospitals. Its model was essentially business-to-business. When the pandemic hit, the company was forced to build out a direct-to-consumer sales channel — and fast.
"We lost about 80% of ours business within two weeks," Meghan Hurley, the company's chief marketing officer said at the Modern Retail Marketing Leaders Forum.
During her session, Hurley described how she completely transformed Farmer's Fridge marketing schema. When shelter at home first began, the company no longer had any demand for its fridges. So it began testing out home delivery.
Farmer's Fridge started testing out Facebook ads — something it had never done before — and transformed its late-night delivery drivers that refilled fridges into daytime workers that made home deliveries. Once that was in place, the company began testing out retail partnerships at Chicago locations of Target and Jewel. "All of a sudden we are this fresh CPG item, which is a totally different way of thinking about marketing," said Hurley.
Despite all these changes happening in a slapdash and reactive manner, they worked. DTC demand has skyrocketed. What began with a test of a Facebook advertising campaign — with employees and even spouses snapping pictures of their salads at home — has turned into a growth engine that allowed Farmer's Fridge to expand nationally. Farmer's Fridge started shipping salads beyond its own logistics network, allowing it to reach customers across the country. The company also rebranded its entire in-house delivery fleet to ensure that passers-by knew what types of products they were delivering.
This explosion of business has allowed Hurley to step back and think more strategically about her marketing strategy for the coming years. "DTC is running cover because it's growing so rapidly," she said.
Now, Farmer's Fridge is focusing on forward-looking campaigns. "What we're doing now is rethinking our loyalty program," said Hurley. She's also focused on revamping the website and the company's packaging.
The last year presented immediate transformation into an omnichannel business. "It was this whole new way of looking at our brand," she said.
You can watch the full session below: