Podcasts
// October 28, 2021 ■ 4 min read
'DTC is still our main focus': Bearaby's Kathrin Hamm on navigating online with retail partnerships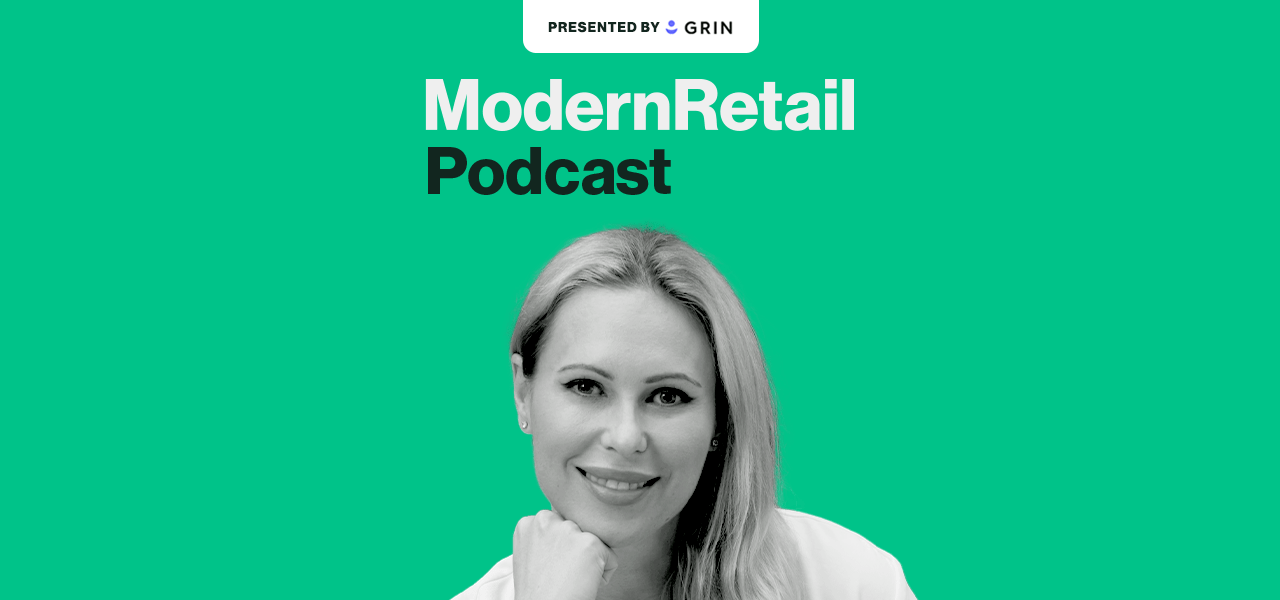 Subscribe: Apple Podcasts | Stitcher | Google Play | Spotify | RSS
During the pandemic, most people sought comfort — and many of them turned to weighted blankets.
Bearaby, which makes knitted weighted blankets, saw sales grow more around 5x in 2020. This year, things aren't slowing down. According to founder and CEO Kathrin Hamm, revenue is on track to double in 2021. "It has been quite a ride," she said on the Modern Retail Podcast.
Though Bearaby considers itself primarily a direct-to-consumer brand — most of its sales come from its owned online channel — it has had an interesting distribution trajectory. Only a few months after first launching in 2018, the company inked a deal with West Elm. Since then, the partnership has grown to more Williams-Sonoma brands, and Bearaby has continued to increase its retail footprint with other retailers like Nordstrom.
Even with these partnerships, the majority of Bearaby's sales come from online. And Hamm said she wants to keep it this way, because of product education. "When I had my first weighted blanket, there was no education around it — it was like, here's the thing, figure it out," Hamm said. But, on Bearaby's website, the company is able to properly explain what a weighted blanket is, what the benefits are, and how to use it.
Retail, in this regard, also boosts online sales. In new geographies where Bearaby doesn't see many online sales, being featured in a store can help teach people about the product. "In most cases, they didn't know about weighted blankets," Hamm said.
She pointed to the recent Nordstrom partnership, where Bearaby's products were placed in markets the company has traditionally not targeted. "We're, for the first time, in markets where we as a brand don't have a strong presence," Hamm said. "And already, in the early weeks, we see a lift on our DTC side."
For now, Hamm's primary focus is to get more people to know about both weighted blankets and Bearaby.
Here are a few highlights from the conversation, which have been lightly edited for clarity.
How Bearaby partnered with West Elm
"Four months after we launched, I woke up one morning and had an email from West Elm in my inbox where I first thought it was spam. They said 'we want to have your weighted blanket, we've been looking for a weighted blanket — we want a natural, sustainable weighted blanket. Yours looks beautiful. Can we come by your showroom, and take a look?' At that point, we were two people. So we didn't have a showroom. So we were like, 'why don't we take our blankets and bring them back down to Dumbo [where West Elm's Brooklyn offices are] and show you our products?' I think five months after that initial meeting we had with West Elm, we already were in retail across West Elm. And then over the last years, we built out that relationship with Pottery Barn, Pottery Barn Kids and now are an exclusive partner for William Sonoma. But that was really a turning point for us to be that early in retail."
Why Bearaby leans on online sales
"DTC is still our main focus. One [reason] is just the education. If we have the customer relationship, and we can help people pick the product — we have different weights, different colors, different textiles — we want to guide them and give them a full-on experience… It's not only building the content that goes into educating the consumer, but then holding their hands along the line, so we don't leave them alone after they purchase. We can continue communicating through an on-boarding process: how do you use your blanket? Because when I had my first weighted blanket, there was no education around it — it was like, here's the thing, figure it out… And so we can control that experience, and be in touch with the consumer. That's obviously something we cannot do in the same way when we're in retail. I think we found some ways [to try and] replicate some of the experience. But it's definitely not the same experience."
On seeing pandemic-fueled growth
"We are on track to double our revenue this year. And the year before was already crazy, crazy growth. We went from five to 20 people during Covid, when we saw 5x growth. [We also went through] onboarding another manufacturer, building the team and building the infrastructure. So it has been quite a ride that year."