Nordstrom wants to sell more home goods with the help of DTC brands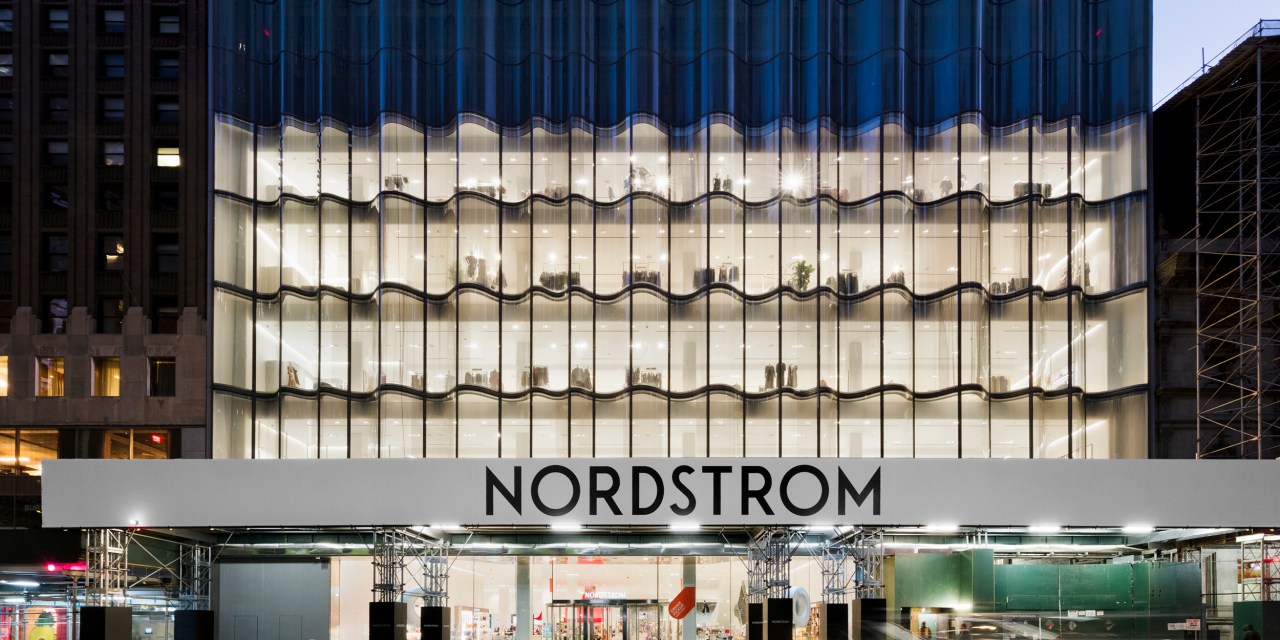 Image via Nordstrom
Nordstrom is making a significant push into home goods with the help of buzzy brands including direct-to-consumer startups. 
The company has been building out the segment by stocking products from Estelle Glassware, Serax cookware and storage solutions from Open Spaces. Its latest partnership with weighted blanket brand Bearaby means it has added more than 17 companies to its home goods assortment over the past year. In addition, it's preparing to open an extended, two-story home goods section at its flagship NYC branch.
Despite dipping its toes in new areas like health and fitness, Nordstrom is largely associated with high-end apparel. By targeting home goods, a segment that has witnessed tremendous growth during the pandemic, it could tackle multiple headwinds including inventory issues, according to experts. 
While its new partners — which include DTC startups chasing exposure through high-profile brick and mortar placements — can expose it to a bigger pool of consumers, Nordstrom also risks distracting itself from its primary focus on luxury apparel ahead of the vital holiday season. 
Nordstrom's home goods expansion is taking place during a difficult period for the retailer. Despite almost doubling its year-over-year sales in the second quarter, Nordstrom's revenues still declined 6% compared to 2019, with its business yet to reach pre-pandemic levels. By comparison, its rivals Macy's and Kohl's beat estimates during their recent quarters and hiked outlooks as a result. 
Consequently, Nordstrom has sought growth in new segments, including bright spots like beauty. Nordstrom's home goods sales also grew more than 70% vs 2019 in the second quarter, but the segment only accounts for low single digits percentage of its business. 
Now, as it advances further into the category, Nordstrom is banking on a similar resurgence as people retreat indoors for the winter. A trend that could be compounded by the delta variant and a stuttering vaccination drive.
One of the brands Nordstrom is working with to boost its home offering is Bearaby. The relationship between the two partners indicates that Nordstrom is willing to make concessions to startups, whose loyal customers it is keen to tap to drive growth into new markets.
Nordstrom first pitched Bearaby at the start of the year, according to the weighted blanket company's founder Kathrin Hamm. Since then, the two have been closely collaborating on the launch, which marks the first time Bearaby's products will be sold wholesale in-store. As part of the partnership, the company's core product range will be available in 40 Nordstrom locations. 
"They knew we were in West Elm, they knew about our focus on sustainability, and they offered us the opportunity to co-design the display," Hamm told Modern Retail. 
For Hamm, the emphasis was on education and interaction. Bearaby has spent the past four months visiting Nordstrom stores, armed with teaching materials including online resources, to help staff get acquainted with its blankets.
Hamm wanted newcomers and followers alike to be able to physically experience its products before they buy. As its blankets can cost upwards of $150, the goal was to help buyers make the right decision by showcasing the different weights, product types and colors. 
Together, the two companies came up with the solution to use a display rack — housing Bearaby's core product range — with a prominent QR code that directs shoppers to a web page with information on the wellbeing benefits of the blankets. Here, they could also take a quiz to gauge the right weight category for them. Next to the rack is a couch where shoppers can feel and test out the product. Bearaby also added a belt strap to its cotton dust bag to make mobility easier.
"We went through a couple of iterations of the display and decided to put education at the forefront." Hamm said. "We get requests from people wanting to try out the different categories of weights." The company is already in talks with Nordstrom to stock its children's range as a "natural extension" of the partnership, Hamm said.
A bet on partnerships
Though it remains to be seen if the home goods expansion will pay off, new partnerships could become the norm for Nordstrom and the wider industry. 
Establishing business relationships with cult and emerging brands, including DTC companies like Bearaby, can help Nordstrom expand its reach with customers old and young, said Oliver Chen, managing director, consumer at Cowen. Furthermore, "a lot of DTC brands and companies are drawn by the reach, prestige and physical experience that [Nordstrom] can offer," he added.
For its part, Bearaby appreciated Nordstrom agreeing to purchase orders instead of dropshipping. Instead, Nordstrom made a yearly commitment with Bearaby for a minimum threshold of supply, while retaining the ability to place additional orders.
"That's something that helps us to plan," Hamm said. "Versus dropship orders without further commitment, where you still have to hold the order and make the investment on the brand side."
Teaming up with brands in categories it has historically overlooked can also help Nordstrom address inventory problems, an issue that is plaguing the wider retail sector amid supply chain bottlenecks caused by the coronavirus pandemic.
CEO Erik B. Nordstrom spoke of challenges with "inventory flow" during the company's second-quarter earnings call, citing "shortages" and "unevenness" that are expected to persist through the remainder of the year. Nordstrom is taking precautionary measures ahead of the busy holiday period by strategically using air freight and increasing delivery frequency to its stores.
"Recently, inventory management has unfortunately been more challenging at [Nordstrom]  with too much inventory previously during last year's holiday season largely due to shipping delays," Chen said. "Now, there isn't enough inventory relative to robust demand trends."
However, the concern is that Nordstrom may be ignoring its strengths in its pursuit of new segments, according to Chelsea Gross, a director analyst who covers the retail, travel and hospitality industries at Gartner. "I do think luxury apparel has benefited Nordstrom to a great degree as it helps to differentiate it from its rivals," she said, adding "Macy's and Kohl's are going after middle-tier customers."
Nordstrom is looking to increase basket sizes with the home goods expansion, but for now it remains a work in progress, Gross noted. "The question is whether it is distracting from its secret sauce or whether it is something they will build upon for years to come."