Williams Sonoma is eyeing more growth after a pandemic winning streak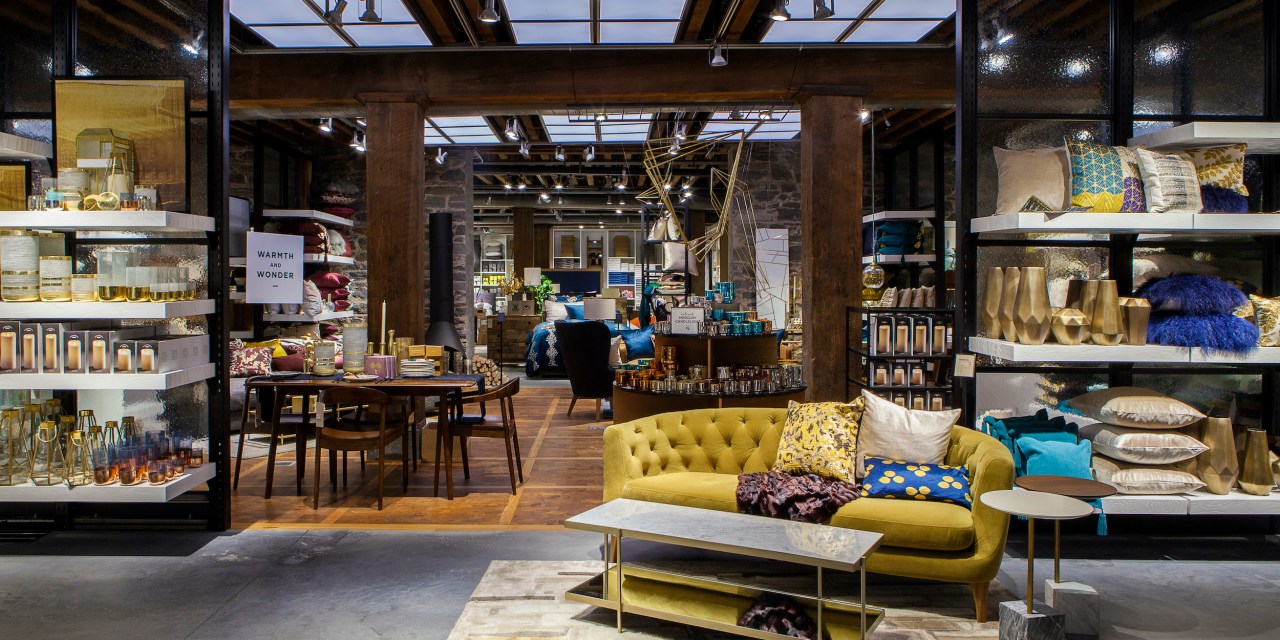 Williams-Sonoma
In the wake of another emphatic quarter, Williams Sonoma believes it has room to eke out more growth.
The home goods retailer's longstanding digital strategy established the foundation for much of its current success. Since launching its website in 2000, it has added a range of tools to help shoppers with everything from delivery scheduling to customer service to product visualization.
Those investments began paying off in 2020, when e-commerce reached 71% of sales from 55% in 2019, and continue to pay off now. In its second quarter, the retailer reported a nearly 30% increase in comparable sales growth across its brands, including Williams Sonoma, Pottery Barn and West Elm. Net revenues grew over 30% to roughly $1.95 billion, with two-thirds of that generated through e-commerce channels. 
Part of the recent success was due to the fact that Williams Sonoma was well-placed for pandemic-related purchases. The retailer had a robust online presence and was in a market — home furnishings — that witnessed a partial recovery on the back of the U.S. housing boom.
Building on this, it introduced more opening price points for items, aggressively chased new categories like outdoor goods and shaped its marketing strategy around its exclusive, in-house products and customer-generated social media content.
What's more, the company is bullish about its future trajectory, expecting to hit its $10 billion annual revenue goal by 2024, one year earlier than originally projected. Looking ahead, the home goods retailer is expanding into new products, while consolidating its brick and mortar footprint in a bid to reduce operating costs. At the same time, it's expected to benefit from pandemic-induced tailwinds including the shift to hybrid work and the suburbanization trend (white collar workers moving out of big cities).
High-end opportunities
After an approximate 20% drop in revenue in 2020, the U.S. home furnishings retail market is expected to increase by 2.7% this year to $28.2 billion, according to research firm IBISWorld. William Sonoma's momentum reflects the enduring success of the upscale home goods sector, said Cristina Fernández, managing director and senior research analyst at Telsey Advisory Group, an equity research, investment banking and consulting firm focused on the consumer sector. 
High-end retailer RH, formerly known as Restoration Hardware, has also posted impressive results over the past year in spite of the pandemic. The company's net revenue grew to $812.44 million from $664.98 million in fiscal 2019. Sales, meanwhile, increased 8% to $2.85 billion. 
The high-end market is one area that Williams Sonoma has outlined as a major driver of growth. Its premium Williams-Sonoma Home brand saw triple-digit demand comp in outdoor furniture during its second quarter. CEO Laura Alber noted that it has "substantial opportunity" to take share in the "underserved" luxury market. 
The segment was introduced over a decade ago as a catalog and later expanded to a smattering of stores. But, the launch was derailed by the housing bubble and subsequent Great Recession. Williams Sonoma continued to support the offering online and in catalogs, and later added small shop-within-shops. More recently, it has scaled the Home business by repositioning it as a premium online furniture destination.
The brand provides its parent company with a lucrative avenue with which to court its customer base. "Williams Sonoma's typical consumer has a more affluent household income of $100,000, compared to the U.S. average of $60,000," said ​​Fernández.
Despite some pandemic relief programs beginning to go away, she said, Williams-Sonoma's customer base is "doing better." Many of its target customers have spent the last year working from home, putting an increased focus on their living environment. Others will have moved from urban to suburban areas, and will require more home furnishings — including outdoor — as a result, Fernández noted. 
Both trends look set to persist in the near-term. "Hybrid work is here to stay," said Seth Basham, retail analyst at Wedbush Securities, a wealth management, brokerage and advisory firm. "The housing market also remains very strong and we expect it to flow through to 2022." 
A smaller physical footprint
Williams Sonoma has shrewdly reduced its physical footprint as part of its shift to a digital-first strategy. Since 2017, the company's brick and mortar presence has shrunk from 631 stores worldwide, the lion's share of them in the U.S., to 581 stores in 2020. In May, it announced plans to cut its physical footprint by about 25% over the next five years.
The move should help it to consolidate in markets where it has more than one store, helping to lower rents and occupancy costs, Fernández said. Williams Sonoma has 50 locations up for renewal this year, providing an "opportunity to materially improve profitability or close," Alber noted on the recent earnings call.
"[Williams Sonoma] is strategically reducing stores based on demand and how much it costs to operate a site," Basham said. "[The physical locations] are still key to the critical surge in customers, who visit stores to touch and feel the couch they're buying or to discuss with in-store designers how to decorate a room."