DTC startups are reinvesting in out of home — but the strategy has changed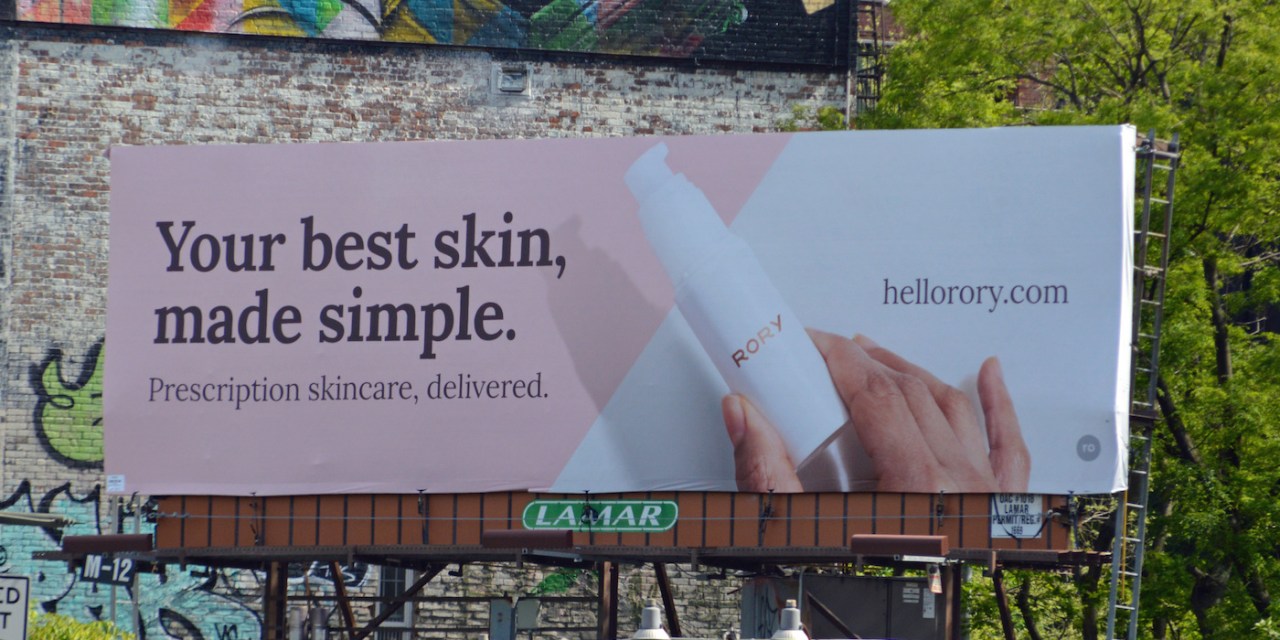 When stay at home orders were first issued, many direct-to-consumer startups had to hit pause on their out of home advertising campaigns. Now, as cities start to re-open, some out of home advertisements are starting to come back as well.
Subway advertisements are still out, but DTC startups are starting to take a second look at launching new out of home campaigns in cities with lots of car owners — as people start driving to more places again — as well as near outdoor areas. DTC telehealth brand Ro, for example launched a new billboard a few weeks ago along the West Side Highway in New York City to promote a skin care product from its women-focused brand Rory. Will Flaherty, vice president of growth for Ro, said the placement was appealing for the company it was near a lot of car traffic, and because there was a running path alongside the highway.
"If previously you were trying to catch the eyeballs of commuters, now how can you think about using out of home to catch the eyes of joggers?" said Flaherty.
The launch of some new out of home campaigns is another sign that some DTC brands are starting to return to business as usual. While it remains an old and standard advertising channel, companies are now rethinking their overall out of home approaches. What's more, many of the brands that are starting to invest in out of home again are the ones that had already tested it out before the pandemic. Ro, for example, was already working on a digital out of home campaign in February to promote its allergy medication.
"If it was a channel that you weren't trying before, should you try it now? I would say probably not," said Chris Toy, CEO of freelance marketing platform MarketerHire.
Before the pandemic, DTC brands largely used out of home advertising like billboards, digital kiosks and taxi top ads to promote splashy new product lines, like Away's collaboration with tennis star Serena Williams on a line of luggage. Or, they used it as a way to make a name for themselves in new markets. It was also an avenue for startups to rely less on Facebook and Google, as advertising costs on digital channels were rising before the pandemic.
The appeal with out of home was that it allowed companies to target people as they were going about their daily lives. But, as stay at home orders were issued, people's routines changed. With the exception of essential workers, many of the potential customers that DTC startups were trying to reach were no longer spending an hour in their car or on the subway each day.
Brian Rappaport, CEO of Quan Media Group, an agency that focuses on out of home and works primarily with DTC startups like Ro, said that there was a rush among DTC startups to postpone their OOH campaigns. He said that among eight of his clients who were scheduled to run OOH campaigns in March or April, seven of them were able to come to an agreement with the vendor to postpone their campaigns.
Like Flaherty, Rappaport said that where DTC brands want to run OOH campaigns has now changed. Now, placements near the supermarket and pharmacy are prime real estate.
Michael Rosen, chief revenue officer at Intersection — a media and technology company that owns digital out-of-home spots like New York City's LinkNYC wifi kiosks — said that street level placements in markets like Chicago, New York City and Philadelphia has also been in high demand, as well as advertisements on the exterior of buses that can reach street level pedestrians. "You have streets that are only open to pedestrian traffic [to encourage social distancing]. You also have a situation where people are going to be biking to work and will be outdoors more," Rosen said.
But, because by and large people still aren't venturing out of their homes as much as they were before the pandemic, out of home doesn't hold the same allure for some companies as it once did. Rappaport said that prices have fallen for some out of home formats, particularly large billboards, and claimed that some clients have been able to get $300,000 worth of out of home advertisements for $50,000.
However, $50,000 is still a lot of money for a company to spend on an out of home campaign if they've only been spending on easy-to-track digital channels like Google and Facebook up until this point. In addition, digital channels are cheaper and have a larger reach than out of home. A single Facebook ad may cost just tens of dollars to run, and a young startup can spend less than $10,000 a month on Facebook and still reach millions of users.
Additionally, attribution is still tricky for out of home — especially for media like billboards. Some companies have relied on post-purchase surveys to ask customers how they first heard about the brand to see who discovered the company through a billboard, but some customers neglect to fill those out.
As such, Toy cautions brands against trying out of home right now if they've only been advertising on Google and Facebook up until this point. "A lot of startups and new businesses they are used to throwing a bunch of shit against Facebook," Toy said. "With out of home, it is orders of magnitude more important that you know your creative and know your brand."