For brands and retailers, Roblox presents fertile advertising ground — and an ethical minefield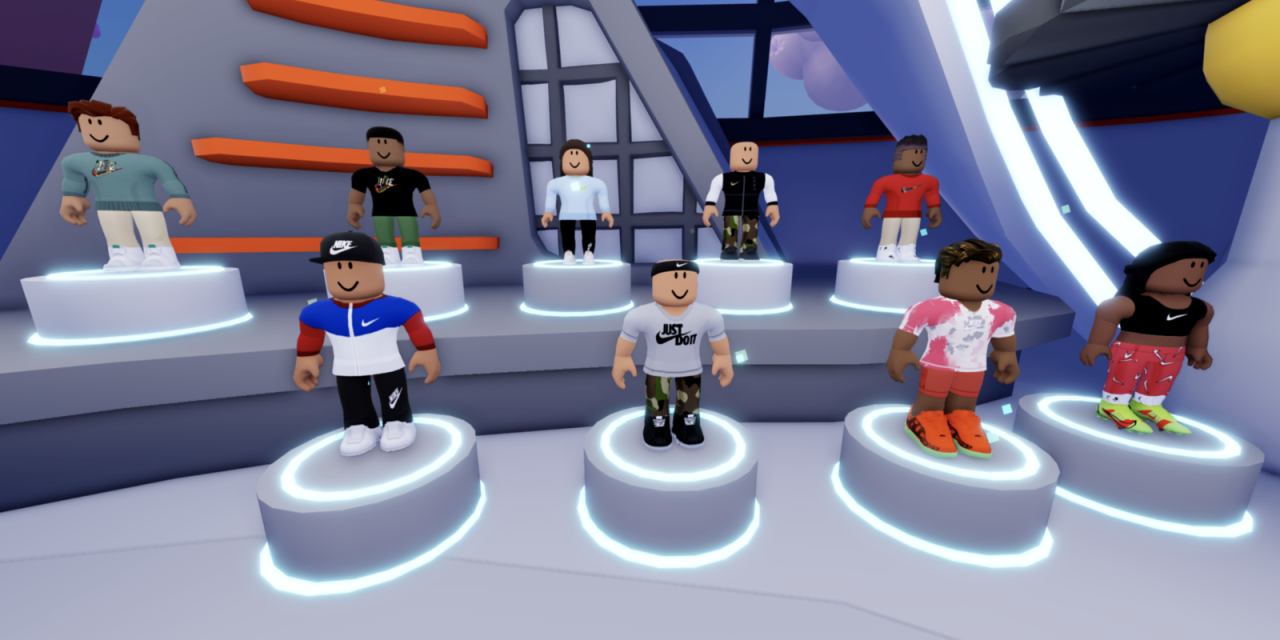 Nike
Left alone to navigate the world of Roblox, an online gaming platform used daily by 49.5 million mostly teen users, brands and retailers risk falling into an advertising minefield amid increased regulatory scrutiny of child-friendly online games.
After years spent courting brands, Roblox struck gold last year as a dozen major companies ranging from Nike to Chipotle to Kellogg's launched immersive content for its service, home to millions of games created by its community of 9.5 million developers. The platform monetizes these experiences by allowing brands and creators to sell digital items in their in-game stores or on its avatar marketplace in return for its virtual currency known as Robux, which users can purchase using real-world money. Roblox says developers and brands earn an average of 27% in payouts, with 24.5% from transactions and additional payouts based on engagement.
Thrust into the hype around the metaverse, and the future of the internet, Roblox is gaining attention from high-profile, multinational brands looking to reach its highly-engaged, youthful user base, who together played for a total of 10.8 billion hours during the three months ended December 31. Roblox says these users spent an average of $15.57 on its platform during the same period. It reported $1.9 billion in annual revenue last year, up 108% from 2020.
While the majority of its users are teens, Roblox claims that a "huge" portion of players are as young as nine years old and under. Other games that appeal to similar demographics include Microsoft's Minecraft and Epic Games' Fortnite, with the latter also increasingly opening itself up to retailers.
That poses a dilemma for brands: How do they market themselves to children who may find it harder to discern between an ad and a regular game? Is a branded game on Roblox an ad by its very nature? 
Roblox itself offers few answers. The company has largely taken a hands-off approach with brands, offering little in the way of guidance or policy around ad disclosures. 
"Roblox is a very open platform," said Neha Singh, founder and CEO of Obsess, a company that creates virtual storefronts for brands on the web, virtual reality and on games like Roblox. "Anyone can create an app on Roblox. The only approval that is required is for marketing assets, like images on an app page and video, but that is quick and mainly automated."
In the absence of any real support from Roblox, businesses are being forced to self-regulate their games to avoid any pitfalls around marketing to children — who may find it difficult to distinguish between advertising and non-advertising content. Indeed, two distinct camps are beginning to form among brands: one that treats the platform judiciously and with kid gloves; another that sees it as a free-for-all that both sells to kids and doesn't provide branded disclosures.
For instance, CPG companies Kellogg's and KraftHeinz both launched games on Roblox last year that were clearly labeled as adverts in their descriptions. Kellogg's took it upon itself to classify its Froot Loops World game as an advertisement to "abide by its marketing to kids best practices and self-regulatory guidelines," Lauren Imola, Froot Loops brand Manager, said.
Both companies also chose to skip the game's in-game currency in favor of features that aren't tied to real-world money. In Froot Loops World, players collect missing Froot Loops colors that can be redeemed for in-game items, including apparel and power-ups, at the "Colors & Curiosities" virtual shop. The CPG company created the Froot Loops World game with the help of Publicis Groupe agencies Starcom and Leo Burnett, children's technology agency SuperAwesome and games developer Wonder Works Studios. Kellogg's plans to add new content in the future through iterative updates.
Similarly, in KraftHeinz's Lunchables Racing on Roblox players use cash earned within the game to purchase special items for their karts.
By contrast, Nike and Vans have not made ad disclosures regarding their Roblox games. Nikeland and Vans World also allow users to purchase digital apparel from their in-game stores using Robux. Nike currently offers more than 50 digital items, including apparel and headwear, priced between 100-200 Robux each. Roblox currently sells Robux in three amounts: 400 Robux ($5), 800 ($10) and 1,700 ($20). Players can also purchase Nike's virtual sneakers using in-game medals that aren't linked to the currency.
Like Kellogg's' Froot Loops game, Nike and Vans promise constant updates to keep players engaged. Nikeland recently saw a cameo by a blocky, digital version of NBA star Giannis Antetokounmpo during a winter event in which its sports-themed world was covered in snow. Nike and Vans did not respond to requests for comment.
Watchdogs zero in on Roblox brand advertising
But, as brands are seizing the opportunity to market themselves to Roblox's highly-engaged user base, video games are starting to attract heightened scrutiny from regulators.
Last August, the Children's Advertising Review Unit (CARU), a part of non-profit BBB National Programs, revised its guidelines for advertising to kids with new rules aimed squarely at online games and apps, including those that offer in-game purchases. The independent organization oversees more than a dozen national industry self-regulation programs for the advertising and privacy practices of business.
CARU's guidelines emphasize the need to be especially transparent with disclosures online given the increasing difficulty of distinguishing between advertising and non-advertising content on the web. In addition, it says that ads, apps, or games that allow children to make purchases must make it clear that the purchase involves real currency.
CARU is now analyzing the gaming sector to establish whether businesses are complying with its guidelines. It will reach out to those deemed to be in violation of the rules and refer complaints to the FTC or relevant State Attorneys General when an initial agreement can not be reached.
"These gaming or metaverse worlds present a textbook case of what it means to blur the line between advertisements and content for kids," Mamie Kresses, vp of the Children's Advertising Review Unit, said. "The two sides are so seamless in video games, which makes it doubly difficult to spot."
She continued: "Congress is up in arms about how media is being marketed to children and is looking into how to change children's privacy laws."
A Roblox spokesperson told Modern Retail that it is still early days for brands on its platform. The spokesperson added that Roblox is "expanding our guidelines for brands" and will "continue to adapt our products, policies, and account controls to help enable development and ensure that experiences on our platform remain both civil and safe for our users."
Roblox has big plans for retail on its platform. The company claims that games like Nikeland and Froot Loops World represent "persistent experiences" that it hopes will become as essential a marketing tool for brands as social media.
Ultimately, it wants to create a "self-serve" ecosystem for brands, with "various customizable templates and other tools and features they can use." It also offers an existing resource in the guise of its Talent Hub, a database of creators that brands can partner with to help build experiences. More broadly, the company has spoken vaguely of connecting online commerce with real-world commerce and enabling creators to earn money through affiliate selling.
According to CARU's Kresses, it would be helpful if Roblox and other video game companies established "rules of the road" regarding advertising disclosures and other marketing policies. She also has advice for brands who are thinking of joining the platform but have reservations about how to market their content to kids.
"When in doubt disclose," Kresses said. "You can't go wrong in letting children understand they are being advertised to."