How Adore Me is experimenting with livestream commerce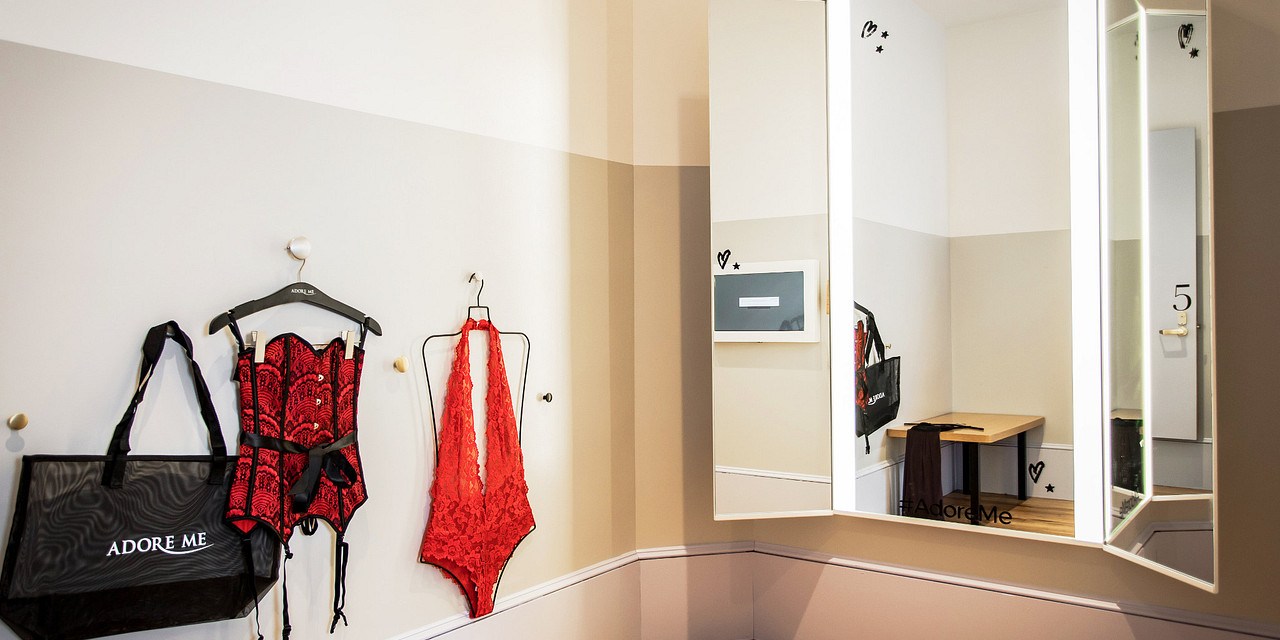 Adore Me
Over the past couple of years, a number of retail companies have experimented with livestream commerce — from local businesses and direct-to-consumer brands to major retailers like Walmart and Petco. But it's proving to be a tricky medium to master. One brand that's experienced growing pains while creating in-house live shopping experiences is lingerie brand Adore Me.
Encouraged by glowing viewership stats across the industry, the company first tested the concept last fall. But over the past year, the company has shifted strategies; Adore Me move its focus away from hosting sleek, more expensive live events with major streaming partners, and is instead focused on hosting live shopping events on its own platforms, powered by vendor Caast. Adore Me often ties these to major shopping events and seasonal themes like bridal collections or swimwear; the sessions typically receive 70,000 average viewers.
Adore Me's first attempt at video commerce took place back in September of 2021, and featured a glossy set and script on third-party apps. Throughout last fall, the company experimented with bringing in QVC hosts, a nationwide show with NBC Universal, along with co-branded efforts organized by Facebook on Instagram Live.
One example was Adore Me's Black Friday shopping event with NBC Universal, which aired on streaming service Peacock and was pushed across the network's other streaming channels. It involved a variety of holiday gifting items, and was hosted by a fashion blogger.
The partnership was a good way to test the live stream waters, but it wasn't the big hit the company had hoped for, said Adore Me's vp of strategy, Ranjan Roy. "Our first live show had about 25,000 viewers and didn't result in much sales," he explained. 
Fast-forward to January 2022, the company put on another show that was hosted on its own website and pushed to Instagram Live, which attracted a slightly better figure: approximately 30,000 viewers. That attempt proved that the format requires a slow and steady approach, along with some trial and error. 
From there, Adore Me's marketing team decided to keep testing the concept but in more stripped-back ways. "We've learned that overly-produced shows don't work for our audience — and a casual setting feels more relatable to our young audience," said Roy. For example, instead of a professional studio, the company decided to film in Adore Me stores and feature its own employees to talk about the products. 
Since the move, the live shopping sessions — all of which air on Adore Me's own website — have grown by 3,100% in sales tracked by promo codes, along with a current average of 70,000 viewers. Simultaneously, the operation also cut production costs by 80% for its latest show, a Valentine's Day live shopping event earlier this year.
These days, Roy said, Adore Me sees "a strong ripple effect" from the live sessions, especially around at-cart purchases. "We see a 220% uplift for shoppers who view the live show but wait to shop afterwards – meaning that even if they don't buy at the moment, they're more likely to make a purchase within the next five days."
Throughout the way, some more lessons were learned by the company, Roy said. 
The biggest takeaway the Adore Me marketing team got from the past six to eight months, Roy explained, is the need to tie the live events to a major holiday or unique "shopping moment." "This creates an urgency for our customers to tune in and check out with their items," he said. 
Some examples of this include implementing shipping cutoffs or creating limited-edition collections. Another effective tactic Adore Me has used this year is offering unique coupon codes, which encourages usage and helps track conversion rates, Roy said. 
Going forward, Roy said, the company will likely adhere to a combination of live shopping experiences targeting social media followers and customers on the brand's owned properties. But the brand will continue to use its own website, along with an occasional mix of streaming services. These will be complemented by distributed channels on other platforms where Adore Me can acquire new users. "For instance, we're considering different platforms, like Amazon Live, to target new audiences." 
"Creating great media is already hard, so we launched our live shopping efforts with the understanding that combining media and commerce would be an even more difficult challenge," he said. Two of the bigger surprises so far have been: how unaware the average consumer is to the idea of buying while watching, and the residual benefits that come with every live stream long after it ends. 
So, repurposing the content has become a priority for maximizing the investment's return. Adore Me replays the live shows on its website's homepage, where the original footage is pushed out. While customers don't receive the live discounts or virtual interaction, they're made aware of the concept to tune in next time. 
Additionally, the product storytelling component the live shows require — combining the emotional with the practical in real-time interactions — "has really helped us improve across all mediums of product content, such as website copy or other forms of video," Roy said.
Yaniv Navot, CMO of experience optimization platform Dynamic Yield, said that U.S.-based brands are still learning to implement the trend, which has long been popular in markets like China. "One major opportunity for those looking to maximize the output of their live streams has to do with overall product discovery," he said. Navot explained that many brands typically only include links to the set number of products being highlighted as part of the event. 
But as customers become accustomed to interacting with their favorite brands' streaming sessions, companies will have to offer more innovative product discovery. "For example, offering multiple tabs to showcase additional products that are tailored to each shopper's historical purchases," he said. These incremental investments, along with continuous improvements to the event experience, "could eventually turn live streaming into a substantial revenue source." 
Next, Adore Me wants to incorporate its creators program and other vetted influencers into the shows, Roy said. "Live shopping is all about connections and trust between the presenter and the audience, and this would work well in smaller, more tight-knit communities like ours," he said. 
The company is also in the process of creating exclusive and limited-edition lingerie collections to bring in livestream viewers, Roy said. "As the world continues to reopen, we have to give people a reason to tune in."