How Apple's entry into buy now, pay later could impact the competition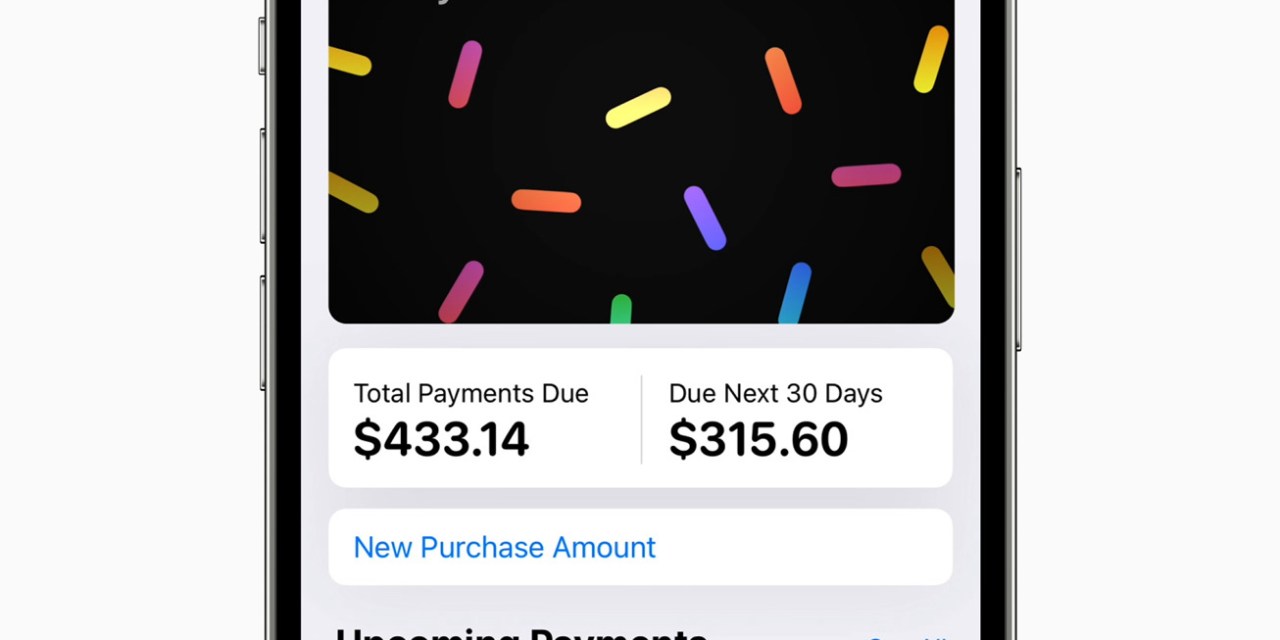 Apple
Apple is officially launching a buy now, pay later service – just as the category faces a slowdown.
Apple announced Apple Pay Later at its annual WWDC conference on Monday, and it will roll out as part of the iOS 16 Apple Wallet update. The service has been in the works for some time, and was first reported on by Bloomberg last summer. 
According to the company, Apple Pay Later will utilize the Mastercard network. It also "provides users in the U.S. with a seamless and secure way to split the cost of an Apple Pay purchase into four equal payments spread over six weeks, with zero interest and no fees of any kind."
The model is similar to existing services by BNPL startups like Affirm, Afterpay and Klarna – all of which have experienced growth among shoppers and retailers in the past few years. These companies have also been credited with helping brands grow basket sizes. But in recent months, a number of BNPLs have either cut costs with layoffs, scaled back on hiring, or experienced a slowdown in growth as the market becomes more saturated.
Apple is launching installment payments at a volatile time for the category's startups. Splitit, for instance, has pivoted to B-to-B in an effort to turn a profit. Sweden-based Klarna laid off 10% of its corporate staff in late May. Meanwhile, Afterpay took an exit by selling to Block (formerly Square) for $29 billion late last year.  
In the days since the announcement, buy now, pay later executives have spoken out about Apple's entry into their industry. Klarna co-founder and CEO Sebastian Siemiatkowski tweeted a thread in response to the Apple news. 
"It is a great win for consumers worldwide that Apple is now embracing a better form of consumer credit," Siemiatkowski wrote. He also joked that "Plagiarism is also the highest form of flattery." 
On Tuesday, Affirm founder and CEO Max Levchin told Bloomberg Television that he's "not worried" about competing with Apple's BNPL service. "I don't think there's much concern," Levchin said. "There's a lot of room for growth for all involved." 
In a statement to Modern Retail, an Affirm spokesperson said: "Consumers, especially now, are looking for more transparent and flexible alternatives to credit cards. Affirm has offered this for nearly a decade through personalized payment plans with term lengths ranging from six weeks to 60 months. The company spokesperson also pointed to Affirm's 200,000 merchant partners. "Even as more players join the movement we started, the prize remains massive, and Affirm is well-positioned to win."

Affirm's most recent quarterly earnings report, released in May, showed the company is still growing. The service's users grew by 137% year-over-year, to $12.7 million while revenue jumped 54%, to $355 million. However, Affirm's operating losses also grew – hitting $226.6 million, up from $209.3 million the previous year.
With Apple being the biggest tech company in the world, industry watchers predict its presence is expected to create further competition for BNPL startups.
LendingTree chief credit analyst Matt Schulz said that given its size, Apple is likely looking to be "a big player in the BNPL world in a hurry." The new feature is also somewhat of an expansion on Apple's existing installment payment option, currently offered to Apple Card holders on Apple purchases. 
Apple Pay Later is due to minimize some BNPL barrier of entry – at least for iOS users. "It will give Apple Pay users access to BNPL-style installment plans without having to download some other lenders' app or concerning themselves with which BNPL lender their favorite retailer partners with," Schulz explained. "That's a big deal."
 "While this might mean trouble for the big players in the BNPL space, it is clearly an indication that BNPL-style loans are here to stay," Schulz continued. "Consumers have shown how much they love these finite, pay-in-four, typically-interest-free loans – and the financial industry has definitely taken notice." Indeed, some major banks are already building their own buy now, pay later programs as they face a decline in credit card usage among young customers. 
Others expect Apple to put its own spin on BNPL.
"So many financial institutions are offering a flavor of installment payments, but Apple doing anything is a big deal to that category," Jen Glaspie-Lundstrom, co-founder of branded private label credit card platform Tandym said. She went on to list a few advantages that Apple will have when it comes to customer acquisition. 
For one, the company and its devices have a big existing customer base, she said. "Apple Pay already has the distribution, and so the BNPL option can be used anywhere Apple Pay is accepted."
With Apple growing its financial offerings, at the same time it's also enhancing e-commerce features. The company announced Apple Pay Order Tracking, where users can view and track receipts and online orders within their Apple Wallet. The features are similar to those Shopify currently offers in its customer-facing Shop app.
"I can see consolidation happening for a couple of reasons," Glaspie-Lundstrom said. "First, cash flow is tight as we enter an economic downturn," she said. Another factor is the increasing criticism that BNPL services have received for contributing to new credit line debts.  Glaspie-Lundstrom said Apple Pay Later could improve BNPL on that front. "Integrating it into people's digital wallets may create a more disciplined approach to paying installments down," said Glaspie-Lundstrom. 
Schulz said that Apple's entry signals an inflection point within the buy now, pay later industry. 
"Companies like Affirm, AfterPay and Klarna have done a great job of making the brands more recognizable and becoming the best-known players in the BNPL business," Schulz said. "But as more and more giant companies step into the BNPL space, the competition is only going to get tougher and tougher."