How Google has quietly streamlined its shopping ad formats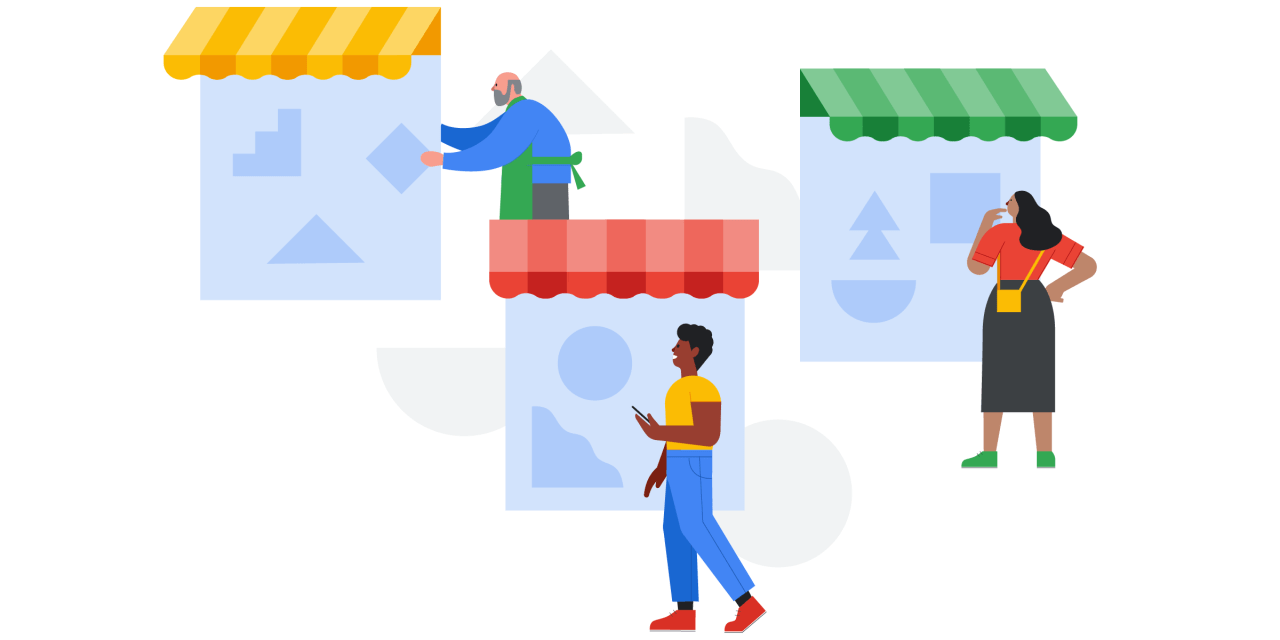 Courtesy Google
Over the past few years, Google has been testing out a variety of ad formats designed with e-commerce companies in mind. Now, it's starting to slowly streamline some of those advertising formats.
On a support forum for advertisers, Google recently posted a notice that it is discontinuing Showcase Shopping ads groups, a catalog-style ad it introduced in 2017, effective April 1. However, according to a Google spokesperson, the company plans to roll the Showcase Shopping ads layouts into Product Shopping ad groups, its name for individual product ads.
Over the years, Google has experimented with a variety of ad formats geared toward people who might be in the market for say, new running shoes or luggage, but don't know exactly what company they want to buy from. These include more catalog-style ads, ads that mimic native advertising as well as shopping ads within YouTube. But now, Google is streamlining some of these offerings in favor of making it easier for merchants to run campaigns, as well as to run ads across more Google properties.
"I think Google's struggles is where do they place more ads…they have ads in most Google properties," said Duane Brown, founder of performance marketing agency Take Some Risk.
Read on for more about how Google's shopping ads strategy has evolved in the past couple of years.
Google's newer ad formats
Google's bread-and-butter advertising format has long been search ads — though Google doesn't break out exactly how much revenue it generates solely from search ads, "Google search and other" accounted for nearly 70% of Google's advertising revenue for the fourth quarter, which totaled $42.6 billion.
Search ads are often used by retail companies to ensure that their website is the first one people see when they search for say, mattress companies. But what search ads haven't been as good at historically is reaching a customer who doesn't entirely yet know what they want to buy, or to convince someone to buy products from particular company over another.
"With Google you are capturing demand that is already there —  somebody is doing a search for your product," said Brown.
Google has tried to introduce a few shopping ad formats over the past few years to address this. These ad formats tend to fall into one of a couple of buckets. First were the ad types that meant to mimic catalogs, by showing off multiple products.
This included Showcase Shopping ads, which surface during more general searches, for example "holiday decor." With these, companies can feature a few different product images in these types of ads, as well as the exact name and price of each item. There was also a mobile ad format called Gallery introduced in 2019 that fell into this category. Gallery ads consisted of a scrollable collection of four to eight images.
In recent years, Google has also sought to run ads in more places — essentially trying to convince advertisers that Google's ads can help them reach more people beyond those searching explicitly for their products. In 2019, for example, Google introduced Discovery ads, which show up in Gmail, Google's Discover feed and on YouTube, and in which retailers are encouraged to use more lifestyle imagery.
The final way Google has sought to streamline its shopping ads is to make it easier to run shopping ads across multiple of its properties. Last February, Google announced that it would start running Product Shopping ads across Gmail, Discover and YouTube. And in 2018, Google released Smart Shopping, which uses artificial intelligence to automatically decide where the most optimal placement is on search, display, YouTube or Gmail.
What's changed
In addition to the recent changes made to Showcase Shopping ads, Google also did away with Gallery ads in May 2020, according to Search Engine Land.  Brown said that the main challenge his clients ran into with Showcase Shopping ads was not so much the format, but how Google charged companies for these types of ads — companies were charged based on number of engagements, not number of clicks, as Google has historically done.
That meant that if, for example, a customer clicked through the images shown on the ads, that would count as an engagement. But, once Showcase Shopping ads are rolled into Product Shopping ads, advertisers will once again be charged on a per-click basis
Katya Constantine founder of marketing agency Digishopgirl Media that for many of her clients, Smart Shopping ads have outperformed Google's traditional shopping ad units, with some clients seeing around 70% lower costs per click using Smart Shopping. "It's really relying on Google's AI to [determine] the relevancy of the products and they are showing to the right customers," she said.
This feeds into what Brown feels like is Google's strategy right now — that the company is trying to figure out more places where it can run shopping ads, while guiding advertisers to its best-performing formats.
But, he said, "not every place Google [could] have an ad is a high-intent place or a place that someone is going to convert."