How mocktail brands are capitalizing on Dry January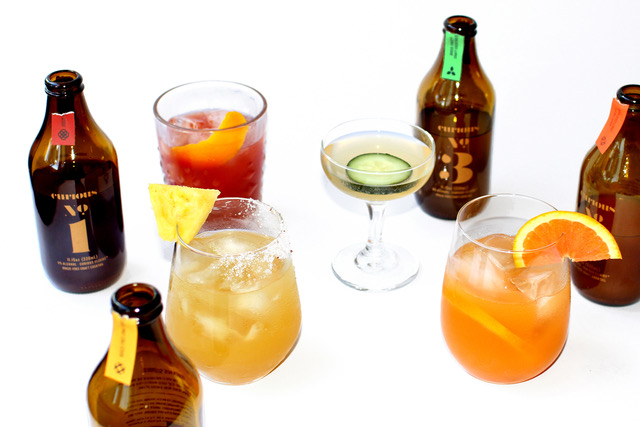 During the month of January, beer and wine are starting to play second fiddle to mocktails.
For the past several years, more and more people have started abstaining from or cutting back on alcohol during the month of January, as part of a campaign known as Dry January. Alcohol Change UK, one of the first organizations to use the phrase Dry January, reported that its polling shows more than 6.5 million U.K. adults plan to participate in Dry January this year, compared to 3.9 million the year before.
For startups that sell alcohol-free versions of beer, wine and cocktails, that means this is their month to shine. Startups including Curious Elixirs, Ghia and Ritual Proof Zero told Modern Retail that this is an important month for them to attract new customers. In order to get on the radar of people who are participating in Dry January, these businesses are pushing out more content like recipes for mocktails, as well as hosting virtual events or chats for people who have or are considering cutting back on drinking. Their focus is on getting people who try out their products for the first time during Dry January to become repeat customers.
Mocktails are certainly having a moment. "The growth of alcohol alternatives is a trend we've been tracking for a few years — there are absolutely more brands pitching their beverage in this category," Aditi Dash, partner at fintech firm CircleUp said in an email. CircleUp's early-stage consumer fund is an investor in Partake Brewing, non-alcoholic beer brand.
Curious Elixirs founder John Wiseman said that in a typical month, his booze-free cocktail company generates 60% of its revenue from repeat customers. In January, that number drops to 50%, because "the number of first time customers goes up dramatically." November, December and January are usually the biggest sales months for Curious Elixirs, which launched in 2016, as the company also gets a boost during the holidays as people are looking to stock up on items for their sober guests during parties.
The main way that Curious Elixirs tries to encourage people to become repeat customers is by offering subscriptions, Wiseman said. Curious Elixirs subscribers get 17% off of four bottles — or 25% off of 12 bottles — as well as first access to new flavors. This month, the company is promoting new features available to Curious Elixirs subscribers. For example, the brand just launched a members-only club in Brooklyn this month. For now, the members-only club is primarily a place for Curious Elixirs to livestream events due to coronavirus restrictions. But eventually, Curious Elixirs plans to turn it into more of a "dry speakeasy" featuring full bar service as well as small concerts.
Brands are also collaborating for Dry January initiatives. Ritual Zero Proof — which sells non-alcoholic varieties of Gin, Tequila and Whiskey — has partnered with beverage companies like CBD drink Recess and Brew Dr. Kombucha this month on social media giveaways, as well as posts sharing mocktail recipes that feature both products. Ritual Zero Proof is also the "official Dry January" partner of Campbells' V8 brand, with both brands featuring each others' products in social media posts this month, CEO David Crooch said.
Ghia CEO Melanie Masarin, whose alcohol-free aperitif startup launched in July, said she's been working on adding new retail partnerships in the run-up to Dry January, in order to give new customers more places to potential discover the product. Ghia is current available in 150 stores — mostly independent restaurants, bars and health good shops. Los Angeles-based health foods stores Erewhon stared carrying Ghia in January, while a select number of Nordstrom stores also started carrying the product right before the holidays.
CircleUp's Dash attributed the rise of startups selling alcohol alternatives to changes in health and wellness preferences. "People are paying more attention to what they put in their bodies," he said. "Alcohol has very few health benefits, so it's often a logical place to start when consumers decide to make a change to their consumption habits."
Additionally, Dash said she believes as people spend more time socializing online –as they've been forced to this year during the pandemic — their social life no longer involves being around other people who are drinking. And thus, they may be open to exploring more alcohol alternatives.
One challenge that alcohol-free startups face — particularly those that do sell in retail — is getting customers used to the idea of spending the same amount money on a mocktail as they would on a cocktail. Ghia's aperitif sells for $33 a bottle, while Ritual Zero Proofs' bottles go for $26.99 each. Masarin said that this has created a challenge for Ghia as it has expanded into retail. Some grocers are inclined to place Ghia in the non-alcoholic beverage aisle, where "your product is about ten times the price of a single serving of kombucha," she said.
Masarin said that she hopes as more people explore the idea of going sober or cutting back on alcohol, it will help the entire category of alcohol alternatives grow.
"A lot of people ask me if I'm worried about newcomers in the category, because it seems to be really frothy, but I think it will give us more leverage to entice grocery stores to create an entire aisle for us," Masarin said.