How Pinterest is courting alcohol brands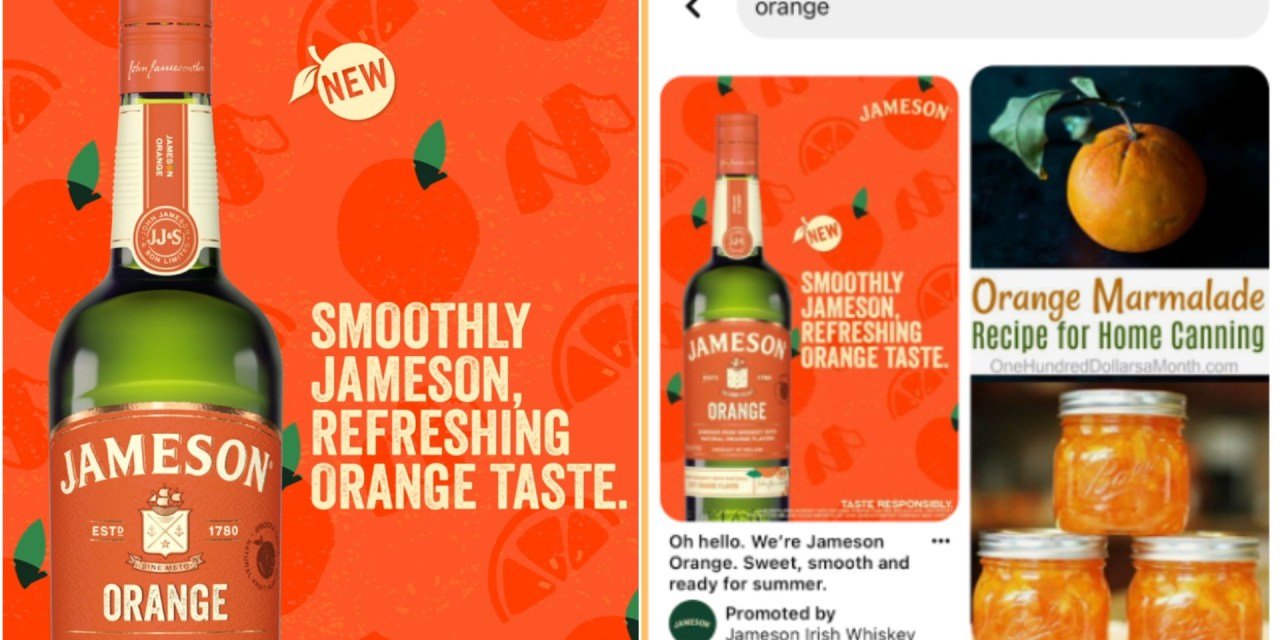 Image via Pinterest
Recipes and how-to's have been at the heart of Pinterest's content. These days, the company is tapping its community of DIY users to attract big food and beverage name advertisers. In particular, Pinterest is trying to work more closely with alcohol brands.
Over the years, Pinterest has positioned itself as a friendlier platform to so-called vice categories that aren't allowed to advertise on other mainstream platforms, such as Facebook and Instagram. Last year, the company unveiled exclusive campaigns with sexual wellness brand Maude, for example. 
With that in mind, Pinterest has been working with a wide range of alcohol brands on lifestyle and recipe-focused campaigns — from conglomerates Bacardi and Pernod Ricard to upstarts like hard seltzer Truly. These campaigns became especially popular during the pandemic when alcohol brands grew at-home sales via retail and delivery. Pinterest is trying to sell alcohol brands on the idea that it is a place for inspiration and discovery — while also encouraging these brands to use some of Pinterest's newer tools. However, these campaigns are still largely focused on brand awareness, rather than driving a large number of sales.
Cater to recipe-focused brands
According to Pinterest's latest earnings, 86% of Pinterest users say they use the social platform to search for drink recipes or narrow down their favorite flavors. "So, there is ample opportunity to reach consumers with new and inspiring ideas every day," Arben Perkolaj, U.S. industry lead of CPG at Pinterest, told Modern Retail. Perkolaj added that his team at Pinterest is "in touch with brand partners on a weekly basis to share consumer insights and Pinterest trends,"  which can be parlayed into seasonal campaigns or brand activations.
At-home cocktail making, specifically, has been credited to the boom in alcohol brands' traffic on Pinterest. These range from recipes for easy-to-make drinks, to old classics to newer beverages branded by paid advertisers like Jameson and Bacardi.
"We've recently seen an 84% increase in 'simple cocktail recipes,' while there's also been a 73% increase in 'sazerac cocktail,'' said Perkolaj. Other popular searches include interest in more novelty beverage trends, such as a 30% increase in "glitter cocktails," according to Perkolaj.
Pinterest often works closely with alcohol brands that want to promote a new product. For example, Pinterest recently worked with whiskey brand Jameson on a campaign that kicked off on April 18 to promote Jameson's new orange-infused whiskey.
The Irish whiskey brand collaborated with Pinterest for a "color takeover," resulting in the brand "owning the color orange on Pinterest," Perkolaj said. Users who searched for terms with that color were automatically served Jameson Orange recipes and ads for the new whiskey. 
On other occasions, Pinterest works with alcohol brands to promote some of Pinterest's new features or initiatives. Bacardi, for example, has recently launched campaigns with Pinterest Creators — the platform's influencer fund — to promote its Grey Goose Original and Grey Goose Essences SKUs. Grey Goose tapped creators like Peigy Styles and chef Megan Mitch to create content that tapped into trending or seasonal topics like Halloween-related recipes.
Similarly, last summer Hendrick's Gin launched its "Cocktail Constellation',' which ran exclusively on Pinterest to promote the brand's summer cocktail recipes. The partnership featured a quiz-to-board Pin Extension, with Hendrick's being the first alcohol brand to use the feature on the platform. The activation blended digital fortune-telling and Hendrick's branded cocktail mixology; It allowed the brand to target users searching for terms like "fantasy map-making" and "zodiac sign facts." During the first two weeks of the Constellations run, the brand had nearly 4,000 boards generated and a total of over 62,000 quiz questions answered. 
"[Pinterest] is one of the most useful tools for us because it allows us to go deeper on trends, especially for entertaining and event planning," said Hendrick's Gin ambassador Mattias Horseman.
Grey Goose brand director Katie Redlien told Modern Retail in an email that Pinterest has been a major part of the brand's creator-focused marketing strategy. Last summer, Grey Goose began using Pinterest Creators tools to create feed scroll visuals that tie back to summer trends, including national holidays and outdoor occasions. She added that the brand also tested seasonal trend themes, like "summer vodka cocktails made easy," including Pinterest's trend badge and was the first brand on the platform to test Pin stories. As part of the test phase, the brand plans to use some of the tactics for parent company Bacardi's other brands. 
Top-of-funnel woes
Even with this increased interest, Pinterest has historically struggled with translating brand-building discovery campaigns into digital sales. Over the years, brands have cited the lack of customer conversion on Pinterest —  especially in comparison to paid ad competitors like Facebook, and more recently TikTok. In turn, many marketers have mainly used Pinterest as a top-of-funnel channel. For Pinterest, the gradual addition of e-commerce tools is a long-term strategy to improve conversion.
Keith Mantia, director of search & social at marketing agency AudienceX, said that "Pinterest is a platform that thrives on seasonality and planning, lending itself readily to events and holidays where food and beverages are key elements." 
For brands trying to deepen their Pinterest presence, Mantia said the key is to figure out what the Pinterest audience is looking for — especially as consumer habits continue to shift. "We know that Pinterest is both aspirational and inspirational, and users frequently approach the channel in a discovery mode," Mantia said. Oftentimes, the power users "are seeking out ideas that include new recipes and products, and then saving finds that they'd like to include in their plans."
For alcohol brands in particular, the challenge for the past couple of years has been figuring out how to reallocate budgets to effectively target at-home customers. Pinterest marketing is still an awareness effort, as opposed to a major sales driver. However, Horseman said that such awareness plays have been important for keeping alcohol brands to be "top of mind" for consumers during social media scrolling. The goal, he explained, "is to remind them of the Hendrick's content they engaged with when they see us at the store."
For brands like Hendrick's Gin, Horseman said the company wants "to target different types of drinkers" to stand out in the crowded gin field. Built-in tools like re-pinning also allow brands to easily integrate user-generated content into their Pinterest page. 
"The platform has an innate ability to target the 21-plus customer base and help us advertise to the right demographic," he concluded.