Modern Retail Research: More DTC brands are testing out back-to-school promotions
In this new brave new world, digitally native brands are seeking out different types of campaigns and promotions.
Indeed, a recent Glossy and Modern Retail survey highlights how DTC brands have increasingly turned to back-to-school promotions, compared to pre-pandemic times.
It's indicative of an overall marketing shift — especially for online brands known for forgoing sales cycles. Instead, in an attempt to win back sales and attract new customers, more brands are thinking about participating in seasonal campaigns like back-to-school.
According to the survey of 52 DTC brands, 44% said they are holding some kind of back-to-school campaign this year. Of that group, only 34% said their companies typically held similar promotions before the pandemic.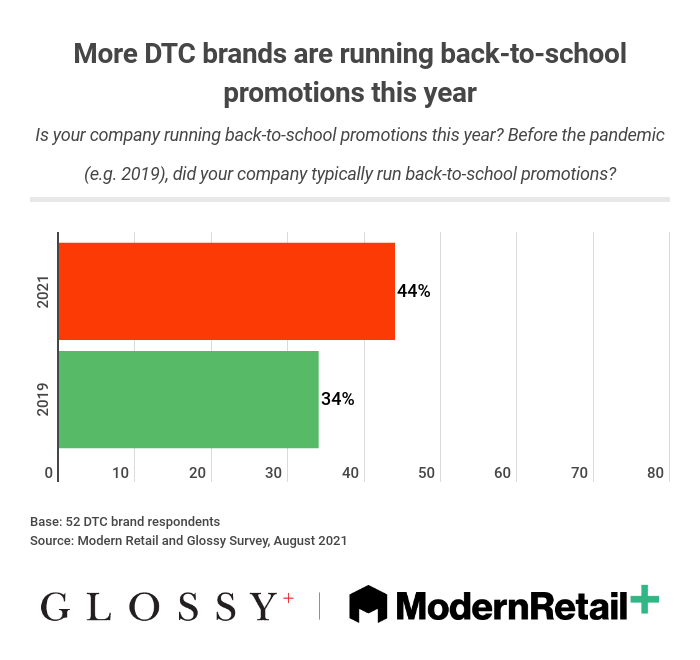 The back-to-school season was tough for retailers of all sizes in 2020. Many retailers were caught flatfooted during late summer and early autumn, as a result of the pandemic being in full swing and most schools operating remotely. Macy's, for example, saw same-store year-over-year sales decrease by 20% in the third quarter of last year — the period when it usually sees big back-to-school gains. (Digital sales, however, shot up 26%.) Similarly, Nordstrom's net sales went down 16% year-over-year that same period.
These results followed an industry-wide trend of less advertising spending. Numbers from Kantar in 2020 said that retailers were spending $23 million on back-to-school television ads over the summer, compared to the $76 million spent the year before.
But now, things seems to be rebounding overall. The National Retail Federation forecast earlier this summer that back-to-school spending is expect to hit $71 billion, compared to $67.7B in 2020.
Meanwhile, more DTC brands seems amenable to launching new types of campaigns. Before, most online brands focused on digital customer acquisition that leaned heavily on performance marketing. The playbook focused on personalized first-party data collection and less on participating in national promotions. But now, thanks to updates with iOS 14 and other privacy paradigm shifts on the horizon, brands are scrambling to figure out how to best continue acquiring customers. Many brands are increasingly looking toward other strategies — like a renewed focus on email marketing — as a way to try and make up for what may soon be lost.
With that, back-to-school campaigns may present an opportunity to try and get in front of new customers.