Ready-to-drink cocktail brands are vying to be the next spiked seltzer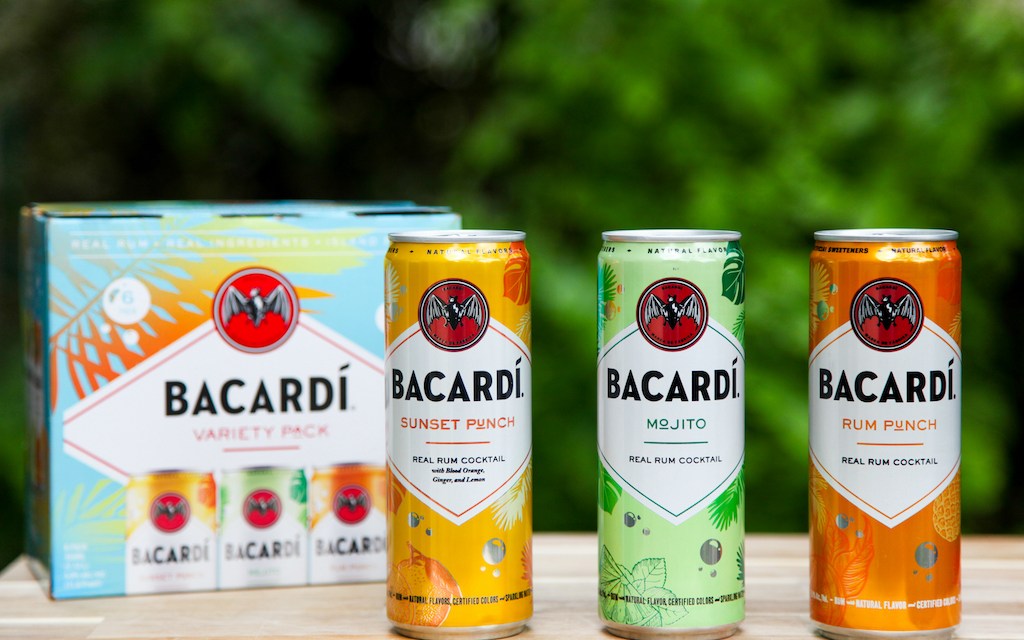 Image via Bacardi
Following years dominated by spiked seltzer, canned cocktail brands are ready for their moment. 
When Finland's Long Drink first arrived in the U.S. in 2018 for example, the gin-based cocktail was "in a very new category at liquor shops," said Matt Green, the company's vp of off premise chains. This year, Long Drink is experiencing its best year of U.S. sales, thanks to growing interest in ready-to-drink (RTD) cocktails and the pandemic's overall alcohol boom. Long Drink's month-over-month sales have grown 600% to 700% in 2021.
Upstarts like Long Drink are trying to market RTD cocktails as an alternative to the ubiquitous hard seltzers, as the latter category shows signs of slowing sales growth. Aside from scaling distribution, RTD makers are trying to educate consumers on their product, partly by partnering with influencers and creating marketing campaigns to raise their name recognition within the endless canned alcohol aisle.
Even major alcohol brands are getting in on the can craze. In May, Bacardi launched a line of canned rum punch, among other trendy products in time for summer. And back in 2020, vodka makers Absolut and Ketel One both launched their own canned drinks lines. 
Sean Eckhardt, senior vp and managing director of sales at Bacardi North America, said the group added canned RTDs because they're "an incredibly popular choice for consumers" due to convenience and portability.
"We're continuing to invest in this category and are particularly excited to see the pace of growth in spirit-based RTDs," Eckhardt said, noting that it's become the fastest-growing segment within the category. Under its portfolio of brands, Bacardi recently released several RTD lines: Bombay Sapphire's canned gin & tonic, Plume & Petal's vodka spritzes and Cazadores' tequila-based cocktails.
The format, Eckhardt said, adds new drinking occasions for existing consumers while also introducing the brands to new consumers looking for an opportunity to "trade up" their go-to canned drinks.  The hard liquor content means these beverages have a slightly higher price point than many spiked seltzers.
For brands like Long Drink, "there is a learning curve among customers because there is confusion of what ready-to-drink cocktails are," Green said, with many customers lumping them in with hard seltzer.
How newcomers are standing out
Many of the brands that sell RTD cocktails still have to adhere to traditional retail distribution. By contrast, wine-based beverages — such as Loverboy and Cool Cat — have been able to bypass laws and sell directly to customers online.
But retailers' interest in these products is growing, said Green. Long Drink is currently growing distribution along the East Coast, and is on track to expand across the Midwest and the rest of the country during the second half of the year. "In the past three months, we picked up more than 1,500 off-premise accounts, and plan to be in 2,000 stores by the end of the year." The goal is to reach 10,000 locations by April 2022.
"Now that we have samples rolling back in, we're focusing on celebrity and influencers' partnerships again," Green added, which include DJ Kygo, golfer Rickie Fowler and actor Miles Teller, who took on equity in the company last year. Both Kygo and Teller are heavily featured in the brand's marketing material and social media feeds. 
Spirit-based canned drinks have had to find their footing among the crowded retail shelves. Sparkling tequila brand Onda, which launched in July 2020, has also benefited from the recent boom. 
"When we first started looking at the ready-to-drink space, the can category was completely dominated by malt-liquor based options," Onda co-founder and CEO Noah Gray told Modern Retail. At the time, there wasn't a "clear leader in tequila seltzer," he said, despite the fact that both tequila and hard seltzer were popular among young consumers.
In addition to continuously testing the formulation over the years, Gray said the company also made a conscious effort to pick a distinct design — bright orange cans — to stand out from the typical white seltzer packaging.
Onda's marketing tactics used to reach consumers consist of multiple influencer partnerships, as well as prominently featuring co-founder and actress Shay Mitchell. Mitchell, who has over 30.5 million Instagram followers, "has been pivotal to growing awareness of Onda as we've launched into 30 states our first year," Gray noted. 
Onda's branding strategy also includes a merch store and as well as creating a group for the brand's most dedicated customers called the Onda Beach Club. The club currently has 250 members. "It provides us with an opportunity to reward members with special access to events, product launches, merchandise drops, playlists, and even take part in research and development." 
Despite the already-crowded field, new players are continuing to enter the category.
Zuzu, an agave-based sparkling cocktail that launched in early 2021, is also hitting the ground running among competitors, said co-founder Greta Caruso. The combination of launching national DTC shipping in late April — via a partnership with Thirstie — along with the warm weather in the brand's home market of New York "made for a really exciting last few weeks" at the company, Caruso explained.
While RTD's rise in popularity is highly credited to outdoor and at-home drinking, Long Drink's Green said the category also lends itself to on-premise venues, like bars, restaurants and sporting events. RTD booze, he said, is especially timely during the ongoing service workers' shortage. "It's perfect for busy bartenders because they can just pop and serve them."