Unpacked: How YouTube Shorts differs from TikTok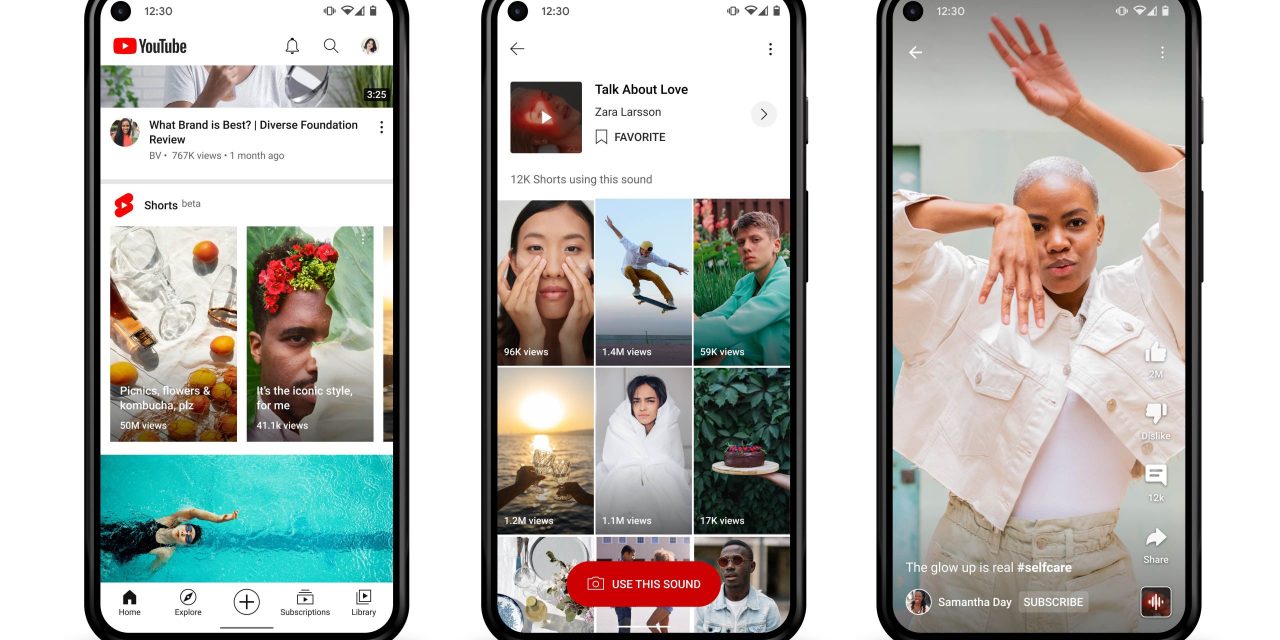 YouTube PR
Agencies are seeing a lot of potential upside in YouTube Shorts, the company's new short-form video platform.
Shorts arrived in the U.S. in March, after several months of beta in India. It came just half a year after Instagram rolled out its own short-form-video platform, Reels. Like Reels on Instagram, Shorts is embedded into the larger YouTube platform. A "Shorts" tab is available on mobile, and Shorts are also viewable and searchable on desktop. Users can create videos of up to 60 seconds, and — a crucial difference between Shorts and its rivals — they can repurpose content from YouTube's full video archive, meaning that a Shorts creator can easily duet with any dance challenge from 2011.
In the weeks since YouTube rolled out Shorts, the company announced that daily views of Shorts videos had leapt to 6.5 billion worldwide. (YouTube does not give comparable numbers for YouTube overall, but has said that users consume over a billion hours of content daily.) Earlier this month, YouTube also pledged to give $100 million to creators who make viral Shorts videos, adopting the approach that has given Snapchat success with its own TikTok clone, Spotlight. (TikTok also has a $200 million creator fund.)
Since then, "YouTube Shorts has been the 800-pound gorilla in terms of marketing discussions over the past week or so," said Gabe Feldman, senior business development lead at the influencer marketing agency Viral Nation. It is still too early for brands in the U.S., at least, to start significant marketing efforts on Shorts, and Feldman said that the brands he works with are waiting to figure out in what direction creators take the platform before investing in it for themselves. But many brands see immense potential in Shorts.
How Shorts differs from the competition
While Shorts is often cast as a mere TikTok doppelgänger, its unique infrastructure — and especially its search tools — might make it an especially appealing home for brands looking to create content that retains longer-term relevance.
One key differentiator for YouTube Shorts as compared to TikTok and Reels is Shorts' relationship to chronology. On TikTok or Reels, it's rare to see a video that's more than a week old; both focus so heavily on instant reactions and engagement that, as on most social platforms, older content gets buried quickly. But Shorts retains the fundamental infrastructure of YouTube — namely, its search engine, which pulls up content that is weeks, months or years old based on a user query. "How we look at YouTube is YouTube is a search engine with social functionality," said Feldman.
That matters, said Feldman, because a platform like YouTube can give brands more longevity for their videos, including on Shorts. "I think brands are actually going to find more lifetime value from Shorts content than they will on a place like Instagram or on a place like TikTok," he said. "The difference maker is how discoverable Shorts content will be," thanks to the search algorithm.
He said he expected the pool of brands that eventually adopts Shorts to look different than the pool that is already active on YouTube, in large part because of the discrepancies in how long each video is. Most YouTube videos are several minutes long — the average for top creators is 13-14 minutes — which can be costly for a brand to produce. Shorts, by contrast, cannot cross the minute mark. "On a brand level, it's incredibly expensive to produce long-form content at scale," he said, adding that he thought Shorts therefore would become an "easier entry point" for brands looking to create a YouTube channel.
Attracting new types of brands
Paola Marinone, founder and CEO of the YouTube-focused business development firm BuzzMyVideos, said that she hasn't seen many brands in the retail space use Shorts yet, but sports teams like AC Milan have already begun investing in Shorts, and has run sponsored videos with partners like Puma. One sponsored video with Puma, posted on May 7, brought in a little over 10,000 views.
She saw Shorts as having the potential to pull in a different cohort than what Feldman described: Brands on YouTube who are not comfortable or familiar with TikTok. This is because many brands do have YouTube channels already. With that, one of Shorts' key features — that each short-form video can incorporate clips from any video in the YouTube archive — means that brands can reuse older content in new ways.
Take the example of a brand publishing an hour-long investor presentation on their channel: "If you extrapolate a couple sentences that are the key moment or key message, those three sentences are basically three new videos," Marinone said. Brands might make more long YouTube videos then cut them into a series of Shorts to promote them. "That's the beauty of Shorts. It's kind of a circle," she said. "There's so much value in the whole archive of all of the channels." For brands that are already on YouTube, that could make Shorts a cheaper investment than TikTok.
Another key differentiator is advertising. While TikTok recently partnered with Nielsen to improve its ad-targeting capabilities, and said it grew its ad revenue 500% year over year in 2020 (though it did not share specific numbers), it remains a relatively young advertising platform. YouTube, by contrast, has the institutional ad knowledge of Google, making it a potential vehicle for businesses wanting to create short-form, TikTok-like ads who may be skeptical of advertising on TikTok itself.
For brands, Marinone said, "the time is now if anybody wants to do it." She said that, within her company, her team has been testing Shorts with surprising success. One employee created a channel from scratch, uploaded a single Short about his dog and accrued 55,000 views in one day.
"If you've [tracked] YouTube long enough, this is basically completely impossible," she said. "That's because the YouTube algorithm is favoring Shorts a lot." To her, because Shorts right now is novel — and because the YouTube algorithm is working extra hard to push Shorts onto viewers — brands "can create whole new audiences from scratch," she said.