Why Adore Me is trying to source its own influencers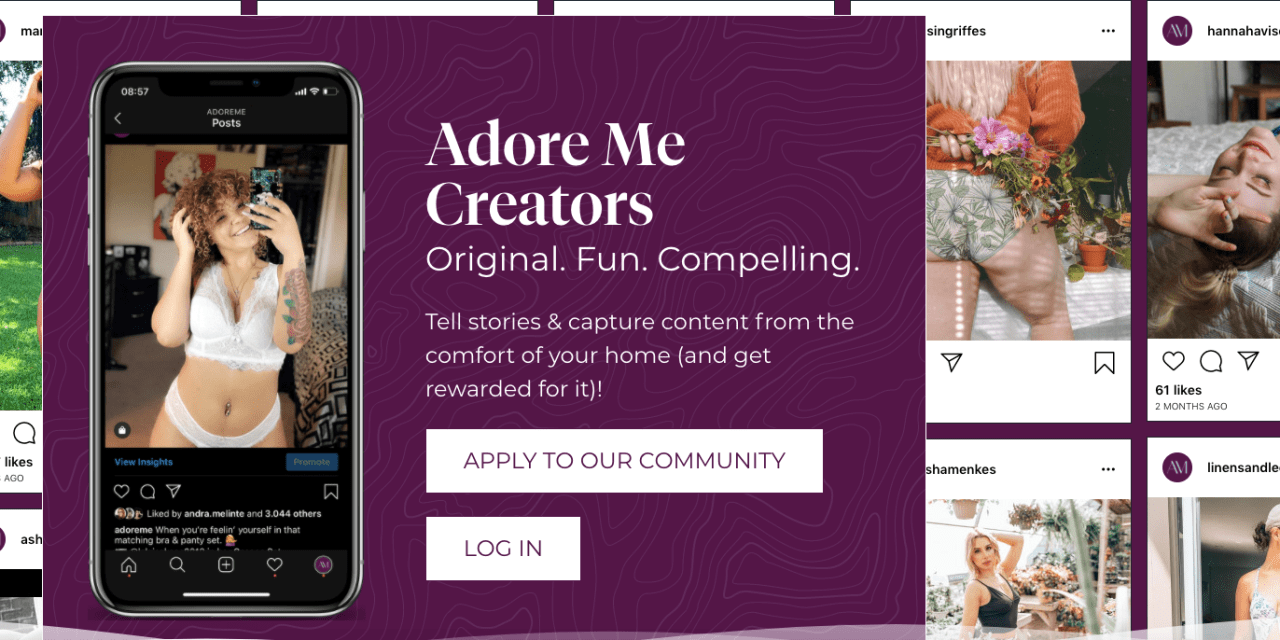 Lingerie startup Adore Me is encouraging more of its customers to become influencers.
In February, the company launched its own self-serve platform called Creators, where social media influencers can sign up to promote product. Once they're approved, influencers are given a gift card, which they can then redeem to buy product to use in social media posts. Adore Me gives creators some direction on what to include in the campaign, but they are able to shoot and post photos without pre-approval from Adore Me.
Adore Me's self-serve approach is indicative of how direct-to-consumer startups' approach to influencer marketing has shifted over the past couple of years. Rather than trying to find the influencers with the most followers to promote their product, some are instead focusing on trying to find smaller creators who are more genuine fans of the company. Or, they're trying to strike new types of partnerships that ensure influencers have more skin in the game when promoting their company's product on social media.
Andra Melinte, influencer marketing team lead at Adore Me, said that the company decided to launch its own self-serve platform for influencers in order to try and solve a few challenges the company had faced. Melinte said that the company had experimented more with influencer marketing last year, spending about $100,000 in six months for campaigns tied to specific events like Miami Swim Week. Over those six months, Melinte said Adore Me had grown frustrated with how much back-and-forth it took between Adore Me, and the marketing agency that represented the influencer, in order to get the campaign off the ground.
"We wanted to rely more our customer base, because they know us and love us, and we wanted to reward them in-some way," said Melinte.
DTC brand strategist Nik Sharma told Modern Retail that influencer marketing has become a popular way for direct-to-consumer startups in particular to raise their brand awareness when they don't yet have the money to do more traditional brand-building, like TV or billboard campaigns. In 2019, companies spent $1.9 billion on influencer marketing in the U.S. and Canada, per Instascreener, an agency that helps companies measure the success of their influencer marketing campaigns.
Influencers have also become more important earlier on in direct-to-consumer startups' lifecycles. Judy, which sells emergency kits, got an awareness boost after the Kardashian family mentioned its products on social media shortly after launch. Meanwhile, cereal brand Magic Spoon announced some influencers, like celebrity health coach Kelly LeVeque, as investors when it launched last year.
Since launching the Creators platform in February, Melinte said that Adore Me has signed up nearly 600 influencers who have created roughly 1,400 posts between them, mostly on Instagram. Influencers who have signed up for the program have had anywhere from 1,000 to 100,000 followers. Influencers can sign up for the program by simply submitting their contact information and links to their social media profiles. Adore Me then looks at their profiles to determine if they have enough followers, if they have a theme behind their social media presence like body positivity that would make sense with Adore Me's product, and that there are no red flags like pornographic or racist posts.
From there, influencers can sign up to participate in one of a series of campaigns, and receive a voucher to purchase anywhere from $150 to $500 worth of product to use in the campaign. Influencers are given some loose guidelines about how to create posts that fit the theme of the campaign. For example, for one of the campaigns Adore Me recently ran, influencers were instructed to use their voucher to purchase product from a new collection Adore Me had launched called Romantic Dreams. Influencers were then also told to create a social media post that was centered around the idea of daydreaming about something they had missed during quarantine — a vacation, or a romantic date. Influencers are also given tips how to create the best lighting and how to shoot photos, but Adore Me does not approve the captions or the photos before they go live.
According to Adore Me, the number of posts that Adore Me has been tagged in has grown 62% month-over-month growth February. The company also said posts by Creators saw 47% higher engagement rate — as calculated by Facebook's API — compared to those made with influencer agencies. (Facebook calculates engagement rate by taking the total number of "engaged users," who like, comment, click or otherwise interact with the post divided by the total reach of that post.) Another benefit of the program, according to Melinte, is that Adore Me is able to save photos from Creators to use in campaigns throughout the year.
"I am a fan of brands that let creators and influencers have looser guidelines — that way you get content that is a lot more authentic," said Sharma. However, if brands provide too loose of guidelines, influencers may end up posting photos that don't really fit with the rest of the companies marketing. Companies also need to make sure that influencers adhere to the Federal Trade Commission's guidelines around disclosures of sponsored posts  Melinte said that the creators AdoreMe works with are instructed to tag the company in the photo and the caption, as well as to use the hashtag gifted to indicate that they were given product.
Melinte said that, longterm, Adore Me hopes to use its Creator program as sort of an early test run to see which influencers it wants to sign long-term contracts with, as well as to host in-person events for its creators when its safe to do so. Additionally to potentially license its Creators platform to other companies.
"We want to create a sense of community most of all," Melinte said.