Why small retailers are spending more on YouTube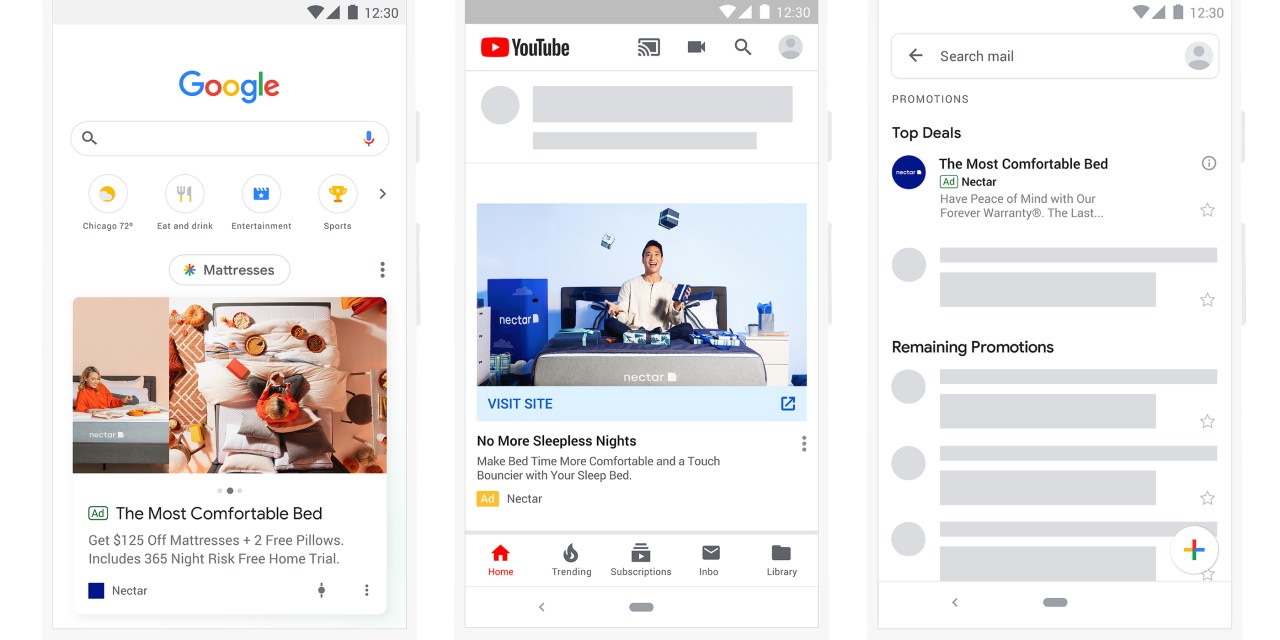 Over the past year, Google has tried to turn itself into more of a shopping destination, by releasing a variety of new ad formats designed specifically for retailers. It's also made a similar push on YouTube.
Startup brands in particular are drawn to YouTube because they are finding that some of the platforms' newer ad formats allow them to more cheaply target certain search terms that are more expensive on Google, and Google has done a better job in recent years of allowing advertisers to build one campaign that can reach users on both YouTube as well as other Google properties.  Additionally, they can typically reach a younger audience through YouTube than Facebook or Google.
There have been a myriad product changes: In November, YouTube announced that it was extending shopping ads to YouTube's home feed and search results, so that when a user searches for say, Puma shoes, they see an ad with a number of suggested products to buy. In May, it launched a beta for discovery ads within the YouTube home feed, which allow brands to showcase multiple images in a swipeable carousel. That same month, it launched a "direct-to-consumer council," asking participating executives what type of audiences they are looking to target, as well as what types of ad formats could convince them to spend more money on the platform.
"People can now easily buy products in YouTube's home feed and search results, making it possible for advertisers to reach even more audiences," Alphabet CEO Sundar Pichai said earlier this week during the company's fourth-quarter earnings, where the company also said that YouTube brought in $15 billion in advertising revenue in 2019.
Brandon Doyle, founder of digital marketing agency Wallaroo Media which has worked with brands like Cotopaxi  and Casper, said that one tactic that's worked for some of his clients is bidding on search terms through YouTube, instead of Google, where they are cheaper.
"Let's say someone did a Google search on 'personal injury lawyers,' Doyle said. "On that keyword, depending on what city you are in, it's going to be $100 even $200 [just to bid for that] click. But you could retarget someone who did that search with a YouTube video, the next time they are on YouTube, and to get them to watch your video, might be 20 cents to a buck," Doyle said.
Katya Constantine, CEO of digital media agency Digishopgirl Media that has worked with brands like Noom and Away said that among her clients, once they are spending $100,000 a month on marketing, YouTube typically becomes part of their marketing mix. For her clients who are running paid ads on YouTube, she said most of them are spending less than 10% of their marketing budget on YouTube.
The expansion of discovery ads in particular helped convince more of her clients to advertise on YouTube, Constantine said, because they could run more a greater variety of ads against what people were searching for on YouTube. "These other ad units that they launched help validate that 'hey your customer is on YouTube,'" Constantine said.
YouTube's audience has historically skewed younger than Google or Facebook. While 73% of U.S. adults say they use YouTube, 90% of 18 to 24 year-olds say they use it, according to a 2019 survey from Pew Research. So the brands that are finding the most success on YouTube still are the ones with younger audiences.
Daniel Pahl, vp of media and acquisition for TechStyle, which owns Fabletics and Savage X Fenty, said at the end of 2018 that the company started shifting money away from dedicated to traditional linear television towards YouTube and other digital platforms. Now, roughly 10% of its media spend goes towards YouTube. 
"The target audience for our brands is a younger demographic and since we've seen a substantial shift in media consumption over the past five years in the younger demos, YouTube with its vast targeting opportunities and massive reach is the perfect platform to reach that younger audience," Pahl wrote in an email.
Despite the fact that YouTube has sought to expand the number of ad formats that require less creative, Pahl said that TechStyle has found that "the creative is the number one factor for success on YouTube." last year, TechStyle tested more than 600 different types of ads on YouTube across its five brands, ranging from more traditional TV style ads to ads that they specifically produced for YouTube, and ads that featured influencers. Pahl said that TechStyle found that ads featuring influencers performed the best.
For years, brands have been hesitant to invest in YouTube for a few reasons. One is that, the nature of YouTube as a video-based platform, brands assumed they would have to spend thousands of dollars producing their own videos to see success on the platform.
Additionally, YouTube has been viewed as more of a brand-building channel, rather than a place to run direct-response advertising, because in-stream ads were not as conducive to getting people to click than say, an ad within YouTube's home page with a link to the company's website.  Then there's the issue of brand safety — for years, keeping to keep ads off of offensive videos was like playing a game of whack-a-mole. But, in recent years, YouTube has attempted to make brands feel better about advertising on YouTube in a number of ways, for example by tightening up requirements for content creators to earn money from ads.
This steady push by Google to pitch YouTube as a place for product discovery as Amazon threatens to take away some of its retail advertising dollars.
"Google is now racing to become a power player in commerce faster than Amazon can become a power player in advertising," Andrew Lipsman, e-commerce analyst at eMarketer, previously told Modern Retail.
Because YouTube is such a creative-heavy platform Pahl said that he would like to see YouTube add more ways to test the success of different types of creative. Constantine said that she'd like to see YouTube add even more targeting and ad placement options. But, as brands constantly look for digital advertising spaces that aren't already swarmed by their competitors, expect YouTube to continue to heavily court them for their advertising dollars.
"The reach [on YouTube] is massive, and there are a lot more ways you can run YouTube ads than on say, Instagram" Doyle said.