Google unveils a new virtual try-on feature for apparel as it tries to fend off competition in shopping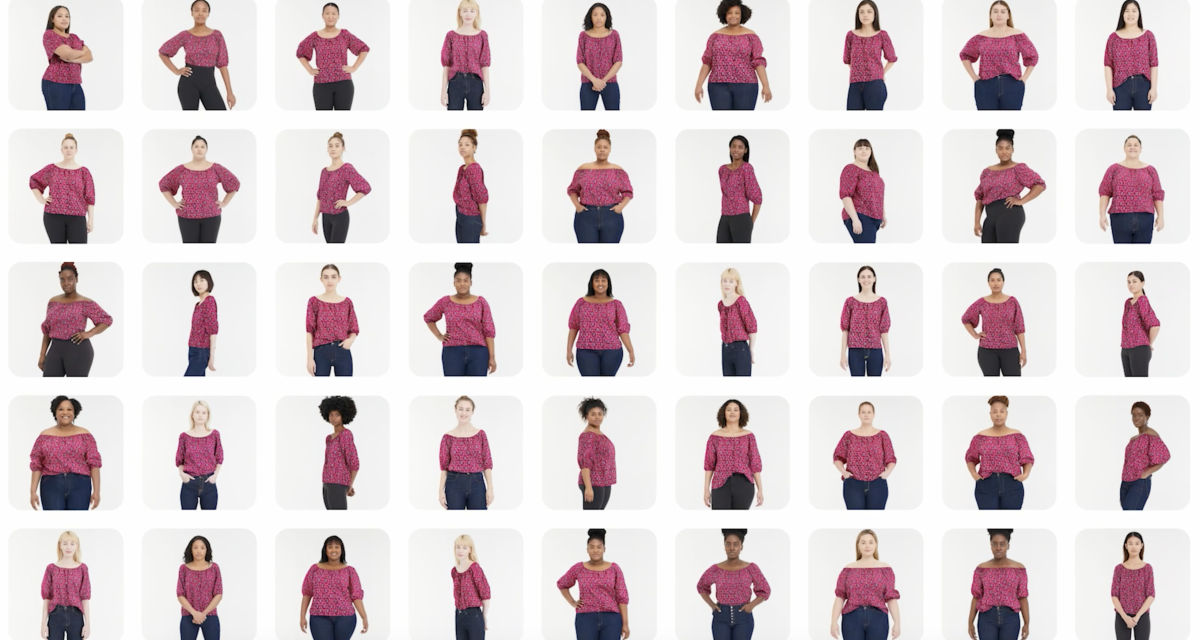 Google
Google has launched a new generative AI-powered virtual try-on option for shoppers searching for apparel.
Launched on Wednesday, Google's virtual try-on option is available to all U.S. shoppers looking for women's tops from brands like Anthropologie, Everlane, H&M and LOFT. This tool is limited to women's tops but the company said it plans to rollout men's tops before the end of the year. Shoppers can tap products with the "try on" badge on Google Search and select the model that looks most like them. The feature is currently available in mobile on Google Search across both Android and iOS.
Google said its AI technology takes one clothing image and accurately shows how it would drape, fold, cling, stretch and form wrinkles and shadows on a diverse set of real models in sizes ranging from XXS-4XL. Technically speaking, Google's AI researchers have used a combination of image-based diffusion and cross-attention make up techniques and tapped its Shopping Graph, which has about 40 billion product listings, to develop this new tool.
While Google is pitching this try-on feature through the buzzy lens of generative AI tech, consultants and analysts said this new tool is in someways a subset of augmented reality. In that sense, Google is essentially trying to play catch up to rivals like Snap, Instagram and Pinterest. Snap, for example has developed a suite of AR tools for retail clients since launching its Lens program in 2015. Google had launched a beauty try-on feature in December 2020 and announced augmented reality enhancements when shopping for cosmetics last year. Meanwhile, Google is also trying to fend off competition from TikTok, as the short form video app wades deeper into commerce.
Google said that it wants shoppers to better visualize and gain more confidence in their online purchase. Which in turn, the company hopes will ultimately drive an increase in conversions and sales for brands and retailers. Google said that right now, the feature is available at no additional cost to retailers. Shoppers can also find visually similar products within their price range by adjusting their search filter.
"When you come to Google, you're able to visualize the product and get more confidence in a purchase, that would be our hope visualizing the best of our tech abilities," said Shyam Sunder, group product manager for shopping at Google. The feature was unveiled at Google's Supercharge Summer event in New York.
"Google is making the process of searching for apparel better," said Bryan Gildenberg, founder of commerce consultancy Confluence Commerce. Instead, Gildenberg argued that "the problem Google's trying to solve for here is not AI and not retail. It's TikTok." That's because, according to Gildenberg, TikTok's inherently visual appeal tends to work better when shopping for apparel and clothing items, compared to Google's search, which is still very text and static image based.
"The way that TikTok can engage consumers, and increasingly, the way in which TikTok can take the consumer from engagement all the way through to conversion purchase is what Google wants to achieve," Gildenberg said. "This is a strategy to make Google a more visual, visceral apparel search engine, and to leverage the thing that Google's best at which is access to a broad range of actual choices to allow them to compete with TikTok."
But Gildenberg said that one thing that seems to make this particular tool unique is the ability "to find a piece of clothing that would go on a model that looks like you across a wide range of retailers at one time."
Google said apparel is one of the most-searched for shopping categories. But 42% of online shoppers don't feel represented by images of models listed and 59% feel dissatisfied with an item they shopped for online because it looked different on them than expected. These findings are part of a Google-Ipsos poll that surveyed 1,614 U.S. adults who have shopped for clothing online in April 2023.
"They're really trying to improve the shopping experience on Google so that more brands and merchants will get on board and then of course, want to buy more advertising from Google," said Sky Canaves, senior analyst, retail and e-commerce at Insider Intelligence.
"This is not a sudden move on their part. [Google has] been working on this for a long time and working to get it right. The fact that they're working with some major international brands for the initial rollout is a pretty good indication that they're pretty confident that this is going to work or at least look good or not have any major errors in terms of how the models are rendered," added Canaves.
But as more companies foray into AI-powered tools, they'll also have to contend with potential backlash from consumers and social media users about potential ramifications. A few months ago Levi's, for example, faced social media backlash when it announced it was going to start using models generated by AI to show more diversity. Some Twitter users expressed concern that such a use case of AI could deprive models of color of paid opportunities for work.
At a time when companies are trying to put AI on top of anything, Canaves said that it remains to be seen if brands are able to notice a significant sales lift or reduction in returns from shoppers that are using this tool. "One of the big promises of virtual try-on is that it can help reduce returns from e-commerce sales, which have been a huge and expensive headache for retailers," she said.