Inflation is leading to rising costs on all sides for marketplace sellers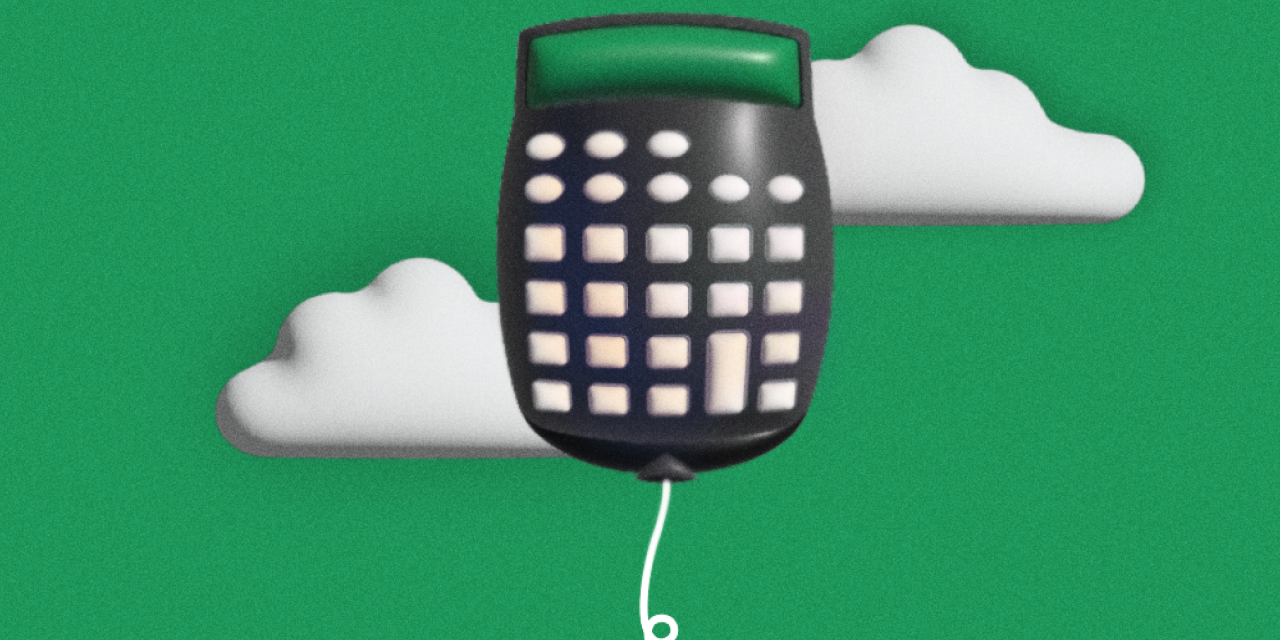 Ivy Liu
This story is part of Inflated Expectations, a Modern Retail series about the impact inflation is having on brands and retailers.
For marketplace sellers, the last two years have essentially been a game of whack-a-mole trying to ward off rising costs. 
First, sellers on marketplaces like Amazon, Etsy and more had to deal with increased freight and shipping costs, as the pandemic lead to more people trying to ship goods across the world to satisfy the appetite for online shopping. Then, the demand for goods led to price increases in everything from packaging to raw materials.
Now, many of the marketplaces they sell on are also raising fees as they too have struggled to contend with rising fees; Amazon most recently announced that it would charge a holiday peak fulfillment fee to merchants who use its FBA (Fulfilled by Amazon) service. As a result, many marketplace sellers are trying to find other efficiencies in their business — like lower customer acquisition costs — to avoid raising prices, which could mean ceding market share to competitors.
"It's a balancing act. It's not just the cost increases from inflation and the supply chain but sellers are also still facing raw material shortages," said Phil Masiello, founder of powdered superfood brand Uplift Florae and CEO of revenue acceleration agency Crunchgrowth.
For example, Masiello said that some of his clients in the personal care business are having trouble getting enough lids for some of their jars, which is leading to out of stocks for key products. "On top of that the costs have gone up. The costs of shipping have gone up, so you're seeing inflation all the way through," Masiello added.
According to an August 2022 survey of 1,000 U.S. online sellers that make between $500,000 to $100 million in revenue, merchants are struggling with rapidly shrinking margins. The survey — conducted by warehouse platform Ware2Go and online market research firm Dynata — shows 59% of sellers reporting their margins have shrunk. Some 95% of sellers have made adjustments or updates to their peak holiday season planning. The survey also found that 80% of the sellers surveyed have seen supply chain costs rise. As a result, they've had to adjust by increasing prices to cover costs, adjusting labor headcount and pausing growth plans.
Wellness brand Beekeeper's Naturals said it has been doing everything possible to "maintain consistent pricing and provide an accessible price point for consumers who are looking for natural and effective products, regardless of platform," said Daniel Millar, Co-Founder & Chief Growth Officer at Beekeeper's Naturals. Beekeeper's Naturals sells its products through Amazon, as well as Grove Collaborative, iHerb, Target, Walmart and CVS.
"We have been able to maintain this despite intense cost pressures in this inflationary environment. On Amazon, FBA [Fulfillment by Amazon] shipping prices to customers, along with the cost to ship to Amazon warehouses, have increased over the past few months which has had an impact on the economics of this channel," Millar added.
According to data from Marketplace Pulse, Amazon has increased the fulfillment fees by over 30% since 2020. This 30% increase didn't come at once, but rather in piecemeal. In January, Amazon raised its FBA fulfillment fee by 5.2%, and then in April it added a 5% fuel and inflation surcharge.
While Beekeeper's Naturals has not raised prices over the last year, Millar said, the brand is constantly searching for additional manufacturing and packaging partners to maximize cost efficiency.
Another factor that is helping Beekeeper's Naturals maintain its margins is seeing "really healthy customer acquisition costs on Amazon" compared to its own website and other third-party marketplaces, Millar said. On Amazon, Beekeeper's Naturals' 'Propolis Immune Support Spray' ranked number one in the cold & flu category,  the company said. Millar credited Amazon's advertising tools like Amazon Marketing Cloud for providing strong data analytics which helps the brand get greater visibility into its Amazon business, allowing it to be more efficient.  
Masiello said raising prices in a pronounced way could mean a brand might find itself out of the running to compete with peers. "We can't keep raising our prices 20% to 30% without hurting sales. So, one has to look at ways to reduce operating costs, so you can absorb some of this, so that you're not pushing your retail prices up so high that you're out of the game," said Masiello.
Get the latest news and analysis with the Modern Retail daily newsletter. Sign up here.
While most sellers are left to contend with rising prices on their own, there is an avenue for marketplaces to ease some of the burden. Etsy says that it's been able to help some of its sellers offset rising prices by offering them more sales and promotion tools.
"We are not seeing sellers take up their net prices to account for the higher input prices that they have," said Etsy Chief Financial Officer Rachel Glaser during the company's second quarter earnings call. Merchants on Etsy have raised their headline list price on items by around 9% over the last five years, but Glaser said Etsy's promotional tools have helped offset those increases. "The result of that is actually that it completely offsets the increase in item prices, meaning that the net item price has been basically flat for five straight years," she said.
In November, Etsy held an extended Cyber Sales event that ended on December 1 with participating sellers offering up to 60% in discounts. The company said it helps vendors promote their listings to shoppers off of Etsy. It also launched an Early Holiday Sales Event offering discounts of over 20% in the first half of November. In June, Etsy also announced that it plans to invest at least $25 million every year into a so-called 'Purchase Protection Program' to cover refunds on behalf of sellers for qualifying orders of up to $250, to help them keep their earnings from sales when things happen outside of their control.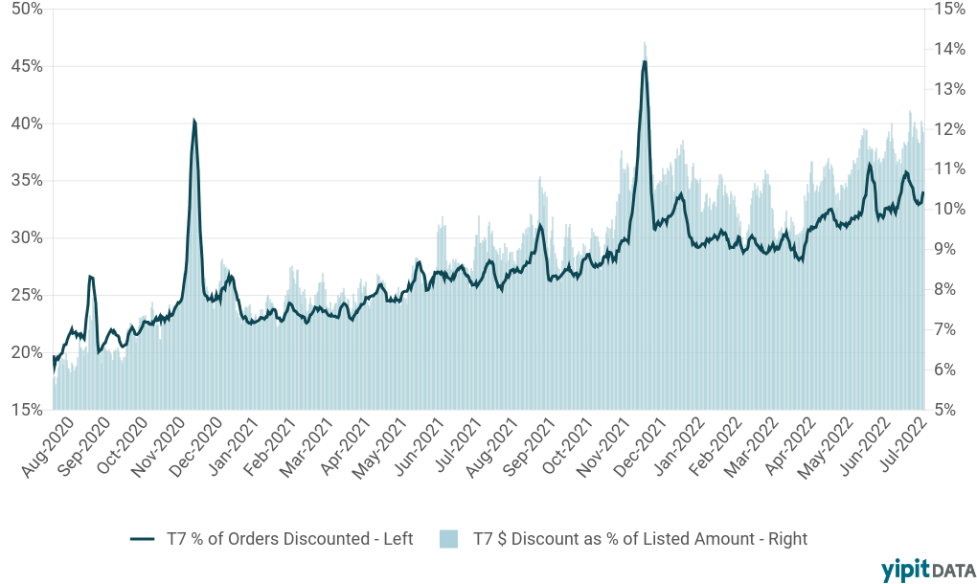 In turn, YipitData has observed that the share of U.S. orders on Etsy that are discounted, and the total amount discounted, have been growing steadily since August 2020.
Still, Etsy sellers have also had to contend with rising fees at the beginning of this year. On February 24, Etsy CEO Josh Silverman told investors the company is increasing seller transaction fees to 6.5% of each sale from 5%. Some Etsy sellers in April organized a strike to protest this 30% hike in seller transaction fee.
That's not the only rising cost marketplace sellers have had to contend with. For sellers like Doe Lashes that are selling on Amazon and Shopify, the cost of acquiring customers has tripled.  "Over the past year, our CPA [cost per acquisition] has effectively tripled from where they were before, rendering it very very difficult to be profitable," Doe Lashes founder Jason Wong told Modern Retail. "That's something that every seller has gone through in the past year is that cost increases and inflation has happened across the board," Wong added.
Data from Ware2Go shows that the holiday season isn't going to provide a respite to sellers. Its survey found that 42% sellers anticipate holiday sales in 2022 will be lower than 2021, and sellers are slightly less confident about this season's success because of the larger macroeconomic uncertainty. 
The study found that 74% of shoppers are shifting their buying habits this holiday season given current economic conditions. Ontop of that, 67% sellers saying they are facing inventory challenges in 2022.
"What's worrisome is that the supply chain has still not fully recovered — plastics, metals and other components have not fully recovered," said Masiello.