Instacart partners with Roku to better measure streaming TV ads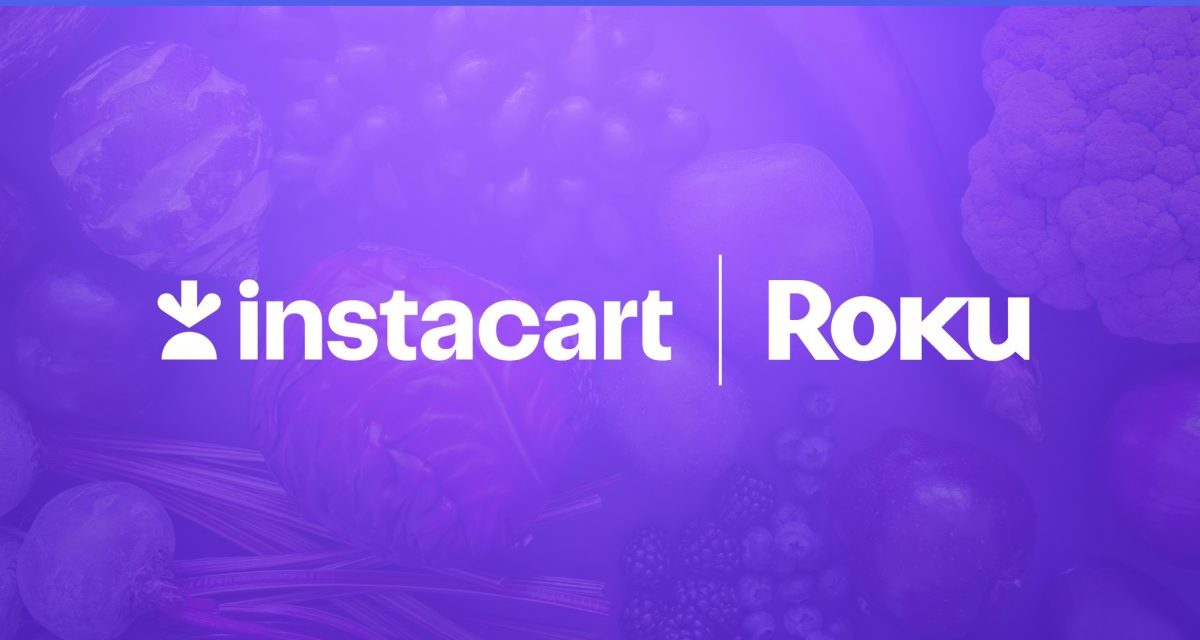 Instacart
At a time when advertisers are searching for additional data to evaluate the return on their ad investments, Instacart has partnered with Roku to help CPG brands measure whether their ads drive sales on the grocery delivery platform.
This is the first cross-platform partnership between Instacart and Roku to enable measurement of purchases on Roku's platform, which has widely been considered a walled garden. Through this partnership, Instacart will combine viewership statistics from Roku and insights from its marketplace to measure whether people are buying a certain product on Instacart after seeing an ad for it on Roku. In turn, this will allow CPG brands to measure the effectiveness of their TV streaming ads on product sales.
This new offering comes at a time when retail media platforms have become increasingly popular — but are also under pressure to prove their ads drive sales and are worth investing in over competitors. Instacart is trying to make that case a few ways: one, through collaborations like the one with Roku to help brands measure the effectiveness of their advertising efforts. And second, by also trying to aid brands in other advertising efforts — in particular, on upper funnel campaigns like streaming ads.
Instacart CMO Laura Jones previously summed up the company's thought process as, "to the extent that a brand partner is investing in linear TV, how do we help them capture that intent in that moment?"
Despite the big claims, Sara Livingston, a marketing and analytics consultant and strategist who formerly worked with multitouch attribution vendor Rockerbox, said that this partnership has limited scale and may not be able to drive significant impact for brands, because it only measures a small percentage of CPG sales. "The question is how many people are both Roku and Instacart users and use Instacart on a regular basis," Livingston said.
At the end of the day, brands will receive aggregated and anonymized data regarding their campaigns. CPGs can run campaigns on Roku with general brand messaging and existing creatives or they can be more prescriptive and drive shoppers to Instacart — but the companies say that is not a requirement to leverage this partnership.
Instacart said it has tested this new capability in pilot with a personal care brand and a beverage brand. In the instance of the personal care brand, Instacart discovered that 60% of customers were new to the brand when they made a purchase after seeing their ad on the Roku platform. Brands can tie these insights to basket behavior, category trends and previous purchase information for the consumer using Instacart.
"What I'm excited about it for Instacart is that we are bringing the power of our first-party data and the power of our ability to optimize and measure value for CPGs, and then unlocking that for this new use case of streaming TV measurement," Ali Miller, vice president of ads product at Instacart told Modern Retail.
Miller said Instacart is trying to connect the upper funnel reach that one can get on streaming TV to downstream data and insights about how consumers are actually buying and interacting with products. "I think anyone who's familiar with the world of CPG advertising knows that TV and streaming TV is an important part of that media mix," Miller said. "But it can be very difficult to tie the upper funnel reach that you get on TV to downstream data and insights around how consumers are actually buying and interacting with products based on what they've seen on that TV ad."
Instacart is trying to differentiate its ad platform at a time when the retail media landscape is booming. "It really comes from a core advertiser need and then when you combine that with the strength of our two platforms, I think it's definitely a mutually beneficial partnership," added Miller.
In Livingston's eyes, this is a step in the right direction. "But what's really hard here is you're dealing with such a small subset of population, because all this will be able to measure is the people who watch Roku that already use Instacart. And, candidly, I'm not sure how big of a population that is," said Livingston.
As Instacart has sought to build out its ad platform, one of its big priorities has been convincing advertisers that it can provide them with more measurable insights, such as by conducting more incrementality testing or lift studies.
This trend is in line with the rise of retail media more broadly. In turn, the grocery delivery platform has been focusing on making sure that when brands are advertising on Instacart they fully understand the end-to-end value of those investments.
Instacart's Miller hinted that similar off-platform partnerships might be coming down the pike. "It's the first example of something like this that we're doing on the Instacart side where we are able to now bring these worlds together and provide measurement to brands who are advertising through streaming TV and Roku. We're excited to continue to investigate in this area and definitely will continue to make that a focus of our further efforts," she said.
As budgets tighten, ad dollars tend to move to measurable performance media. Modern Retail previously reported that brands have started to focus more on the bottom of the funnel marketing channels amid broader macroeconomic uncertainty. When asked if there had been any recent pullbacks from advertisers in terms of ad dollars spent on Instacart, Miller declined to comment on "specific budget investments."
Over time, Livingston said she expects many more retail partnerships with Roku in the future. "I think it also signals a lot more retail integrations with Roku to come which is great. Considering Roku used to be a walled garden."