Physical stores are poised to be the next major media channel for retailers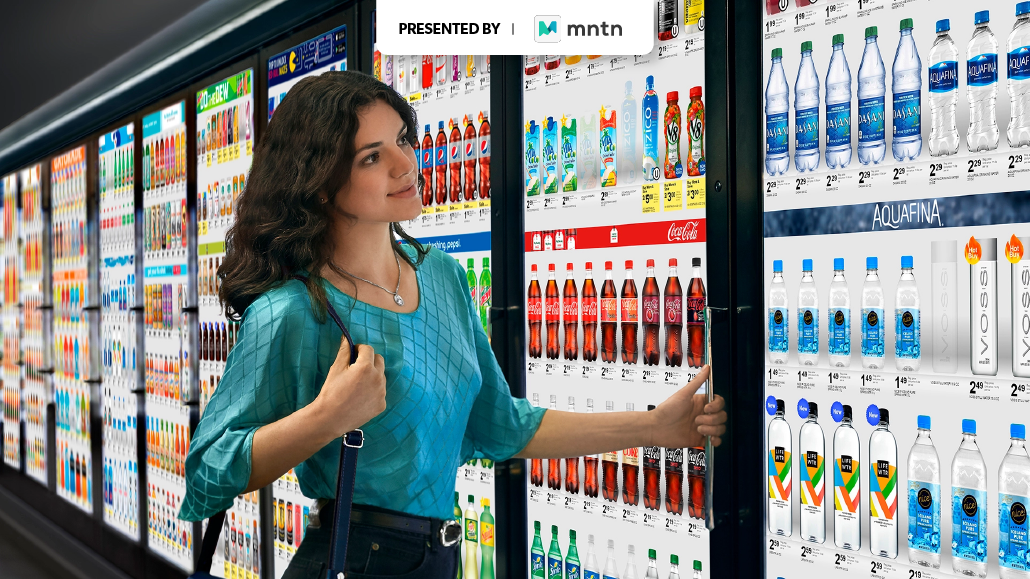 Physical store retail media represents the next big business potential for retailers to capitalize on as in-store audiences are substantially larger than digital audiences on average.
A new study by Insider Intelligence found that for 13 leading brick-and-mortar retailers including Walmart and Target, their in-store audience is 70% greater than their digital audiences, citing data from Placer.ai and Comscore Media Metrix Multi-Platform. Many digital surfaces inside of stores are expected to get frequent exposure the study found. These include brand displays on shelves and video advertisements on TVs.
While the last few years have fueled massive investments to support online retail media networks, for many retailers the most important revenue source is still their brick-and-mortar stores. In turn, more tech companies, like Microsoft and Cooler Screens, as well as retailers like Walmart and Amazon, are introducing more solutions to help brands advertise in stores. However, it is still early days for many of these features. As such, in-store retail media offerings have yet to become a multi-billion dollar line of business, like digital retail media solutions have.
"If we think about how big retail media has grown already, that's happened almost exclusively based on digital audiences," said Andrew Lipsman, principal analyst for retail and e-commerce at Insider Intelligence. "The point is to say there's a lot of potential here. If you think about how many people you can reach with advertising in-stores, it's a lot bigger than online," he added.
In January of this year, Microsoft introduced PromoteIQ In-Store, a proof of concept that helps retailers as they experiment with content and hardware partners to create in-store retail media activations and digital signages. Microsoft had said then that this Promote IQ In-Store feature will be available in the next 12 months. Separately, Amazon which generates roughly $30 billion a year through its advertising business launched digital signage ads in Amazon Fresh stores in October last year.
Lipsman added that legacy brand advertisers like CPG brands want to reach audiences at scale and physical stores are where they can do it. "I call it the next major media channel," he told Modern Retail. "The majority of in-store audiences are 18 to 49-year-olds. That's the demographic that TV advertisers always want to reach," added Lipsman.
"I think retailers tend to think about people in stores as foot traffic, but they also need to be looked at as eyeballs for brand advertisers," explained Lipsman. "Retail media has always been looked at in terms of search and bottom of the funnel, closed-loop performance — and it should be all of that. It is very much true to the initial value proposition of retail media. But it's becoming a full-funnel marketing opportunity."
Multi-category retailers like Amazon and Walmart have been among the first to embrace in-store retail media solutions. In October, Amazon made it possible for businesses to use Amazon DSP to broadcast programmatic advertisements on digital signages in actual stores. In 2021, Walmart started selling ad space on its in-store checkout and display screens to reach consumers in stores.
"It's definitely a trend that we're hearing more and more [about] from both retailers big and small. About 80% of all shopping still happens in-stores. So it is a huge number of impressions and it's a huge opportunity," said Brad Jashinsky, director analyst at research firm Gartner's marketing practice.
However, "the main barrier for retailers is the cost of rolling out in-store digital signage and other in-store placements such as self-checkout screens," wrote Jashinsky in an emailed response. He added that the necessary hardware, software and overall installation costs can be significant for retailers, especially the ones that have multiple locations and have stores that have limited existing in-store networking infrastructure.
That's why it is still early days for many retail media offerings, as it takes time for retailers to roll them out to more stores. Amazon, for example, said when it announced its new digital signage ads in October, that they would first be available in its several dozen Fresh grocery stores. Amazon also said that integration with its Go stores would be "coming soon."
Another challenge in building out in-store retail media networks includes collecting relevant data from stores to better inform the ad ecosystem and a fragmented technology landscape that can make it harder to plan and execute a campaign of this nature. The cost of rolling out in-store digital signage is also a barrier to entry.
But despite these challenges, "In particular, [for] any retailer that is selling a lot of groceries, it's going to be majority in-store. And so [in-store retail media] seems like a huge opportunity out there," said Jashinsky.
This media opportunity is also leading to rising demand for tech vendors like Cooler Screens, a company that turns refrigerated doors into interactive advertising displays. As Modern Retail previously reported Cooler Screens experienced a fivefold increase in in-bound leads at the National Retail Federation conference this year.
Jashinsky added that as some of these in-store media placements are rolled out, "the big question of attribution remains, on closing that loop to really be able to show the effectiveness of these placements.
Despite those unknowns, "it's definitely a huge opportunity," said Jashinsky.