Shopify introduces new features to help businesses sell internationally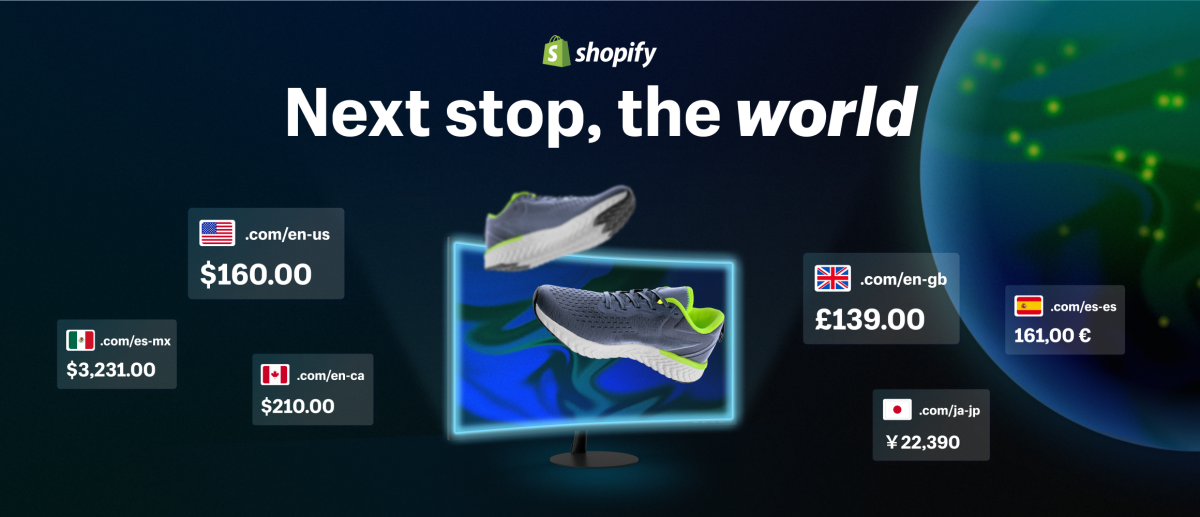 Shopify is doubling down on its efforts to expand globally, amid a sharp slowdown in gross merchandise volume (GMV) or the total amount of transactions hosted on Shopify for merchants.
The e-commerce platform is targeting further expansion into international markets with the launch of a new premium paid feature called Shopify Markets Pro. The tool will work in more than 165 countries, Shopify said. It is an upgrade to Shopify Markets, which first launched in November 2021. The new feature will help manage overseas sales and related complexities, like compliance, international tariffs, conversions and shipping on merchants' behalf.
Built within the Shopify Admin, Markets Pro is an expanded integration with Shopify's existing partner Global-e, a provider of end-to-end cross-border solutions that makes it possible for buyers and sellers to transact internationally.
The company's strategy to expand globally comes a few months after Shopify announced massive layoffs in its hiring, support and sales departments. Shopify cut approximately 10% of its total headcount on July 26. The Ottawa-based company is also dealing with a slowdown in domestic sales growth for its merchants. Shopify's year-over-year GMV growth dropped to 11% during its second-quarter earnings, compared to a rise of 40% during the same period last year. But experts who track the company lauded Shopify's efforts and said the new feature could make global selling much more accessible for Shopify merchants.
"The actual transaction is taking place with a merchant of record solution provider who's taking on the financial obligation for that transaction. So, it makes it a lot more simple, operationally, for a merchant to expand international sales, but not have to worry about foreign exchange hedging and duty tax compliance and tax filings, etc," explained Rohit Mishra, director of product at Shopify in an interview with Modern Retail.
Components like buyer's fee, tax and duty will be pre-calculated at checkout. Sellers will need to pay a 6.5% transaction fee while using Shopify Markets Pro. Initially, this feature will be exclusively available to Shopify vendors in the U.S. and Shopify plans to roll out Markets Pro across Canada, U.K. and Europe next year.
Shopify has also negotiated express international shipping rates for merchants with package delivery giant DHL and other partners, added Mishra. Merchants can set shipping rates for international markets in local currencies, and more merchants can easily customize the prices of products in different markets with international pricing. "Now, Shopify merchants can offer great international shipping solutions, but at a cost that is affordable and manageable for them," he said.
Shopify has been trying to simplify cross-border commerce for merchants for the last three years. Shopify said that in the U.S., merchants using Shopify Markets sell into 14 other countries on average.
In the second quarter, the company set up Shopify Payments and Shopify Shipping in France and introduced Shopify point-of-sale with integrated payments in Italy. Shopify's president Harley Finkelstein recently said the company is investing to make overseas selling as straightforward as selling domestically. He added that the company had seen strong adoption of Shopify Markets since its launch.
"We are seeing strong engagement with Shopify Markets since launching it in Q1, with well over 100,000 merchants now offering a localized experience to their buyers. Our team sales and marketing activities continue to drive expansion of our international subscriptions, and we continue to expand the feature set available to merchants everywhere," said Finkelstein.
According to Mishra, last year Shopify merchants sold over $25 billion in products outside of their home country. Shopify merchants reported a 39% increase in cross-border sales in Europe last year, Mishra added.
Mark William Lewis, founder of an e-commerce development agency called Netalico Commerce said that Shopify Markets Pro could considerably reduce concerns associated with selling abroad. "We have a number of merchants utilizing Global-e in its prior iteration and it provides all of the functionality of Shopify Markets, but in addition, Global-e acts as the merchant of record internationally, greatly simplifying a number of the accounting and compliance issues with selling internationally," added Lewis.
According to Lewis, in the past, Shopify's solution to most international commerce would be to setup a separate Shopify store. But, he said that can become a management nightmare as merchants expand to more than just a handful of countries. To be sure, Shopify said with Markets Pro sellers can accelerate global expansion to over 150 countries overnight.
"This is a smart play for Shopify, as the merchants who successfully use this alongside their multi-market knowledge will likely grow with Shopify over time," Ben Marks, director of global market development for e-commerce software solutions provider Shopware said.
In addition to Markets Pro, Shopify on Wednesday also introduced a free app for its sellers called Shopify Translate & Adapt, which works with Shopify Markets and Shopify Markets Pro, to help merchants quickly and accurately localize the customer journey. The app will both manually and automatically translate sellers' online stores into various languages.
According to Marks, the merchant of record features will make this much more accessible for smaller retailers who see a strong case for selling and shipping internationally. "Even with logistics and compliance support, effective cross-border selling requires more than just translation and currency conversion — merchants must understand and engage the customers with as much nuance as their main market," added Marks.
International markets are becoming increasingly important for Shopify, said Lewis, as Shopify's existing merchants expand and new larger merchants consider the platform for significant international and cross-border e-commerce.
"Selling internationally is one of those compliance nightmares where you can likely fly under the radar if you're a smaller merchant without too many issues. But as you grow internationally you'll quickly need significant expertise in international compliance or you'll get into a situation where you don't know what you don't know," said Lewis.