Shopify launches new Collabs platform to connect sellers with influencers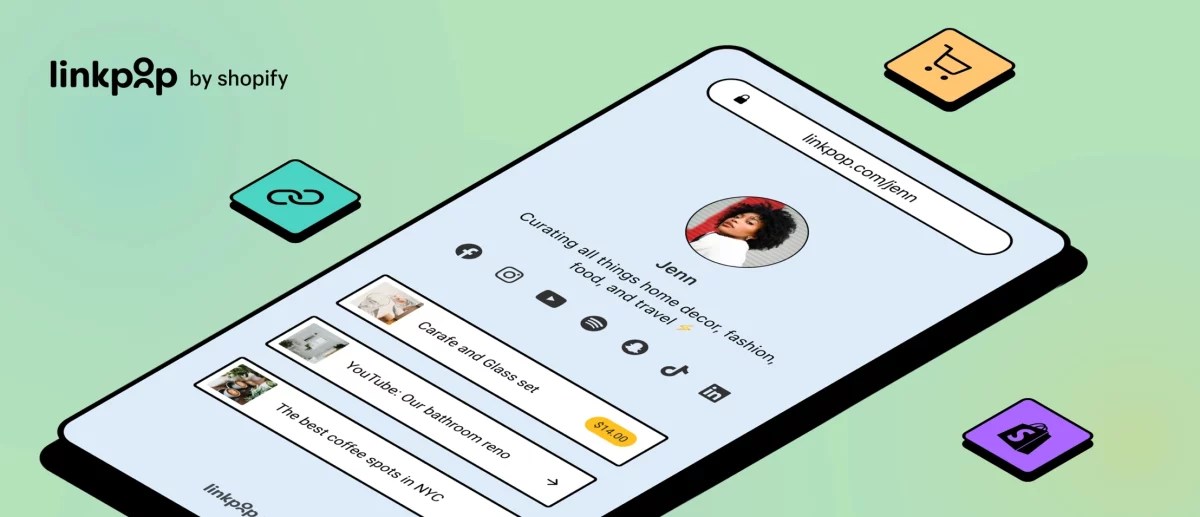 Shopify
Shopify on Tuesday introduced Shopify Collabs, a new directory to connect Shopify merchants with content creators.
This is Shopify's latest push to drive more influencers to its platform and help merchants counter a slowdown in e-commerce sales. The Canadian tech behemoth has previously staked its future on influencers to spur growth. The company has been developing a full-fledged suite of services specifically targeted at influencers across Facebook, TikTok, Spotify, YouTube, Pinterest and more.
With Collabs, the company said, creators will be able to more easily take their first step into the world of commerce and better manage financial pressures. "We really think that creators are the next generation of entrepreneurs but they face challenges on how to monetize their content. We're really trying to help the creator/influencer bridge this gap from creating content to actually monetizing it as they enter commerce," said Amir Kabbara, director of product at Shopify in an interview with Modern Retail.
Merchants can use Collabs as a new sales channel to locate new influencers to work with, while creators can use it to search for Shopify vendors who complement their distinct brand and character. Creators need to register for Shopify Collabs to browse a directory of potential merchants to work with.
Once they find a brand they like, creators can apply to join that merchant's community and start a partnership. With the help of Shopify's link-in-bio tool Linkpop, influencers can set up a social shop and start earning money by sharing and promoting other people's products. The cost of the creators' services can then be negotiated with each brand separately, along with a percentage or commission from each sale.
Shopify has been trying to crack the influencer commerce space over the last year with a bevy of recent announcements. It introduced its link-in-bio tool called Linkpop in March to monetize social media traffic from influencers. The company is also looking for new ways to invest in building a direct connection with the customer with acquisitions like Dovetale, a software startup that helps brands manage their influencer marketing programs. Shopify merchants are seeing 2x the conversions on Linkpop than other link-in-bio tools, the company said.
Collabs will facilitate and provide the tools to enable the two parties — sellers and influencers — to connect, collaborate and sell products in front of new audiences across social platforms.
Fashion and lifestyle influencers like Rahel Brhane, Jake Fleming, Cathy Nguyen and Alyssa Lenore will be able to pick from brands like Doe Lashes, Nécessaire and Shop OXB, among others and choose the products they want to promote.
"Each merchant can set their own terms to pay for the content and negotiate the rates with the creator," explained Kabbara.
The move also comes at a time when a lot of DTC brand owners are actively exploring alternative ways to acquire users while coping with a steep rise in advertising costs and inflation. Working with influencers may provide another more cost-effective way to reach customers on social media. Rather than being subject to the whims of Meta and Google's auction-based pricing, brands can determine a payment structure directly with influencers.
"For merchants, one of their big challenges right now is acquiring customers. It has never been more expensive to find new customers and the creator economy really presents a new way to find customers," said Kabbara.
However, influencer marketing comes with its own set of challenges. Often, it takes some trial and error for brands to figure out which influencers are most effective at driving sales. Some brands, like Andie swimwear, have previously told Modern Retail that they've found the most success with micro-influencers — those that have around 10,000 to 50,000 followers — rather than with bigger names.
Still, it is an area that brands continue to express interest in as they struggle to get a grip on customer acquisition costs. "Over the past year, our CPA [cost per acquisition] has effectively tripled from where they were before, rendering it very very difficult to be profitable," Doe Lashes founder Jason Wong told Modern Retail. "Three and a half years ago our company was driven by collaborating with influencers without using a Shopify tool. Now, what we're seeing is that Shopify Collabs has made our job easier," added Wong.
Previously, brands like Doe Lashes had to manually find creators to work with and facilitate their payments through its own methods, Wong explained. Doe Lashes, which intends to collaborate with more fashion, beauty and lifestyle influencers, explained that through Collabs that it will be doing a lot more in a much shorter amount of time and adhering to the same values and concepts that have led them to being successful in the past.
At the end of the day, Doe Lashes wants to consolidate its influencer marketing efforts to one single platform and has plans to slowly transition towards that by the end of this year. Doe Lashes has started to migrate the influencers it works with to the Collabs platform.
"Shopify Collabs isn't doing something brand new that we've never done before. It's doing something that we've already been doing and had past success with but in a much shorter time and more efficient way," said Wong.
Beauty and fashion influencer Lenore, who has more than 231,000 followers on Instagram, said Shopify Collabs is an exciting new venture that gives creators access to smaller businesses that use Shopify. "One of my favorite parts of the app is how user friendly it is. Creators juggle a lot of components to produce and execute brand partnerships — Shopify Collabs makes all the info from start to finish streamlined and within the app," she said in an emailed response.
In the second quarter, Shopify merchant GMV generated through Facebook, Instagram and Google grew five times compared to the same time period a year ago, the company said.
"We've seen these apps become the fastest growing [channel] inside of our ecosystem. The fastest growing in terms of the ability for merchants to generate GMV through these apps, and experiences, so we're really seeing a lot of creators come on board and start adopting these features," said Kabbara.